Tennessee Titans (8-7) vs. Houston Texans (10-5)
Sunday, January 1st, 2012 • Noon CST • Reliant Stadium • Houston, Texas • TV: CBS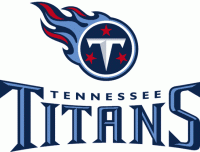 Nashville, TN – Entering the final week of the regular season, the Tennessee Titans (8-7) are still alive in the playoff race. They travel this week to face the AFC South Champion Houston Texans (10-5) at Reliant Stadium (capacity 71,054). Kickoff is scheduled for noon CST on New Year's Day, Sunday, January 1st.
In the Titans' Week 7 loss to the Texans, they fell behind early and were never able to make up lost ground. The Texans scored 27 unanswered points before quarterback Matt Hasselbeck completed a five-yard touchdown pass to tight end Jared Cook for Tennessee's only score.
Texans quarterback Matt Schaub passed for 296 yards and two touchdowns in leading his team to victory. Meanwhile, running back Arian Foster delivered 115 rushing yards and 119 receiving yards and three total touchdowns.
This week's game will be televised regionally on CBS, including Nashville affiliate WTVF NewsChannel 5. Bill Macatee will handle play-by-play duties, while Steve Tasker provides analysis.
The Titans Radio Network, including Nashville flagship 104.5 The Zone, will broadcast the game across the Mid-South with the "Voice of the Titans" Mike Keith, analyst Frank Wycheck, sideline reporter Cody Allison and gameday host Larry Stone.
The game can be heard locally on 1400 AM, WJZM.
Last Week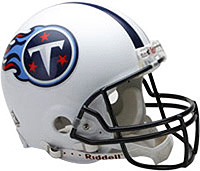 This week's game against the Texans is the Titans' third consecutive battle with a division opponent. They lost 27-13 at Indianapolis in December 18th and last week won 23-17 in their home finale against Jacksonville. In the defeat of the Jaguars, Matt Hasselbeck passed for 350 yards, including a 55-yard touchdown strike to tight end Jared Cook. That was one of eight catches for Cook, whose 169 receiving yards are the most by an NFL tight end in 2011 and set a new franchise record for a tight end.
Additionally, rookie running back Jamie Harper scored his first career touchdown, and Rob Bironas made all three field goal attempts, including a pair of field goals from 51 yards.
The Texans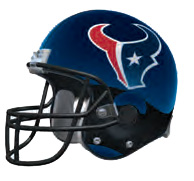 The Texans clinched their first-ever AFC South title on December 11th. Despite notable injuries this season to defensive end Mario Williams, wide receiver Andre Johnson, and quarterbacks Matt Schaub and Matt Leinart, head coach Gary Kubiak's squad has recorded the best season in the franchise's 10-year history.
The Texans defense has been transformed this season under new coordinator Wade Phillips, son of former Oilers head coach Bum Phillips.
The unit ranks second in the NFL, allowing only 280.7 yards per game. Last week, however, the Colts got the best of the Texans in a Thursdaynight primetime matchup. The Colts scored a touchdown in the final minute of play to prevail by a final score of 19-16.
Rookie quarterback T.J. Yates, a fifth-round pick who began the season as the Texans' third-string quarterback, was thrust into the starting lineup after Schaub and Leinart were lost for the season. Yates, a product of the University of North Carolina, has passed for 902 yards, three touchdowns and three interceptions this season. He has started each of the past four games.
Yates has the benefit of sharing the backfield with one of the NFL's top running backs, former University of Tennessee standout Arian Foster. Foster, the NFL's leading rusher last season, ranks third in rushing in 2011 with 1,224 yards. Additionally, second-string running back Ben Tate has gained 845 yards on the ground this year.
Playoff Chase
The Titans are one of four teams positioning for the AFC's second Wild Card spot—the conference's sixth and final playoff seed—along with the Cincinnati Bengals, New York Jets and Oakland Raiders. To get there, the Titans must first defeat the Texans, who earned a convincing 41-7 victory over the Titans earlier this season (October 23rd) at LP Field. Additionally, the Titans need any one of the following three scenarios to unfold:
Tennessee win + Cincinnati loss (vs. Baltimore) + New York Jets win (at Miami) + Oakland loss or tie (vs. San Diego). Cincinnati would be eliminated based on conference record, and Tennessee holds the edge over the Jets based on record versus common opponents.
Tennessee win + Cincinnati loss (vs. Baltimore) + New York Jets win (at Miami) + Denver loss or tie (vs. Kansas City). Cincinnati would be eliminated based on conference record, and Tennessee holds the edge over the Jets based on record versus common opponents.
Tennessee win + Cincinnati loss (vs. Baltimore) + New York Jets loss or tie (at Miami) + Oakland win (vs. San Diego) + Denver win (vs. Kansas City). Cincinnati would be eliminated based on conference record, and Tennessee holds the edge over Oakland based on record versus common opponents.
The sixth-seeded team plays the third seed in a Wild Card Game on January 7th or January 8th. The Texans have secured the third seed, no matter the result of this week's outcomes. Therefore, should the Titans earn a playoff berth, they will travel back to Houston for an immediate rematch of this week's contest.
Franchise Goes For 400 Wins
While the Titans are looking for their ninth win in 2011, they are also trying to reach postseason games, they need one more win to reach 400. The Titans would become the 20th NFL team to reach the mark.
All of the franchise's wins have come under the ownership of one man, K.S. "Bud" Adams, Jr., one of the eight founding owners in the American Football League. Adams' Oilers began play in 1960, moved to Tennessee in 1997, and took the name "Titans" in 1999.
Titans-Texans Series At A Glance
Overall series (regular & postseason): Titans lead 13-6
Regular season series: Titans lead 13-6
Postseason series: None
Total points: Titans 425, Texans 387
Current streak: One win by Texans
Titans at home vs. Texans: 7-3
Titans on road vs. Texans: 6-3
Longest winning streak by Titans: 7 (2005-08)
Longest losing streak by Titans: 2 (2004, 2008-09)
Titans vs. Texans at LP Field: 7-3
Last time at LP Field: TEXANS 41 at Titans 7 (10/23/11)
Titans vs. Texans at Reliant Stadium: 6-3
Last time at Reliant Stadium: Titans 0 at TEXANS 20 (11/28/10)
First time: Texans 10 at TITANS 17 (11/10/02)
Mike Munchak's record vs. Texans: 0-1
Gary Kubiak's record vs. Titans: 4-7
Mike Munchak's record vs. Gary Kubiak: 0-1
What To Look For This Week
K Rob Bironas (110 points) needs at least five points to enter the franchise's top 10 list in season scoring.
K Rob Bironas can extend his NFL record with his 10th consecutive game with a field goal of 40 yards or longer.
TE Jared Cook can record his third consecutive 100-yard receiving game.
QB Matt Hasselbeck can record the 25th 300-yard passing game of his career.
QB Matt Hasselbeck needs 226 passing yards to reach 3,500 for the third time in his career.
RB Chris Johnson can record the 29th 100-yard rushing game of his career and his fifth 100-yard game of 2011.
RB Chris Johnson needs 14 rushing yards for his fourth consecutive 1,000-yard rushing season. He would be the third player in franchise history to accomplish the feat, joining Eddie George (five seasons from 1996-00) and Earl Campbell (four from 1978-81).
T Michael Roos can cap his seventh consecutive season with 16 starts (all 112 career games) for the Titans.
G Jake Scott is scheduled to make his 120th consecutive start.
WR Nate Washington (six touchdown receptions in 2011) needs one touchdown reception to set a new career high for a season.
WR Nate Washington needs 69 receiving yards for his first career 1,000-yard season.
WR Nate Washington can extend his streak of consecutive games with at least one reception to 62 (48 games with the Titans).
Titans-Texans Series History
The Titans-Texans rivalry is in its 10th year since the expansion Texans began play and the AFC South was formed in 2002. In 19 games, the Titans are 13-6 against the Texans, including a 7-3 mark at LP Field and 6-3 record at Reliant Stadium. The teams have split the series in the last three seasons.
In the first matchup this season, played Oct. 23 at LP Field, Texans running back Arian Foster recorded 115 yards on the ground and 119 as a receiver. He scored three total touchdowns, helping the Texans cruise to a 41-7 victory. Matt Schaub added 296 passing yards and two touchdown passes.
The last time the two clubs met at Reliant Stadium was November 28th, 2010, when the Texans shut out the Titans by a final score of 20-0. Texans cornerback Glover Quin recorded three interceptions off passes by Titans rookie quarterback Rusty Smith, who was making his first NFL start. Foster rushed for 143 yards, and Schaub completed two touchdown passes for the Texans in the win.
The Titans have separate winning streaks of four games and seven games in the series, the latter of which was ended at Reliant Stadium on December 14th, 2008.
The Titans franchise has a rich and storied history with the city of Houston. Under owner K.S. "Bud" Adams Jr., the Titans existed as the Houston Oilers from 1960-96. In Houston, the Oilers won the first two American Football League Championships and made a total of 15 playoff appearances. Eight players that wore a Houston Oilers uniform are enshrined in the Pro Football Hall of Fame, including most recently former quarterback Warren Moon and offensive lineman Bruce Matthews, who currently serves as Titans offensive line coach.
The team moved to Tennessee in 1997 and in 1999 adopted the "Titans" moniker. Adams still makes his home in Houston.
Titans-Texans: The Last Meeting
Houston Texans 41 at Tennessee Titans 7
Sunday, October 23rd, 2011
LP Field, Nashville, TN
With dynamic performances by quarterback Matt Schaub and running back Arian Foster, the Texans scored 27 unanswered points to cruise to a 41-7 victory over the Titans at LP Field. The 34-point margin of defeat was the highest ever for the Titans in a home game at LP Field, which opened in 1999.
Schaub completed 18 of 23 passes for 296 yards, two touchdowns and no interceptions for a passer rating of 147.7, the ninth highest passer rating allowed by the Titans in franchise history.
Besides Schaub, the Texans' primary weapon was Foster, who became the first player in history against the Titans/Oilers to notch 100 yards rushing and receiving in the same game. He rushed for 115 yards and a pair of touchdowns on 25 carries while also catching five passes for 119 yards and a score.
But Foster was not the only Texans running back to rush for 100 yards. Ben Tate added 104 yards on 15 carries, helping the Texans total 222 yards on the ground.
The Texans outperformed the Titans in virtually all statistical categories, including total yards (518 to 148), first downs (29 to 11) and time of possession (37:58 to 22:02).
The Texans took a 3-0 lead late in the first quarter. On a 13-play, 78-yard drive, they converted a third-and-eight with a 26-yard pass from Schaub to Foster, and then the Titans were called for an unnecessary roughness penalty. Neil Rackers later booted a 32-yard field goal.
In the second quarter, the Texans put another long scoring drive together after intercepting a Matt Hasselbeck pass. Starting from their own 13-yard line, Schaub found tight end Owen Daniels for a 34-yard completion and then tight end Joel Dreessen for a 10-yard scoring strike. The Texans made it a 20-0 lead later in the second quarter, when Schaub completed a 78-yard touchdown pass to Foster and Rackers made a 29-yard field goal as time expired in the half.
Early in the second half, the Texans scored on their fifth consecutive offensive series. After taking over at their own eight-yard line, they recorded consecutive plays of 28, 28, 17 and 24 yards. On the seventh play of the drive, Foster crossed the goal line on a one-yard run, making the score 27-0.
The Titans finally got on the scoreboard on the ensuing series. Keyed by Javon Ringer's 17-yard reception and 25-yard run, the Titans went 76 yards on eight plays. On fourth-and-goal from the five-yard line, Hasselbeck found tight end Jared Cook in the end zone for a touchdown.
But the Texans answered with another touchdown drive. On the eighth play of a 52-yard drive that consumed more than five minutes, Foster scored his third and final touchdown on a five-yard run.
When the Titans got the ball back, their situation only worsened. Hasselbeck attempted a pass to wide receiver Donnie Avery, but the ball was tipped and controlled by Texans cornerback Brice McCain, who went 38 yards the other way for a touchdown and the game's final points.