Tennessee Highway Patrol Reminds Holiday Celebrants: Drive Sober or Get Pulled Over
State Troopers Plan New Year's Enforcement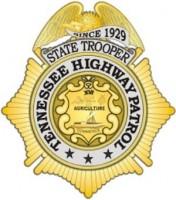 Nashville, TN – The Tennessee Highway Patrol is once again participating in the national holiday enforcement campaign, "Drive Sober or Get Pulled Over."  State Troopers will join local law enforcement agencies across the state to encourage safe driving habits and remove impaired drivers from Tennessee roadways this holiday season.
The New Year's holiday period commences at 6:00pm, Friday, December 30th, and concludes at 11:59pm, Monday, January 2nd, 2012.
"This is the time of year when many people are traveling to share the holiday with family and friends," Department of Safety and Homeland Security Commissioner Bill Gibbons said. "Our goal is for motorists to reach their destinations safely. We take this responsibility seriously throughout the year, and especially during holiday seasons."
The holiday season is one of the deadliest and most dangerous times of the year due to an increase in impaired driving. During the 2010 Christmas holiday period six people were killed in traffic crashes on Tennessee roadways. That represented one death every 13 hours. Alcohol was involved in 20 percent of those crashes and two of the five (40%) vehicle occupants killed were not wearing safety restraints. According to department records, the fewest number of people were killed during last year's New Year's holiday period with six vehicular fatalities. Nearly 17 percent (16.7%) of those fatalities occurred in alcohol-related crashes.
According to the National Highway Traffic Safety Administration (NHTSA), nationwide impaired driving fatalities have dropped from 10,759 in 2009 to 10,228 in 2010, a 4.9 percent decline. In 2010, 283 people died in Tennessee traffic crashes involving a driver or motorcycle rider with a blood alcohol concentration (BAC) of .08 or higher. That's a 5.4 percent decline from the 299 impaired driving deaths in 2009, and a 7.5 percent decline from the 306 impaired driving deaths in 2008.
"We are encouraged by the decline in impaired vehicular fatalities in Tennessee and nationwide," THP Colonel Tracy Trott said. "Our agency has placed a greater emphasis on identifying and removing impaired drivers from state roadways, increasing the number of DUI arrests by 38 percent since last year. This holiday season will be no exception. If we catch you driving drunk, you will be arrested."
In 2010, there were 1,031 traffic fatalities in Tennessee, an increase of just over 4.5 percent from 986 fatalities in 2009. As of December 21st, preliminary statistics indicate that 908 people have died on Tennessee roadways this year, a decrease of 109 deaths (10.7%) compared to 1,017 fatalities at this same time a year ago.
The Tennessee Highway Patrol recommends these simple tips for a safe New Year's Eve:
Plan ahead: Designate a sober driver before going out and give that person your keys.
If you're impaired, call a taxi, use mass transit or call a sober friend or family member to get you home safely.
Wear a seat belt in a vehicle or protective gear on a motorcycle. It's your best defense in a crash.
If you see a drunk driver on the road, contact your local law enforcement immediately;
And remember, "Drive Sober or Get Pulled Over".  If you know someone who is about to drive or ride while impaired, take their keys and help them make other arrangements to get to where they are going safely.
State Troopers will utilize several enforcement tools over the New Year's holiday, such as saturation patrols, bar checks and driver license and sobriety checkpoints.
About the Tennessee Department of Safety

The Tennessee Department of Safety & Homeland Security mission is (www.TN.Gov/safety [1]) to ensure the safety and general welfare of the public.  The department encompasses the Tennessee Highway Patrol, Office of Homeland Security and Driver License Services.
General areas of responsibility include law enforcement, safety education, motorist services and terrorism prevention.