Clarksville, TN – Clarksville Police Officers working the DUI saturation patrols, partially funded by the Governor's Highway Safety Office, snagged Clarksville's first DUI arrest and DUI related crash arrests for 2012. CPD charged a total of 13 DUIs between December 31st and January 1st.
The first DUI arrest for 2012 was a 77 year old man. On January 1st, 2012, around 12:29am, Officer Kyle Fleming spotted a maroon Dodge Stratus traveling on Madison Street without its headlights on. Officer Fleming stopped the vehicle and upon initial contact with the driver noticed the driver, Roy Young, had slurred speech and slow to respond.
When Officer Fleming checked the status Young's license, he found that it was suspended. Young was asked to step out of the vehicle and perform field sobriety tests which he performed poorly.
Additionally, Roy Young told the officer that he had only drank one bear but had been smoking marijuana for the past two days and when he was stopped, he was headed to the ATM to get money for more marijuana.
Roy Young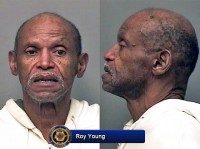 Name: Roy G. Young (B/M)
DOB: 1/28/34
Given Address: 806 East Happy Hollow Road, Clarksville, TN
Arresting Officer: Kyle Fleming
Charged With: DUI, Driving on Suspended License, and Violation of Implied Consent
Booked Into: Montgomery County Jail
Bond: $500.
First DUI Related Crash In Clarksville
The first DUI-related crash occurred on January 1st, 2012, around 2:46am in the area of Tiny Town Road and Allen Road. Matthew Ballard was driving east on Tiny Town Road, lost control in the curve of the road, crossed five lanes of roadway, hit the curb, vehicle flipped multiple times into a field, and came to rest in an upright position.
He was administered field sobriety tests and did poorly. He was transported to the hospital by patrol car for medical clearance. The 24 year old passenger in the vehicle was uninjured.   
Due to the time needed for medical clearance, Matthew Ballard (W/M, DOB: 9/24/84, Given Address: Fort Campbell, KY) was cited for DUI at the Hospital.
Photo Gallery