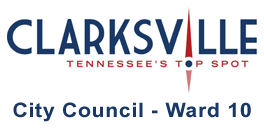 Clarksville, TN – Last Thursday night, I wrote that efforts to send either an update to the current outdated charter or the mayor's version of the revised charter to the state for approval failed as neither received the 2/3 majority vote needed.
As you will recall the main purpose of both efforts was to fix the city's recent strict interpretation of the current charter on people who do business with the city and were selected for city committees. Some have asked what will that mean since they can no longer can do both. Basically it means the city will have to be more diligent in selecting citizens that do not have business ties to the city for committees.
The greater problem is the city still needs to update its charter in a complete and thorough manner. The major issue is the state will not approve what Clarksville has requested. I have suggested several times that a "Home Rule" charter appears the way out of this problem.
Yesterday evening I submitted an email to Mayor McMillan with some thoughts and research I have performed on "Home Rule".  Below you will find a copy of that email.
I researched state law and reviews by the Municipal Technical Advisory Service (MTAS) on "Home Rule" and included some general information in the mayor's email. A number of questions would still need to researched and a plan developed, but we could still have a new charter this year without having to involve the state legislature.
 
The email that I sent to the mayor will give you a good idea of what "Home Rule" is and what is involved. According to MTAS, 14 cities use "Home Rule" Charters and that includes Memphis and Knoxville.
I will keep you posted on developments.
Emailed Sunday, Jan 8 to Mayor McMillan
Mayor McMillan,

I would like to officially propose a solution to you and the council to resolve three years of great frustration in trying to formulate a modern city charter for Clarksville.  That solution would be the elimination of trying to build another "Private Act" charter and the formation of a "Home Rule" charter.  I would like to present some rationale for going a totally different direction in the city charter effort.

ISSUES

Analysis of the situation shows the following issues in the city's inability to get a new charter and why "Home Rule" may be the solution:

1) State approval.  Whether it is politics, face-saving or other issues/agendas, the state legislature seems unwilling to approve what the elected governmental representation of Clarksville wants.  It is a documented fact that nothing requested in the initial revised charter submission effort was illegal.  It is also a documented fact that many other city charters, which had been approved by the state, allow the concepts Clarksville requested in its revised charter, but was denied.  With the most recent effort to revise the charter, the council is unable to come to an agreement to even get it to the state for consideration again.  Thus, we have gone from being stuck in neutral to shifting into reverse on getting a new charter developed and approved.  The Constitution of the State of Tennessee provides a solution that would allow Clarksville to remove the state legislature from our charter revision process.  The "Home Rule" concept as outlined in Article XI, Section 9 of the state constitution is that solution.

2) Public Input.   Various and inconsistent messages and feedback have occurred on this factor.  Statements presented to the council in the most recent vote referenced the hard work that went on in the initial revision efforts and that it should not be wasted.  That hard work included the input of citizens on the revision committee, parts of which the state refused to accept.  It had been suggested that public input (perhaps through another revision committee) should include citizens in the reconstituted process.  However, if the state ignored the wishes of the previous public input, we are not assured they will accept that of any new public input.  In addition, the latest effort to submit a revised charter lacked any public review period for comment at all.  So we have seen the full range of potential citizen input and we are still no closer to a revised charter being approved.  Although citizens were part of the initial charter committee membership, there were comments made that political bias was involved in their selection, thus affecting the outcome.  It is just as likely that any new committee would face the same allegations.  The solution is to remove the appearance of wanting citizen input and then ignoring it and eliminating questions of politically influenced or setup committees by requiring the direct participation of the citizen through voting.  The procedures within the "Home Rule" concept would allow for it.

3) City Council Input/Bias.  Some council representatives will claim their ward residents are heavily in favor of a particular charter change while others say their ward is completely against it.  Still others seem to receive little input from citizens, while citizens state their council member will not answer their calls or emails.  One mayor may be strongly in favor of changing a power of the office while another will fight to retain it.  It could be easy for those elected officials who do not communicate with a large portion of their constituents on a regular basis to let a few select citizens or their own elected office comforts/bias make their charter decisions.  The solution is to remove the potential bias and elected comforts and have all citizens provide equal input to the process.  This potential bias can be removed by going to "Home Rule".

HOME RULE

TCA Art. XI, Sec 9 states that a home rule charter may be adopted or amended by ordinance passed by the local governing body and then a referendum of the city's voters.  In addition, it appears that Amendment 7 that affects "Home Rule" helps protect cities that go this route by blocking any private acts that the state may pass as punitive or disruptive against local government.

Advantages

1. Greater local control
2. Eliminates the battles for private act approval to change a city charter
3. Home Rule charters allow much more latitude in making local procedures as long as they meet state law.

Disadvantages

1. Based on MTAS reviews and state law, charter amendments can only take place in August or November of even years.  This correlates to state election cycles.

2. Watch what you vote in to a home charter, as you will not be able to fix or reverse any unexpected or negative results or reactions for up to two years.

3. There is more work, time and planning required in making charter changes due to having the public vote to approve them.  There are examples where a city needed to change their charter for mainly "housekeeping" reasons, such as the state laws changing, and the voters turned it down (although we face the same problem with the state with a private act).  The city leadership would have to work, educate and communicate to ensure the citizens understood the need for any changes.

Many of the disadvantages can be avoided by ensuring the charter is a basic general framework from which the city derives it authority to make specific law through ordinances and resolutions.  The revised version of the charter took great steps in that direction.  However, many items the recent committee wanted to recommend, but were not included in the mayoral version, would have enhanced the development of a general governing model.

POTENTIAL ACTIONS

I request your help and approval to more fully explore this option with evening work sessions of the full council and legal advisors.  I see only positive results with immediately trying this new approach for several reasons:

1. We are in an even year (2012) and two election periods will occur so we can get a new charter on the books this year.  It appears any ballot issues must be presented to the public at least 60 days in advance of voting.  Thus, we have time to review the items the 2011 committee has recommended and to finish some areas the committee had not reviewed.  The full council would have time to be involved.

2. With two election cycles this year we may be able to fully ask and answer what the public wants.  I cannot tell from TCA or MTAS research reports if my next suggestion is somewhat a "chicken or the egg" procedure.  What I would recommend to you and the council (if authorized by the state home rule process) is put the more controversial issues to a public vote in August and have the results included into a final version of a "Home Rule" charter for the November election.  This would give us several weeks to get the publicly voted changes into a final charter format and meet the 60-day requirement for the election cycle.  Now we may have to complete a publicly voted and approved home charter first and then include potential controversial issue changes in the second election period.  Some of the issues I recommend to go before the public for an official response are: 1) Veto power, 2) mayoral voting authority, 3) runoffs, and 4) mayoral authority in organizational and personnel development/actions as examples.  Based on recent and past charter review efforts a list of 6 to 10 issues may cover most, if not all, of the major items that have bothered citizens and council alike.  The public vote will settle the issue.

3. MTAS has stated there are some disadvantages (there are listed disadvantages for each form of government).  However, by using the previous efforts to revise the charter, recommendations by the 2011 charter committee, new full council involvement, research by our legal staff and reviewing items that MTAS says we should avoid (based on the reviews of other Tennessee cities that have "Home Rule") we can finalize a modern charter that could eliminate or minimize those disadvantages.

As I did in the 2011 charter revision committee, I have expended considerable time and research on this suggested charter approach to resolving the issues and problems we now have.  However, while I have provided some specifics on "Home Rule", many more pages would be required for a full report .  So there are still a number of legal questions to ask and in-depth research to perform to lay out a plan of action for this year.  I offer to assist in making this plan a workable solution for Clarksville.

I look forward to your review and comments.

Thank you

Bill Summers
Ward 10
Editor's Note: This article contains the view points of Councilman Bill Summers and may not represent the views of the rest of the City Council, the City of Clarksville or ClarksvilleOnline.