Clarksville, TN – Clarksville Police Officer Linda Caver was honored by local VFW Post 11160 as the recipient of the 2011 VFW National Law Enforcement Public Servant Citation. Deanna McLaughlin nominated Officer Caver to the VFW Post for the award.
Officer Caver was recognized for her professionalism and accomplishments in combating the growing synthetic drug problem in the local community which hospitalized several teenagers due to the adverse effects of the synthetic drugs.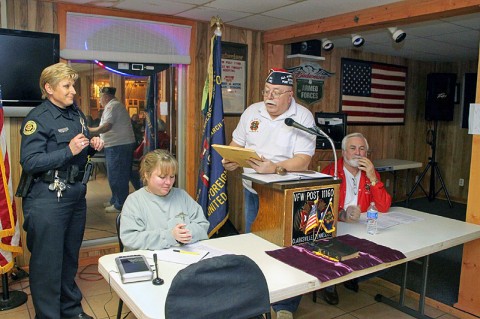 While Officer Caver assigned to the Special Operations Unit as a Drug Agent, she helped raise the awareness and brought the synthetic drug problem to the attention of the local community.
After the City Council unanimously passed the synthetic drug ordinance, Agent Caver along with other Special Operations Agents distributed copies of the new law to the convenience stores in Clarksville and followed up by visiting the stores to ensure compliance with the ordinance. She found some of the stores had not complied with the ordinance and discovered thousands of packages of the synthetic drugs which subsequently were removed.
Officer Caver's work was a driving force in reducing the synthetic drug problem in the Clarksville community and providing a model for other cities to emulate.
Officer Caver is also one of the officers handpicked to be part of the Operation Defiance team in the New Providence area.  She is a proactive officer who takes the initiative to seek out positive solutions to problems she encounters in her work day.
Officer Caver has been submitted by the local VFW as their nominee at the State level.
Photo Gallery