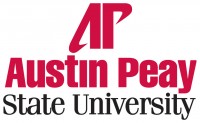 Clarksville, TN – Austin Peay State University's yearbook, The Monocle, was named a first-place winner in the American Scholastic Press Association's 2011 Scholastic Review and Contest.
The 2010 edition of the yearbook was given the top distinction along with similar yearbooks from Clemson University, Michigan State University, Howard University and others.
Judges award points based on design, photography, writing and other criteria. First-, second- and third-place awards are given based on the total points awarded.
Rachel Yeatts, a senior graphic design major and editor-in-chief for the 2010 edition, was honored with the award.
"It's very rewarding to see all our hard work get recognition," Yeatts said. "Putting together a yearbook is a team effort, and every staff member played a huge part in producing this edition of The Monocle.
"I know this award will excite our current and future staff members of The Monocle and push them to do even better."
Jake Lowary, coordinator of Student Affairs Publications and adviser for the student staff, also was pleased with the recognition.
"Our students dedicate long, sometimes grueling hours to this project each year, and for them to get this kind of recognition and feedback is just fantastic," Lowary said.
"We have an amazing and talented student staff in Student Publications, and it's a great privilege to see them earn these awards."
The Monocle is published in the fall and is available for purchase by contacting the Office of Student Publications at 931.221.7376.
For more information on Student Publications at APSU, visit www.apsu.edu/student-pubs.
Sections
Education
Topics
APSU, Austin Peay State University, Clarksville TN, Clemson University, Howard University, Jake Lowary, Michigan State University