The 94th Meeting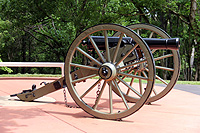 Clarksville, TN – The next meeting of the Clarksville (TN) Civil War Roundtable will be on Wednesday, January 18th, 2012 at the Bone & Joint Center, 980 Professional Park Drive, right across the street from Gateway Hospital. This is just off Dunlop Lane and Holiday Drive and only a few minutes east of Governor's Square mall. The meeting begins at 7:00pm and is always open to the public.
The meetings topic is "How Dover Tennessee Failed Public History and How Public History Failed Dover"
The purpose of public history is not just simply preservation. Historians interpret and tell stories of American history that form the foundations of communities and the nation and shape us as a people. America is full of buildings that are of historical, cultural and architectural importance that should be saved so they can continue to contribute to American society, culturally and economically.
This presentation will examine the challenges that the small town of Dover, Tennessee encountered when confronted with issues of preserving and restoring local historical structures and the many failures they incurred and why. The program will also address how public history organizations (in this instance the park service) do not always make the best decisions in regards to preserving or restoring historical structures.
With so few structures from the Civil War era remaining, thanks to much of the town being burned in August 1862, the challenge for buildings of that era is even greater. The Dover area was the site of three Civil War battles (February 1862, August 1862 and February 1863) in addition to numerous skirmishes in the region. Fewer small towns from the war suffered so much and the ultimate challenge is to preserve what remains.
Our speaker is Teresa Prober from Austin Peay State University where she is an instructor in history. She earned a BA in History from University of North Carolina at Pembroke and an MA in History from American Military University. She taught High School Social Studies for 9 years in North Carolina.
She has also designed public history programs for Pennyroyal Area History Museum in Hopkinsville, KY; was an archivist who cleaned and preserved historic documents Stewart County TN and assisted in redesigning school programs for Fort Donelson National Battlefield.
She has done extensive research on the Dover Hotel where CS General Simon Buckner surrendered the Fort Donelson garrison to Union Gen. U.S. Grant. She is currently working with University of Tennessee Press to publish the book, "The Dover Hotel a Silent Witness to History in Tragedy and Triumph."
Please join us for another informative meeting of the Clarksville Civil War Roundtable.