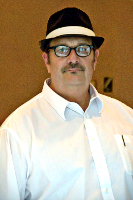 2011 couldn't end quick enough for James Chavez.
As President and CEO of the Economic Development Council, Chavez was on the "hot" seat for the final months of last year.  Led by his board chairman Linda Rudolph, Chavez was feeling the heat.  After a summer review where he was made aware of changes needed in his style, and management of the umbrella organization he leads, Chavez accepted the fact that he needed "straighten up".
That's when the pressure, and the street talk intensified.
There were attempts to remove Chavez that went nowhere.
More street talk.
Claims that Carolyn Bowers was out to get him were tossed aside by the Mayor in a recent interview on my program "Clarksville in Review", but she said that we were moving forward with changes and "James Chavez could be a part of that change or not" according to Bowers.
I'm happy to report that the two have met, and discussed what brought them to that point, and are both moving forward.
We should all be appreciative of the fact that they finally "put all the chips on the table" and like adults, "hashed it out" for the benefit of all. This was going to get ugly if they didn't.
Clarksville is one of the most progressive communities anywhere in the country.  Growing, with a good economy, and a real promise for more. Other cities would kill for our problems, and we've been spending our time "griping and complaining" about something reportedly said in an elevator?  About who got upstaged at a reception for Hemlock?  Really?
James Chavez has his quirks like any of us, and Mayor Bowers certainly has her challenges facing her everyday, but in light of all of this, Clarksville/Montgomery County is an awesome place.
It was vital that our County Mayor, and our leader of Economic Development work together.
No, it was CRITICAL!
I could almost hear the prospects deleting us from their computer during all of this.
Let's try to focus on what's important, and leave the gossip to the professionals at the coffee shop.