Bloomington, IN – Austin Peay State University women's track and field team continues its upward climb with another impressive showing at Indiana University's Gladstein Invitational.
Perhaps the most impressive performances came from junior Chantelle Grey and senior Tanesha Campbell. Grey finished second in the 800-meter run at 2:11.09, she also set a personal record in the 400-meter run at 57.26. Her 800m time is tops in the OVC and in the top-10 nationally, while her 400m mark is fourth-best in the league.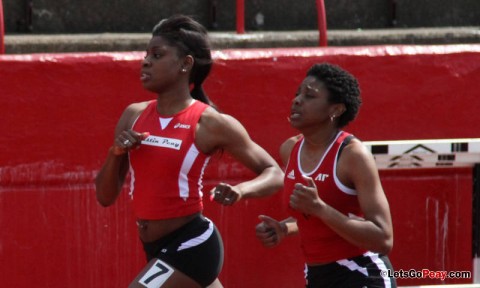 Campbell, meanwhile extended her personal best shot put mark to 46-04.25, which was good enough for eighth place at the Gladstein Invite and ranks second in the OVC.
"Chantelle and Tanesha have been two of our more consistent performers, week-in and week-out," head coach Doug Molnar said. "We've got such a young team and we've spent talking about ways to continue to improve. Chantelle is getting better and better each week, and Tanesha is getting back to form as well."
The Lady Govs finished the event with a number of personal bests, which shows the Molnar's team as a whole is making strides through the short indoor season. Candace Johnson set personal-bests in the 60-meters (8.01) and the 400-meters (1:00.52).
Freshman Xiamar Richards finished 21st in the 5,000-meter at 19:04.56, which is getting closer to her 2010 indoor time. The Lady Govs also improved to 3:55.10 in the 4×400-meter relay, led off by Candace Johnson, followed by Taelor Slaughters, Cenitra Hudson and anchored by Chantelle Grey.