Austin Peay Men's Basketball vs. UT Martin Skyhawks
Saturday, January 28th, 2012 | Tipoff: 7:30pm (CT)
Clarksville, TN | Arena: Dunn Center (7,257)

Clarksville, TN – After a disappointing finish against Southeast Missouri, Austin Peay looks to regain momentum when it plays host UT Martin, 7:30pm, Saturday, in Dave Aaron Arena.
The Governors, who trailed by as much as 17 first-half points, rallied all the way back to lead in the contest, 60-59, but SEMO ended the game on a 6-0 run to defeat the Governors, 65-60, Thursday night in Ohio Valley Conference action at the Show Me Center.
Now the Govs must pick up the pieces from an opportunity lost–a chance to extend their winning streak to six games and move into second place in the OVC. And UT Martin is the opponent whom the Governors hope they can resurrect their winning formula against.
The Governors need a little offensive resurgence after shooting just 34.8 percent against Southeast Missouri. For the second straight game, APSU's inside game was controlled. But this time the Governors perimeter players could not respond. Josh Terry finished with a game-high 18 points but the other perimeter players combined for 5-of-23 shooting (30 percent).
About UT Martin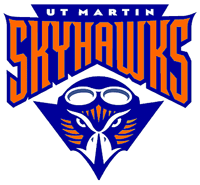 UT Martin comes in amidst a 10-game losing streak, sitting at 3-19 overall and 0-9 in the OVC. The Skyhawks lost to Tennessee State, 72-59, Thursday night. But that came after narrow road losses at both Eastern Kentucky and Morehead State.
Guard Mike Liabo is averaging a team-leading 15.0 ppg while freshman forward Myles Taylor is averraging 12.9 ppg and 5.0 rpg. The Skyhawks are shooting just 41.8 percent from the floor while permitting the opposition to shoot at a 50.6 percent clip.
Governors Pardon
This is Austin Peay's 80th season of basketball.
Dave Loos, APSU's all-time winningest basketball coach, also is the OVC's all-time wins leader with 358 victories. He also has 440 career coaching wins.
The Dave Aaron Arena playing floor was named Dave Loos Court, Summer 2007. Loos is believed to be one of only three current Division I men's coaches who are coaching on courts that bear their respective names–Duke's Mike Krzyzewski and Syracuse's Jim Boeheim–are the other two. Valparaiso's Homer Drew, who retired after the 2010-11 season, had the floor named after him last season.
Since 1993-94, Austin Peay has finished no worse than fifth in the OVC standings.
Austin Peay has reached at least the OVC tournament semifinals in 13 of the last 17 years.
Austin Peay has made 27 straight appearances in the OVC tournament.
What You Should Know
The Series: This is the 90th meeting between the two Ohio Valley Conference foes, Austin Peay and UT Martin, with the Govs holding a decisive 65-24 advantage. The Governors have won the last four contests, including a 71-61 victory, January 10th, 2010 in Martin. Then on February 3rd, the Govs came away with an 82-53 victory.
Deeper Meanings
What A Win Would Mean: The Govs would gain their ninth 2011-12 victory…it would be the Govs' season-best sixth straight win…they would improve to 9-14…it would push the Govs to two games above the .500 mark in the OVC at 6-4…the Govs would improve to 6-2 in January…it would make the Govs 6-3 at home in 2011-12…it would make the Govs 4-1 at home in OVC play…it would be APSU's fifth straight win in the series…it would make Dave Loos 29-10 all-time against UT Martin…it also would improve Loos to 5-0 all-time against UT Martin coach Jason James. …it would be Loos' 442nd career coaching victory and his 360th APSU win.
What A Loss Would Mean: The Govs would fall to 8-15 on the season…APSU would slip back to .500 in the OVC at 5-5…the Govs would fall to 4-2 at home during the 2011-12 portion of the schedule…it would make the Govs 65-25 all-time in the series… it would be Dave Loos' first loss to Jason James…it would be head coach Dave Loos' 357th career loss and 304th Austin Peay defeat.
Clyburn Earns Award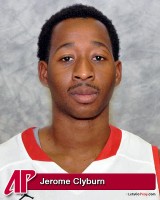 Junior point guard Jerome Clyburn was named the adidas® OVC co-Newcomer of the Week, Monday. For the week, the Orange Park, FL, native, averaged 11.0 points and 4.0 assists, while making 8 of 11 from the floor and 16 of 18 from the free-throw line.
At Eastern Illinois, Clyburn knocked down 12 of 14 free throws, which tied for the OVC's single-game best, and finished with a career-best 18 points. It was Clyburn's second-straight game in double figures after netting 12 points at SIU Edwardsville and dishing out a career-best seven assists.
Defense Mechanisms
In last six games, including five victories, the Govs have limited opponents to less than 70 points each time, with a defensive fieldgoal percentage of 44.4 percent. In fact, through nine league games, only Murray State has scored more than 70 points against APSU.
Turning Up The Heat
When Southeast Missouri committed 23 turnovers it was the fourth time this season an opponent committed 20 or more turnovers against the Govs. However, it proved to be the most turnovers by an opponent this season. However, APSU is just 1-3 in games when they force 20 or more turnovers.
Steal Away
Over the last three games Austin Peay's defense has produced a total of 30 steals, including nine, Thursday night, at Southeast Missouri. Austin Peay recorded double digits in steals when it had 10 against Eastern Illinois last Saturday
and 11 at SIU Edwardsville, January 19th. It was the fourth and fifth times this season the Govs had double-digit steals.
Free Bird
When the Governors converted 20 of 27 free throws against Southeast Missouri it marked the second straight game the Governors only converted 20 (of 27, 74.1 percent) or more free throws in a game, but converted more than 70 percent of their free tosses. The Govs were 21 of 29 (72.4 percent).
Shooting Woes
When Austin Peay shot just 34.6 percent (18 of 52) against Southeast Missouri, Thursday night, it was the eighth time this season the Govs shot less than 40 percent from the floor. However, it was the first time they shot less than 40 percent since December 3rd at Memphis.
No Passing Fancy
When Austin Peay was credited with seven assists against Southeast Missouri that total represented a season low. The Govs had just eight assists against Jacksonville State. That total also is the fewest since APSU had just six assists against
Murray State (January 9th, 2010) and Southeast Missouri (February 27th, 2010) in the 2009-10 season.
Baker The Shot Maker
After scoring in double figures seven straight games, senior forward Melvin Baker saw that streak end at Southeast Missouri, Thursday night. Baker still was able to make shots (3 of 5 FG), but he could not stay out of foul trouble.
Baker finished with eight points in 16 foul-plagued minutes. In fact, the senior forward fouled out with 7:21 remaining in the game. In nine OVC games, Baker is averaging 13.7 ppg, shooting 55.7 percent from the floor.
Steal Your Face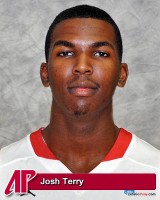 For the second time this season, senior forward Josh Terry was credited with five steals in the Govs' victory last Saturday at Eastern Illinois. He also had four against SIU Edwardsville and then four more against Southeast Missouri, Thursday night, giving him 13 (4.3 apg) over that three-game span.
In just two seasons, Terry already has moved into 16th all-time in steals with 111. However, his 2.0 steals per game rank second only to Donald Tivis, who averaged 2.1 apg from 1988-91.
Boarded
When Austin Peay was outrebounded 50-26 by Southeast Missouri, Thursday night, the 50 figure was the most by a Govs'  opponent this season. It also was the second straight game–and third of the last four games–they had been out-rebounded.
Ty Clips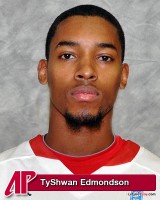 When TyShwan Edmondson tallied 24 points against Eastern Illinois last Saturday, it snapped a string of six straight games when he scored 10 points or less.
The Govs senior guard went 9-of-18 from the floor, including four three pointers, en route to his fifth 20-point game this season and 16th of his career.
Next Game
Austin Peay Governors at Tennessee State Tigers
7:00pm, Monday, January 30th
If Austin Peay needs a reminder on how good Robert Covington is, the Govs just need to turn back the clock two weeks. The skilled 6-9 forward rained 30 points on the Govs with an array of three pointers and explosive moves to the basket. He also grabbed 15 rebounds as APSU pulled away late for a 69-63 verdict.
This time the matchup will be at the Gentry Center in Nashville. The Govs also will have deal with another old nemisis as Patrick Miller scored 17 in the first meeting.