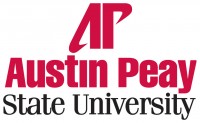 Clarksville, TN – The next Provost Lecture Series at Austin Peay State University will feature an Austin Peay State University professor and ichthyologist whose latest research focuses on the redband darter species.
Dr. Rebecca Johansen, assistant professor in the APSU Department of Biology and principal investigator in the Center of Excellence for Field Biology, will speak at 3:00pm, Thursday, February 2nd in the Morgan University Center, Room 303. The event is free and open to the public.
The title of her talk is "Phylogeography and conservation status of the rare Tennessee endemic, Redband Darter."
Johansen will present results of research on the redband darter (Etheostoma luteovinctum), conducted in collaboration with her graduate student Matthew Wagner. The redband darter is endemic to Tennessee and has an interesting distribution, found only in headwater streams of the Caney Fork and Stones River systems of the Cumberland River Drainage and the Duck and Elk River systems of the Tennessee River Drainage.
The biology of the species, including its inability to complete its life cycle in larger rivers or to migrate over long distances, suggests past drainage patterns and/or headwater stream capture events may best explain the current distribution of the redband darter. The authors will discuss how recently gathered genetic data support this hypothesis. They will also highlight for the first time the presence of two distinct genetic lineages of redband darter and present data documenting continued declines in the population and range of the species. The implications of results for the long-term conservation of the species will be discussed.
Johansen joined the biology faculty of APSU in 2009. As an ichthyologist, her research encompasses a variety of topics, from ecology and biogeography to population genetics and conservation of freshwater fishes, but is primarily centered on the challenges of documenting and describing fish diversity.
Over the past five years, Johansen has presented more than 15 papers or posters of her research at international and regional scientific meetings and has been invited by several societies and universities to give seminars. Her research has been published in several international, peer-reviewed journals.
Since coming to APSU, she has continued her efforts to document and describe the diversity of North American freshwater fishes and has four graduate and several undergraduate students participating in her research program. She has published two manuscripts and has worked with colleagues and students to submit seven grant proposals, including one submitted to the National Science Foundation (NSF).
Johansen earned her B.S. and M.S. in biology from Eastern Kentucky University in Richmond in 1998 and 2001, respectively, and a Ph.D. in ecology and evolutionary biology from Tulane University in New Orleans, La., in 2007. For both her thesis and dissertation research, she examined the patterns of evolution and species diversification in the Fantail Darter species complex, which has been termed the largest remaining taxonomic problem in North American freshwater fishes.
After completion of her Ph.D., Johansen was awarded a highly competitive postdoctoral associate position at the Florida Museum of Natural History at the University of Florida in Gainesville, where she worked with colleagues and students for two years to describe a new species of catfish and three new federally endangered species of small, stream fishes called darters. Her work on catfishes was part of a larger NSF-funded All Catfish Species Inventory Project designed to document and describe the global biodiversity of catfishes.
Other sessions in the Provost Lecture Series also are planned for the academic year. All sessions are from 3:00pm-4:30pm in the MUC, Room 303 (unless noted otherwise) and include the following:
February 9th: Dr. Sergei Markov, associate professor of biology
February 16th: Cynthia Marsh, professor of art
February 23rd: Dr. Christine Mathenge, associate professor of geology
March 1st: Dr. Robert Shelton, associate professor of chemistry
March 15th, MUC 307: Dr. Allyn Smith, associate professor of physics
March 22nd: Dr. Sharon Mabry, professor of music
March 29th: Dr. Cameron Sutt, assistant professor of history
April 5th: Mark DeYoung, assistant professor of art
April 12th: Dr. Tim Winters, professor of English
April 19th, MUC 103: Dr. Jeffrey Wood, professor of music
The Provost Lecture Series seeks to foster a spirit of intellectual and scholarly inquiry among faculty, staff and students. The program will be used as a platform for APSU faculty members who are recent recipients of provost summer grants, who have been awarded faculty development leaves and who have engaged in recent scholarly inquiry during sabbatical leaves.
APSU faculty members with recent research of acclaim also will be given a platform within this series. In addition, other faculty members of local or widespread renown will be invited to lecture within this series.
For more information about the Provost Lecture Series, call Dr. Brian Johnson, assistant vice president of academic affairs at APSU, at 931.221.7992 or email him at .