Austin Peay Women's Basketball vs. UT Martin Skyhawks
Wednesday, February 1st, 2012 | Tipoff: 7:00pm (CT)
Clarksville, TN | Arena: Dunn Center (7,257)

Clarksville, TN – Austin Peay returns home to start a two-game home stand when it hosts second-place UT Martin in a 7:00pm, Wednesday contest. The Lady Govs will seek to end their current six-game losing streak, which they saw extended courtesy a 69-60 loss at Southeast Missouri, Monday.
The Skyhawks have won four straight and will visit Clarksville fresh off a 105-90 victory against Tennessee State, Monday. Both teams will be playing their third game in five days in what has been an five-day quadrangular between APSU, UTM, Tennessee State and Southeast Missouri. Austin Peay has won its last eight home games against UT Martin, the Skyhawks last win at the Dunn Center coming during the 2001-02 season.
For the fourth consecutive game, Austin Peay suffered through scoring drought of more than six minutes as Southeast Missouri used an 18-6 run over the first half's final 8:38 to take a halftime lead they would not relinquish. Austin Peay lost the rebounding battle (43-31) for the ninth time in 10 conference games.
The Lady Govs four offensive rebounds were their fewest in a game this season and the fewest since grabbing only four, January 27th, 2004 against Tennessee Tech. Austin Peay committed only 17 turnovers while forcing 17 Southeast Missouri miscues, APSU posting a 12-6 edge on points off turnovers.
Thanks largely to Kaitlyn HIll's team-best 16-point effort, the Lady Govs owned a 24-18 edge on points in the paint. Eight of the nine Lady Govs to play in the contest scored and no player played fewer than 10 minutes.
APSU blocked five shots against Southeast Missouri and has 12 blocks in its last two games – prior to that APSU had 32 blocks in its previous 21 games (1.5 pg). Southeast Missouri attempted 29 free throws, the third consecutive opponent to attempt 28 or more free throws.
About UT Martin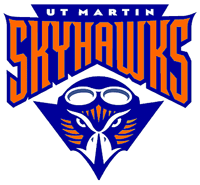 The Skyhawks are scoring a league-best 88.6 points per game in conference action, with two 100-point outings, a 90-point effort and four 80-point games. UT Martin has been held below 80 points in OVC play once in eight games this season – that a 70-63 loss at league-leading Eastern Illinois, January 16th. UT Martin is ranked 13th nationally in scoring, courtesy a three-point attack that ranks third in three-pointers made (9.2 pg) and 26th in percentage (35.7).
Sophomores Heather Butler and Jasmine Newsome give the Skyhawks a formidable one-two offensive punch. Butler, the 2010-11 OVC Freshman of the Year, is averaging a league-best (9th nationally) 23.0 points per game, including a school-record 42-point outing against Tennessee State, Wednesday. Newsome ranks second among league scorers (19th nationally) at 19.5 points per game and had a 37-point outing at Tennessee State, January 2nd.
Fast Break Points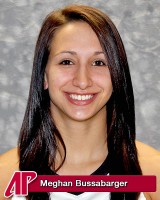 Injury Update: Junior forward Meghan Bussabarger suffered a concussion in a practice prior to the Eastern Kentucky (January 16th) contest and will miss the UT Martin contest. It will be the fifth consecutive game she has missed due to the injury.
Recent injuries forced the Lady Govs to use their 13th different starting lineup combination this season – junior Kaitlyn Hill notching her season's first start at Southeast Missouri, Monday. Those 13 combinations are the most used by a Division I team this season, only Colorado State has put forth at least 10 different lineups this season.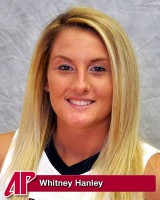 Senior guard Whitney Hanley became the 14th Austin Peay women's basketball player to reach the 1,000-point plateau with her 21-point performance at Lipscomb, November 14th. Her 1,380 career points is sixth on the Lady Govs all-time scoring list and she needs 63 points to become one of the Lady Govs top five scorers all-time, passing Amanda Behrenbrinker (1,335 points, 1994-98). She is 120 points away from the 1,500-point plateau – a mark only three Lady Govs have reached all-time.
Hanley saw her school-record streak of consecutive made free throws stopped at 25 when she missed her first free throw at Tennessee State, December 29th. She broke the record, previously held by Brooke Armistead (24 consecutive FTM), with a 4-of-4 effort against Alabama A&M, December 21st.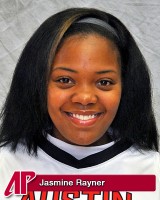 Senior forward Jasmine Rayner became the 15th Lady Govs player to reach the 1,000-point plateau with an eight-point outing against Eastern Kentucky, January 16th. She currently sits 14th on the scoring list, entering this game with 1,046 career points. Rayner needs 73 points to move past head coach Carrie Daniels who holds down the 13th spot with 1,118 career points.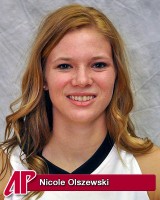 Austin Peay returns its four leading scorers from last season's team: Hanley (12.2 ppg), Rayner (10.5 ppg), junior forward Meghan Bussabarger (8.0 ppg) and sophomore guard Nicole Olszewski (8.0 ppg).
Hanley was named to the Preseason All-OVC team after receiving second-team All-OVC honors last season.
Austin Peay is 47-57 (.451) in regular-season OVC play under Daniels.
The Lady Govs are 16-23 (.410) in February under Daniels.
An Austin Peay Win Would
End its six-game losing streak… end its three-game home losing streak… be its third win at the Dunn Center (3-7)… be its ninth consecutive win against UT Martin at the Dunn Center…  improve Daniels' record to 69-113 overall, including a 48-57 record in OVC play… make the Lady Govs 421-584 overall since 1976-77.
An Austin Peay Loss Would
Be its seventh consecutive loss… be its fourth straight loss at the Dunn Center… make it 2-8 at the Dunn Center this season… be its first home loss to UT Martin since Jan. 10, 2002, ending an eight-game win streak vs. UTM at the Dunn Center… drop Daniels' record to 68-114 overall, including a 47-58 record in OVC play… make the Lady Govs 420-585 overall since 1976-77.
Last Time Out
Austin Peay Lady Govs at Southeast Missouri
January 30th, 2012
Cape Girardeau, MO – Austin Peay women's basketball team suffered its sixth consecutive loss, falling 69-60 to Southeast Missouri in Ohio Valley Conference action, Monday's night, at the Show Me Center.
The storylines in Monday's loss echoed many of the same themes as its previous losses – surrendering a first-half lead and losing the rebounding battle. Yet a new twist emerged as Austin Peay struggled defensively against a Southeast Missouri team that entered the game ranked last among OVC schools in offensive production.
For the fourth straight game, Austin Peay (5-18, 2-8 OVC) surrendered a lead late in the first half. Austin Peay led 22-19 with 7:53 left in the first but watched Southeast Missouri piece together a 16-6 run the rest of the way to take a 35-28 halftime lead.
Austin Peay also lost the rebounding battle despite junior Kaitlyn Hill entering the starting lineup. The Lady Govs led the battle 10-8 with 7:53 left in the first but were outrebounded the rest of the way. Southeast Missouri finished the game with a 43-31 rebounding edge as Austin Peay recorded only four offensive rebounds.
But adding to those woes was a sub-par defensive effort that allowed Southeast Missouri (5-17, 2-7 OVC) to post its second-best offensive effort this season. The Redhawks used their 14 offensive rebounds to score 12 second-chance points. That effort on the glass helped Southeast Missouri overcome a 39.7 percent shooting effort.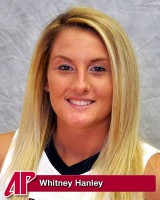 Hill, who had double-doubles in APSU's last two games, led the Lady Govs with 16 points, scoring eight in each half, but had only two rebounds.
Whitney Hanley scored 15 points on a 7-of-17 shooting effort. Jasmine Rayner added 10 points. Leslie Martinez had a team-best five rebounds.
Allyson Bradshaw was the thorn in Austin Peay's side, making all five of Southeast Missouri's three pointers and finishing with a game-high 17 points. Brittany Harriel, the Redhawks leading scorer entering the night, added 15 points. Bailie Roberts chipped in a 10-point, 13-rebound effort.
Lady Govs Last Meeting With UT Martin
February 3rd, 2011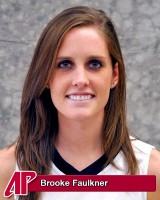 Clarksville, TN – Senior Brooke Faulkner scored all 16 of her points in the second half to help lead Austin Peay to a 69-61 come-from-behind victory in Ohio Valley Conference play, Thursday night, at the Dunn Center.
Austin Peay (8-16, 7-5 OVC) overcame a 13-point deficit just five days after surrendering an 11-point lead at Morehead State. UT Martin led by that margin, 41-28, with 15:52 remaining in the game following senior Alecia Weatherly's three-point field goal.
But the Lady Govs chose that moment to make their comeback and pieced together a 17-4 run over the next 5:25 to tie the game, 45-45. Faulkner scored eight points during the run, making a pair of three-point field goals and nabbing a pair of steals.
UT Martin (13-9, 8-3) fended off Austin Peay's attempts to take the lead for the next two minutes. However, the Lady Govs continued to press and took its first lead of the game, 52-49, on Faulkner's three-pointer at the 8:20 mark.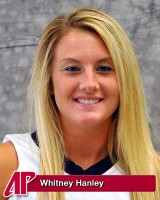 The Lady Govs would not enjoy more than a two possession advantage over the next seven minutes until Faulkner hit another three-pointer followed a minute later by junior Whitney Hanley's layup to give APSU an eight-point, 67-59, lead with 1:11 remaining.
The Skyhawks led throughout the first half but the Lady Govs forced five ties in the game's opening 10 minutes. But a 15-3 run over a nearly eight-minute span gave UT Martin a 12-point, 30-18 lead with 2:51 remaining. Austin Peay would score four consecutive points – slashing the lead to eight points, but UT Martin responded with the half's final four points to take a 34-22 halftime lead.
Faulkner played just nine minutes in the opening half, with just one field goal attempt for her effort. However, she broke free in the second half and finished the game 6-of-11 from the field, including 4-of-5 from three point range. Hanley added an 18-point, 10-rebound effort for her season's third doubledouble.
They were two of nine different Lady Govs players to score a point in the contest.
Freshman Heather Butler, the OVC's scoring leader, led UT Martin with 19 points, but was held to seven points in the second half. Weatherly added 11 points and Beth Hawn chipped in 10 points off the bench.
Next Game
Austin Peay Lady Govs vs. Tennessee Tech Golden Eagles
February 6th, 2012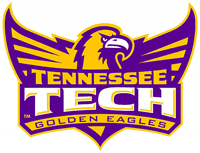 Austin Peay hosts Tennessee Tech in this season's only meeting between the two rivals at 7:00pm, Monday at the Dunn Center. It will be the  88th meeting between the two teams in a series that dates back to the 1970-71 season. The Golden Eagles have dominated the series 70-17 but the Lady Govs have been their equal since the 2000-01 season – the two teams splitting the 22 meetings in the new millennium.
After a slow start to the season – TTU was 3-10 during the 2011 portion of its schedule – the Golden Eagles have posted a 6-3 conference mark and won their last four outings. Preseason OVC Player of the Year Tacarra Hayes has found her form as well and leads TTU with 17.3 points per game while ranking second on the team with 6.0 rebounds per contest.