Clarksville, TN – Yesterday morning  Publix held the grand opening and ribbon cutting for their newest location, the store is the first of three Publix locations planned for our area.  Shoppers started lining up outside the store with the first arriving around 3:00am, and the bulk starting to arrive around 5:00am for the 6:45am ribbon cutting.
The Clarksville-Area Chamber of Commerce conducted the ribbon cutting with Store Manager Norman Rubio Jr.  doing the honors, with Montgomery County Mayor Carolyn Bowers and Clarksville Mayor Kim McMillan holding the ribbon.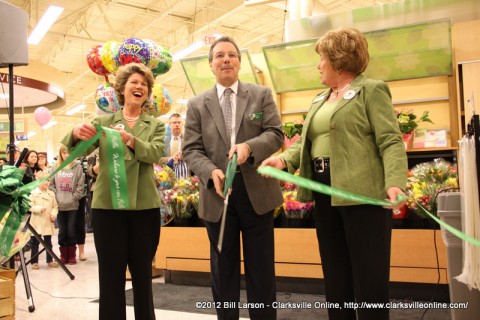 The crowds started gathering at 3:00am for the 6:45am opening, with the bulk of the crowd starting to arrive at 4:00am. The first twenty five people in line received a $25.00 bag with some free groceries. When the doors opened the ribbon cutting ceremony began.
The VIP guests and assembled shoppers were welcomed to the new store by Manager Norman Rubio, who has been with the chain for over twenty years. He got his start bagging groceries and worked his way up the chain until he was managing stores in the Atlanta market. He also was part of the team that opening the first Publix store in Tennessee 9 years ago in Hermitage Tennessee. "This is as exciting (opening the store in Hermitage), if not more so; coming to Clarksville as a new market. We have been so well received; you have welcomed us with open arms," he said.
Rubio takes his commitment to his customers very seriously, "I look forward to serving the community along with my team and staff…My office is out here on the sales floor along with my staff. Approach me, ask me questions, I'll serve you as best I can. If there are things or items that the store does not carry that is a favorite and you haven't seen it in a while, I pledge to you, I sincerely pledge to you that  I will do my best to get you anything that you want to bring home to serve your family and your friends."
After Rubio finished speaking Montgomery County Mayor Carolyn Bowers addressed the crowd, "This is the first day of the first Publix in Clarksville, Tennessee and that is something that we should all be excited about. Yesterday Publix committed to being a part of our community and serving our community by presenting two $1,000 checks, one to United Way, and one to the Clarksville-Montgomery County Education Foundation. That is a great way to start supporting our community. We know  that the Publix Corporation is fantastic company for their employees, our citizens, and our community. It's owned by their employees and they are really committed to serving their customers and our community. We are so excited about the quality of their merchandise and their service. We are really excited to have them as a partner in our community. It wasn't too long ago; June 2010 were we were breaking ground, and here today we are opening the store. So congratulations Publix we welcome you!"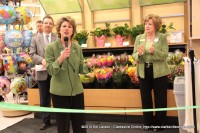 She was followed by Clarksville Mayor Kim McMillan. Mayor McMillan started off addressing the people who braved the early morning hours to be at the front of the line to get in the new store, "I am happy about these first 25 people, I know you were here early to be the first 25 people in line.  That's right!"  She then joked about both her and Mayor Bowers wearing "Publix green" jackets, "This is how excited Mayor Bowers and I are, we thought that we were not coming to cut the ribbon but to come to work, so we kinda dressed like everybody else! I think after this is over we can go over there and start working, and they would welcome us because that is how Publix is."
She then spoke about how proud Clarksville was to have Publix choose to come to our community, "We are so excited to have this store here in this community. In addition to the checks that you already heard, they also gave $1,000 to Big Brothers, Big Sisters. I think what that shows is their commitment to this community. Their employees are here, they are all smiling, and ready to go to work. I am truly excited for the citizens of Clarksville to have this opportunity here with this wonderful corporate citizen. So welcome thank you for coming, thank you for being a part of our community! Thank you!"
Then it was time for the ribbon cutting.  Rubio cut the ribbon after having the crowd join him in a countdown from 5. Then the audience broke into cheers and applause.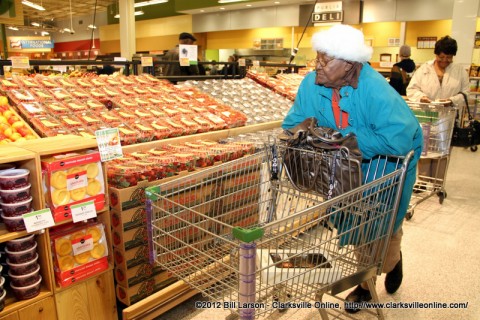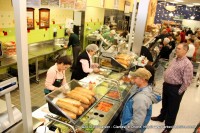 After the ribbon cutting the store was open to the public and crowds eagerly dispersed through the store. "We have here a great variety of fresh products and private label products that we wish for you to enjoy and purchase." said Rubio. Among the unique features are the Bakery which bakes fresh breads and desserts in house; the full-service deli which provides a variety of Boar's Head meats and cheeses, along with Rotisserie and fried chicken; the International Food section; fresh seafood; and an in house butcher shop. The shopping center has the usual variety of groceries that any supermarket in the world would have with an open and airy presentation.
Brenda Burkhardt, was the second person in line to get into the store. She said, "I have been looking forward to Publix coming to Clarksville for a long time. I used to go to the one in Nashville every once in a while but not very often because it was so far away. I liked their food and their generics are fantastic. I love their glass cleaner! Their meats are also excellent, they have very good meats here."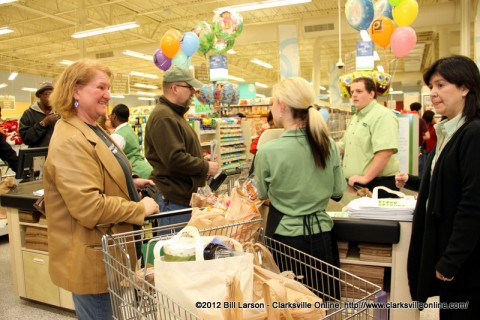 Rev. Jimmy Terry from Tabernacle Baptist Church was on hand at the opening. He feels that the new store is a great boost for the community, "It says something about the growth of Clarksville that they came here with all the other markets that we already had, and they came here with all this, and then are already planning to build another one it says something about the Clarksville Community. Not to mention, competition is great!"  They have been looking forward to the opening, "My wife and I have been looking forward to the store's arrival since they announced it."
Phyllis Fox was attending her first grand opening, "The store is beautiful, everything looks wonderfully delicious. The fruit is really fresh looking, and I can't wait to get some good bread,  their Whole Wheat breads." She loves the fact that the store stocks a selection of raw nuts and sunflower seeds, and hopes they will consider adding pumpkin seeds to their selection.
City Council member Geno Grubbs was among the City Council members on hand at the opening, "I think this store is just beautiful, and it will be a great asset to the community. I mean look at how crowded this store is at 7:00am, it's packed! With the great service and the wonderful staff that Publix has, this will be a great place to shop."
Drop by if you get a chance, the store is located where the old Memorial hospital was located, now the Madison Street Commons. The address is:
1771 Madison Street
Clarksville, TN 37043-4990
You can contact them via telephone at Main: 931.551.7031; Fax: 931.551.7042; Pharmacy: 931.551.7036. You can visit their web site at http://www.publix.com/
Photo Gallery
Map
About Publix
Publix, a privately-held company operating stores in Florida, Georgia, South Carolina, Alabama and Tennessee, was founded by George W. Jenkins in 1930 in Winter Haven, Florida. It has grown into a Fortune 500 company with more than 1,000 stores and is one of the fastest growing employee-owned companies in the United States.Publix is known for its philosophy of pleasing the customer; the Publix guarantee to never knowingly disappoint our customers is legendary in the industry.
The Mission at Publix is to be the premier quality food retailer in the world. To that end we commit to be:
Passionately focused on Customer Value,
Intolerant of Waste,
Dedicated to the Dignity, Value and Employment Security of our Associates,
Devoted to the highest standards of stewardship for our Stockholders, and
Involved as Responsible Citizens in our Communities.