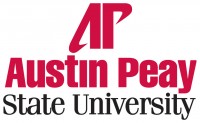 Clarksville, TN – Several faculty and staff members at Austin Peay State University announce their recent professional and scholarly activities.
Rose Austin, bursar, received the PeayFormance Partner Award. The Enrollment Management and Academic Support presents this award quarterly to faculty, staff or administrators who work in partnership with EMAS staff to demonstrate excellent service.
Charles Booth, staff writer in the APSU Office of Public Relations and Marketing, will have his short story, "The Last Blood Maple," published in a forth-coming edition of SLAB (Sound and Literary Art Book) magazine, produced by Slippery Rock University. His short story "Medjugorje" will also appear this spring in Booth: A Journal – a literary magazine named after the writer Booth Tarkington and published by Butler University.
Johnathan Button, financial aid assistant in the Office of Financial Aid and Veterans Affairs, received the PeayFormance Customer Service Award. The Enrollment Management and Academic Support presents this award quarterly to a professional or clerical staff member nominated by his or her peers as exemplifying service above and beyond the call of duty to APSU students, faculty and the general campus community.
Dr. Culley Carson-Grefe, professor of French and Spanish, attended the Hawaii International Conference on Arts and Humanities from January 10th-13th in Honolulu. She chaired a session on second language studies and presented a paper, titled "Apples to Apples: Teaching Translation."  She also participated in a panel on "Promoting Innovation in World Language Instruction: Issues, Examples, Action."
Dr. Carter Smith, assistant professor of criminal justice and homeland security, had a paper, "A Comprehensive Literature Review of Military-Trained Gang Members," published in the Fall 2011 Journal of Gang Research and also is included in the National Criminal Justice Reference Service.
Sections
Education
Topics
APSU, APSU Office of Public Relations and Marketing, Austin Peay State University, Carter Smith, Charles Booth, Clarksville TN, Honolulu HI