APSU Sports: Austin Peay Men's Basketball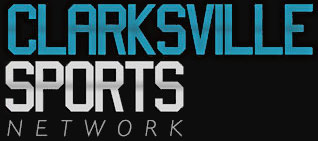 Nashville, TN – For the second time in as many weeks, the Austin Peay Governors made a trip to Nashville Tennessee for a rare Monday night game.
And, unfortunately for the Govs, a raucous road environment led to an uninspired performance for the second time in as many weeks as the Govs committed 21 turnovers in a 94-55 to future OVC conference member Belmont Monday night.
Playing a rematch of a game the Bruins won 77-67 in Clarksville on December 21st, the Govs (9-17, 6-6 OVC) never looked remotely competitive in the return matchup.
"There is nowhere to start," Governors head coach Dave Loos said. "We were just beat in every possible way. We didn't play with an enthusiasm from the get go and I have to be responsible for this. I didn't have them ready to play in any way."
After trailing early, the Govs were able to grab a 4-3 lead when Josh Terry swished home a pair of free throws 2:15 into the contest.
12 seconds later, however, the Bruins retook the lead and never trailed again, knocking home shot after shot, burying the Govs confidence along the way.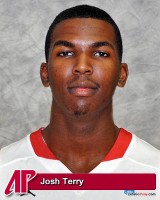 After 19 giveaways plagued the Govs in a 94-88 loss to Tennessee Tech last Thursday, turnovers once again were an issue for the Govs Monday night.
In all, the Govs finished with a season-high 21 turnovers, leading to 33 points for the Bruins.
"We weren't executing offensively," Josh Terry said. "They were pushing up in transition and getting easy buckets. They were getting in the paint and working inside out and getting open looks."
The Bruins also took care of the basketball – committing just one turnover in the first half as they raced out to a 46-25 halftime lead.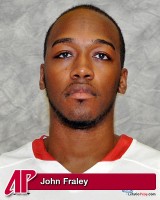 Terry led the way offensively for the Govs, scoring 13 points on 5-of-9 shooting.
Govs big man John Fraley recorded 10 points and tracked down six rebounds in the loss.
Will Triggs and Alton Williams – both of whom Loos started the second half in an attempt to spark a second-half rally – finished with eight points.
"That surprised me," Alton Williams said of his opportunity to start the second half. "But that just made me want to go out there and show that I can play. I didn't want to let my coach or teammates down."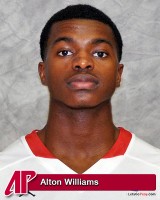 Scott Saunders led the charge for the Bruins (18-7, 10-2 Atlantic Sun) scoring 18 points – six of which came from a perfect night at the free throw line.
As a team, the Bruins sank 35-of-66 field goals and made 14-of-18 free throws.
The Bruins also finished with four scorers in double figures and had a 24-to-8 assist-to-turnover ratio.
"It's hard to tell anything about this game other than they gave us a pretty good lesson," Loos said. "I don't think we really competed obviously the way that we needed to. They (Belmont) are good but we just weren't up to the challenge tonight."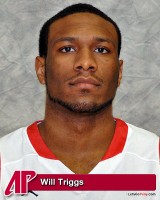 With the win, the Bruins and head coach Rick Byrd notched their 10th win in 40 meetings against their future conference opponents.
Despite a huge game looming against potentially unbeaten Murray State Racers in their next game, Loos stopped short of saying his team's effort would return Saturday.
"I would hope so. But you would think that we would be ready to play tonight. This was a big game against a good team that had beaten us the first time. You would think we would show up with the right approach and right attitude…not so."
Box Score
Austin Peay vs Belmont
2/6/12 – 7:05pm at Curb Event Center (Nashville, TN)
 Austin Peay 55
Total
3-point
Rebounds
##
Player
p
fgm-fga
fgm-fga
ftm-fta
off-def
tot
pf
tp
a
to
blk
stl
min

20

BAKER, Melvin

f

2-6

0-0

0-2

0-3

3

4

4

0

1

0

2

18

23

TERRY, Josh

f

5-9

0-0

3-6

2-2

4

0

13

1

3

0

1

25

21

FRALEY, John

c

4-6

0-0

2-2

3-3

6

3

10

2

2

0

1

21

01

CLYBURN, Jerome

g

1-2

0-0

0-0

0-1

1

1

2

2

3

0

0

14

12

EDMONDSON, TyShwan

g

0-3

0-0

0-0

0-1

1

0

0

0

3

0

1

20

03

COVINGTON, Kevin

–

0-0

0-0

0-0

0-0

0

0

0

1

0

0

0

2

10

TRIGGS, Will

–

2-5

0-0

4-6

0-0

0

0

8

1

0

0

0

20

11

GREER, Thomas

–

0-0

0-0

0-0

0-1

1

0

0

1

2

0

0

6

14

WILLIAMS, Alton

–

2-6

2-6

2-2

0-2

2

1

8

1

0

0

0

21

15

FREEMAN, Chris

–

3-4

0-0

0-0

1-4

5

1

6

0

0

0

0

12

22

LAWRENCE, Herdie

–

0-4

0-4

0-0

0-0

0

1

0

3

0

0

0

18

24

HARMS, Joe

–

0-0

0-0

0-0

0-0

0

0

0

0

1

0

0

3

32

BLAKE, Justin

–

1-4

0-2

0-1

0-0

0

0

2

0

2

0

0

13

33

HASSE, Matt

–

1-1

0-0

0-0

1-1

2

4

2

2

2

0

1

7

TM

TEAM

–

–

–

–

1-2

3

–

–

–

2

–

–

–

Totals…………..

–

21-50

2-12

11-19

8-20

28

15

55

14

21

0

6

200

42.0%

16.7%

57.9%

Team summary:
FG
3FG
FT
1st Half:

11-26

1-6

2-5

42.3%

16.7%

40.0%

2nd Half:

10-24

1-6

9-14

41.7%

16.7%

64.3%
Belmont 94
Total
3-point
Rebounds
##
Player
p
fgm-fga
fgm-fga
ftm-fta
off-def
tot
pf
tp
a
to
blk
stl
min

02

JENKINS, Blake

f

5-8

1-3

1-1

0-3

3

1

12

1

1

2

0

17

34

HEDGEPETH, Mick

c

3-6

0-0

7-8

2-5

7

2

13

0

2

0

2

19

01

HANLEN, Drew

g

5-10

3-7

0-0

0-2

2

2

13

5

1

0

0

26

03

JOHNSON, Kerron

g

1-3

1-2

0-0

0-0

0

2

3

6

0

0

1

24

21

CLARK, Ian

g

2-8

2-5

0-0

0-1

1

0

6

1

0

0

1

23

00

LANG, Chad

–

3-4

0-0

0-2

0-2

2

1

6

0

2

0

0

5

04

MOBLEY, Holden

–

0-0

0-0

0-0

0-1

1

1

0

1

0

0

0

4

05

CAVERA, Seth

–

0-0

0-0

0-0

0-0

0

0

0

0

0

0

0

3

14

MANN, JJ

–

3-7

2-2

0-0

3-1

4

0

8

1

1

0

0

16

22

CHAMBERLAIN, Reece

–

3-4

1-2

0-0

1-0

1

3

7

2

1

0

2

14

24

BARNES, Adam

–

2-3

0-0

0-0

1-1

2

2

4

1

0

0

0

9

30

NOACK, Trevor

–

0-4

0-4

0-0

2-3

5

1

0

1

1

0

0

12

32

SAUNDERS, Scott

–

6-7

0-0

6-6

0-5

5

2

18

2

0

0

3

16

45

BAKER, Brandon

–

2-2

0-0

0-1

0-1

1

1

4

5

0

0

2

12

TM

TEAM

–

–

–

–

2-0

2

–

–

–

–

–

–

–

Totals…………..

–

35-66

10-25

14-18

11-25

36

18

94

26

9

2

11

200

53.0%

40.0%

77.8%

Team summary:
FG
3FG
FT
1st Half:

17-33

6-14

6-6

51.5%

42.9%

100 %

2nd Half:

18-33

4-11

8-12

54.5%

36.4%

66.7%
| | | | | |
| --- | --- | --- | --- | --- |
| Score by Periods | 1st | 2nd | Total | |
| Austin Peay | 25 | 30 | 55 | Record: (9-17) |
| Belmont | 46 | 48 | 94 | Record: (18-7) |
Officials: Billy Dunlap, Jeff Smith, Patrick Evans
Technical fouls: Austin Peay-None. Belmont-None.
Attendance: 1476