APSU Sports: Austin Peay Baseball

Brentwood, TN – Austin Peay State University's baseball team will have the target squarely on its back for the upcoming 2012 campaign after the Ohio Valley Conference coaches named it the preseason favorite in the league's preseason poll, released Tuesday. In addition, four Governors players were named to the league's 14-member preseason team.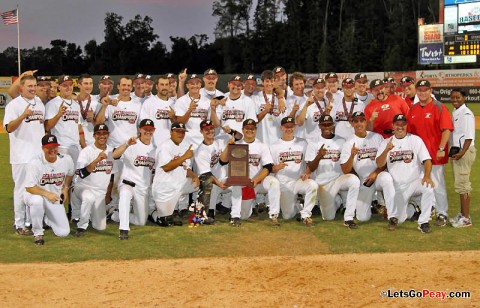 Austin Peay received seven of the nine possible first-place votes in the poll and received 79 points. Jacksonville State was given a second-place nod with 73 points and one first-place vote. Tennessee Tech was picked third with 63 points and the remaining two-first place votes. Southeast Missouri (52 points), SIU Edwardsville (48) and Eastern Kentucky (45) were picked to round out the six-team tournament field. Eastern Illinois (34), UT Martin (25), Murray State (21) and Morehead State (10) round out the poll.
"Being picked first basically guarantees everyone is going to give us their best shot during the season," said head coach Gary McClure, who is entering his 25th season. "Not that they wouldn't give you their best anyway, but being picked first insures you'll see their best effort. We want to be a good baseball team and that means you have to go out and play your game. I believe if we can do that we'll give ourselves a chance to win. As a coaching staff, we are going to try and instill in our guys that this is a process and you can't win it all in one day."
Senior outfielder Michael Blanchard, senior starting pitcher Zach Toney, junior shortstop Reed Harper and sophomore second baseman Jordan Hankins will enter the 2012 campaign as members of the league's preseason team. Jacksonville State saw five players receive a preseason nod, including reliever Todd Hornsby who was the league's Preseason Pitcher of the Year. Southeast Missouri third baseman Trenton Moses was named the league's Preseason Player of the Year.
The Governors will look to recreate the magic of a 2011 season that saw them come from nowhere to win both the OVC's regular-season and tournament titles. Austin Peay did not qualify for the tournament field in either 2009 or 2010 – finishing at the bottom of the league standings in 2009 – but rallied in 2011, winning the regular-season title with two weeks remaining then sweeping through the OVC Tournament.  Austin Peay went on to stun host Georgia Tech in the opening round of the NCAA Baseball Tournament's Atlanta Regional.
Eighteen letterwinners, including eight positional starters and one member of its weekend rotation, return from that team. In addition to the team's preseason selections, senior third baseman Greg Bachman returns after earning second-team All-OVC honors last season along with sophomore catcher Matt Wollenzin and sophomore outfielder Rolando Gautier, who earned OVC All-Freshman honors.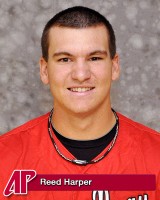 Blanchard finished a breakout junior campaign with a .331 batting average – 19th among league hitters – and a .438 on-base percentage while leading the league with 28 stolen bases. Toney, the team's No. 3 starter last season, compiled a 6-2 record and 3.72 ERA with 64 strikeouts in 72.2 innings. Harper, who was named to the Atlanta All-Region team, pieced together an impressive 29-game hit streak before ending the season a .332 batting average and 43 RBI. Hankins enjoyed one of the best freshman campaigns in program history, leading the team with a .361 batting average while also hitting the game-winning home run against Georgia Tech in the Atlanta Regional.
"I believe our experience will help us – they've been there," said McClure. "They understand the level you have to play at to win. The thing you have to guard against is being complacent. However, they have shown all year the ability to practice hard, stay focused and play hard. We've got a lot of guys who used the offseason to get stronger and improve their skills. I believe it's extremely important to them to win."
Despite the large amount of talent returning, the Govs still will have to fill the holes left by the departure of OVC Pitcher of the Year Jeremy Dobbs, OVC Tournament Most Valuable Player Jack Snodgrass and closer Ryne Harper. In addition, Austin Peay will not have the services of first baseman John Hogan, who will miss the campaign due to injury.
Austin Peay will look to its nine newcomers to fill those holes. Transfers Casey Delgado and Ryan Quick are penciled in to fill the team's weekend rotation openings while transfer Tyler Rogers is expected to fill the closers role. Senior Tyler Childress will get the nod to fill in for Hogan at first base.
"We lost some great arms and not only did they have great arms but they pitched well for us and won," McClure said. "Anytime you're replacing quality pitchers it's tough. But I like our pitching staff from the standpoint that we've got a lot of depth – maybe more than we've had in the past. I believe we have some guys who can step into big roles for us."
Austin Peay opens the 2012 season in 10 days when it hosts Illinois State in a four-game series beginning with a 3:00pm, Friday, February 17th contest. The Govs will open defense of their OVC regular-season title when they travel to Southeast Missouri for a three-game set, March 23rd-25th. The OVC Tournament will be held May 23rd-27th at Pringles Park in Jackson, TN for the third consecutive year.
2012 OVC Baseball Predicted Order of Finish
1. Austin Peay (7 first-place votes) – 79
2. Jacksonville State (1) – 73
3. Tennessee Tech (2) – 63
4. Southeast Missouri – 52
5. SIUE – 48
6. Eastern Kentucky – 45
7. Eastern Illinois – 34
8. UT Martin – 25
9. Murray State – 21
10. Morehead State – 10
2012 Preseason All-OVC Baseball Team
Preseason OVC Player of the Year: Trenton Moses (3B), Southeast Missouri
Preseason OVC Pitcher of the Year: Todd Hornsby (RHP), Jacksonville State
C – Sam Eberle, Jacksonville State
1B – Ben Waldrip, Jacksonville State
2B – Jordan Hankins, Austin Peay
SS – Reed Harper, Austin Peay
3B – Trenton Moses, Southeast Missouri
OF – Jacob Daniel, Eastern Kentucky
OF – Kyle Bluestein, Jacksonville State
OF – Michael Blanchard, Austin Peay
DH – Phil Sorensen, UT Martin
UT – Andrew Deeds, Morehead State
SP – Zach Toney, Austin Peay
SP – Aaron Elias, Jacksonville State
RP – Todd Hornsby, Jacksonville State