Clarksville, TN – I walked into the new Publix store on Madison Street on Saturday morning and felt like I had entered a wonderland of food. Everywhere I looked was a colorful display of items I'd love to take home with me.
As Ashley Jones, a customer in the store expressed her feelings, "I've never been here before and I'm already in love! The vegetarian and international sections are fabulous. I'm a vegan so Walmart isn't really my friend!"
As you enter the store, the first area you see is the florist. Bouquets of cut flowers, pots of blossoming tulips and hydrangeas, arrangements of everything from roses to chrysanthemums! Fragrant flowers to start your day with pleasure were everywhere. Reasonable prices like a pot of tulips for $5.99 suited my wallet and my sense of cheer at the thought of Spring just around the corner.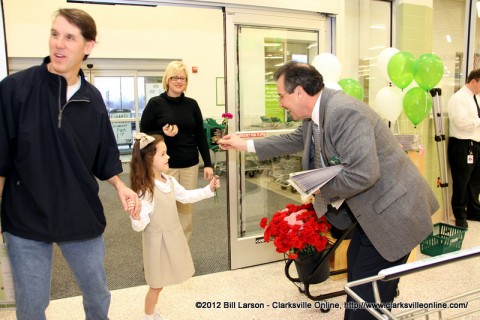 Next, over to my right, was the allure of the fantastic Publix bakery. Imagine strawberry-topped cake or chocolate icing that makes your mouth water just at the thought of it. They make not only freshly baked items daily but fresh butter cream several times a day. A free sample of the fantastic breakfast bread that features not only freshly-baked yeast-yummy melt-in-your mouth sustenance but a mixture of cranberries and other fruits; I had to have two loaves to share with others. It was hard to make myself move on after seeing all the offerings but the extensive deli nearby was beaconing.
The deli features all varieties of meats and cheeses to be cut to your specifications. The deli sells Boar's Head products, a product that is validated by the American Medical Association, the only deli provision that does have that distinct honor. Deli Clerks are properly trained in making sure that they can answer any questions about different dietary needs and what the deli provisions from Boar's Head provide. Available are gluten free products, low sodium products, and no sodium products. Next to the deli is an olive bar featuring eight kinds of olives plus antipasto and gigante beans in vinaigrette. Just up the aisle is a huge selection of teas and lemonades sold by the gallon. Beyond that is an international area featuring foods from around the world–England, Great Briton, Scotland, Germany, France, the Far East, the Caribbean. Yum! Yum!
Are you beginning to get the picture?
One of my favorite sections is Publix Apron's Simple Meal Recipes. Valerie Guzman, chef for simple meals, prepares two unique recipes throughout the day. The recipe cards are free and once you've seen the demonstration, all you have to do is go right around the corner to your left and every item required for this recipe is located in one area—even the utensils required. If you're in a hurry, it's a quick and simple way to put dinner together in 20 minutes or less! How can you go wrong? From Sunday through Tuesday one recipe is featured and the next runs from Wednesday through Saturday. The cards are available for previous weeks in case you miss one—and you can also find them on line.
The produce section of the store is mind-boggling. Everything from the freshest fruits to any vegetable you can name is located there. You can also find an extensive section of nuts, already sliced deli meats, cheeses, wraps, and pita breads right beside the produce.
Along the back of the store is the seafood counter with fresh seafood daily. It's counterpart is the sushi area where the chefs are offering beautiful and healthful selections. A 15-piece sushi package is typically about $6.99. If you don't see what you want, the chef will make it for you. Some offerings were topped with strawberries, avocados or mangoes.
Then there's a full butcher shop with glass windows where you can watch the meats being cut. You can have any meat sliced to your specifications and if a package is too large, the butcher will gladly break the package to the size you want. Nutritional information and even how to cook that cut is available on request.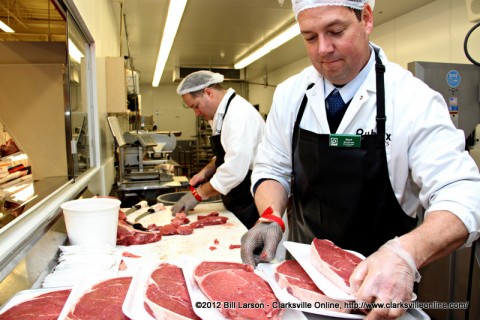 Here are things to watch for to stretch your budget. Every Wednesday is Senior Day with a five percent discount. Every week there is a penny item in the store. You have to ask what the item of the week is and then it's your for just one penny. Weekly savings are doubled through Buy One, Get One Free specials. The Publix web site has many specials on offer and you can run off the coupons. The web site also has many tips on how to save money. Over 1,000 recipes are also featured there.
In the store you can buy money orders, lottery tickets, transmit western union transactions, and rent Blockbuster DVDs for one dollar a day.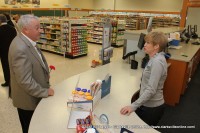 Publix has its own pharmacy where you can glean a $25.00 gift card when you switch a prescription from another pharmacy or bring in a new prescription. Available at a reasonable cost are quite a few immunizations—flu shots, Hepatitis B, tetanus, and others. Some prescription medications are even absolutely free! Check it out on line or ask at the pharmacy.
If this sounds too good to be true, you'll just have to take my word for it. I've been there, done that.
Now it's your turn!
By the way, in the same shopping plaza with Publix will be a Mexican restaurant, yoga center, and a Five Guys Hamburgers. All the other shops are under negotiations too. I know you've heard that you can't find a parking spot, but I drove right up to the front next to an empty store front at 10:00am Saturday morning and pulled right in to a prime space so don't let rumors keep you home!)
Photo Gallery
Photos taken at the Grand Opening of the Publix location on Madison Street on February 1st, 2012.