Clarksville, TN – Volunteers for USDA's Natural Resources Conservation Service (NRCS) come from all walks of life.
In Tennessee, we've been lucky enough to have U.S. Army soldiers, who were injured while serving our nation, volunteer at the Clarksville NRCS Field Office.
Clarksville is only eight miles from Fort Campbell, Ky., a large Army base which straddles the Kentucky and Tennessee border. Fort Campbell is the home of the 101st Airborne Division, Special Forces units, a combat support hospital and sizeable medical facilities.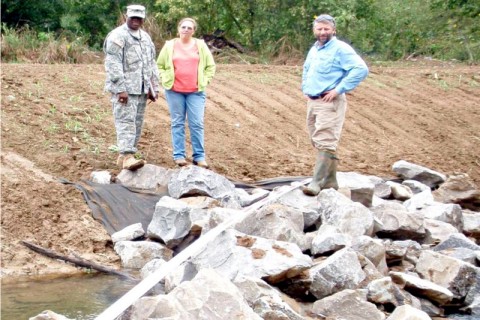 Fort Campbell soldiers have been seeing a lot of combat in Iran and Afghanistan. That means there are many combat-wounded needing treatment and time to heal.
Earth Team, NRCS' volunteer workforce, seems to be a great fit for many of these vets. It gives them an opportunity to be productive and contribute during their recovery. We can accommodate most physical limitations they might have, and they have the flexibility to go to medical appointments when needed. And hopefully with time many of them are able to return to their regular military jobs.
Shontel Lawrence, Ft. Campbell Army Wounded Warrior Advocate, works with me and my staff to place recovering soldiers as Earth Team volunteers. We tailor our jobs to the participants' preferences and abilities. Soldiers get to learn new skills, try out being conservationists and gain a civilian work reference.
The leadership skills and self-reliance these soldiers possess ensures that they are self-starters.  Many are technologically savvy and able to immediately contribute with computer-oriented tasks, due to the skills they gained in the military. Others assist with field work, including surveying and inspecting conservation practices, that occurs during the planning and implementation of putting conservation on the ground.
One young man told me that his time spent volunteering was as beneficial to his emotional healing as it was to his physical healing. And at NRCS, we are very grateful for these soldiers' help.
I am very proud of the fact that when these soldiers leave us and return to active duty or civilian life, they leave with healed bodies and new skills, knowing they have helped us help the land.
In fiscal year 2011, more than 22,000 Earth Team volunteers donated 435,653 hours of service to NRCS estimated to be worth $9.3 million. Since Earth Team was formed in 1985, over half a million volunteers have helped NRCS with its conservation mission.
Find out how to become an Earth Team volunteer in your community.
Follow NRCS on Twitter.