Austin Peay Men's Basketball vs. Morehead State
Wednesday, February 15th, 2012 | Tipoff: 7:00pm
Clarksville, TN | Arena: Dave Aaron Arena (7,257)

Clarksville, TN – Austin Peay certainly hasn't gotten to the point of hitting the panic button, but the Governors are in an unaccustomed spot heading down the regular-season stretch.
Historically, Austin Peay peaks in February. Since the mid-1990s the Govs have captured nearly 70 percent of their games in Feburary-March. The Govs find themselves entering Wednesday's 7:00pm game with Morehead State already owning a 0-3 February record.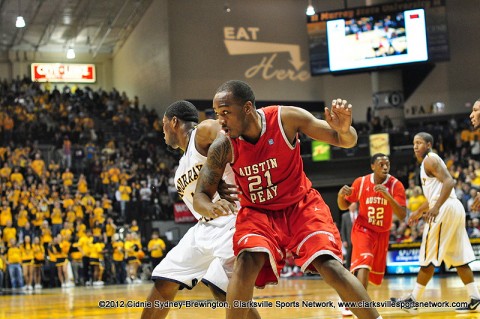 Defense has been the one Govs staple during those previous Februarys. The Govs are amidst a four-game losing streak that has seen them permit opponents to shoot 50.8 percent while allowing 86.8 points per game. In just three February games, opponents are scoring at a 90.0 ppg clip.
The Govs recent offensive and defensive struggles were evident at Murray State.
The Racers shot 52 percent from the floor, connecting on eight three pointers along the way. They also were out-rebounded 37-23, permitting 17 offensive rebounds.
The Governors, currently tied for seventh place in the OVC, will be battling a Morehead State team that is coming off an impressive 58-45 road win at Eastern Kentucky, just three days after losing at home to Jacksonville State.
Ty Proffitt (10.0 ppg) is the Eagles only double-figure scorer but it has been all about defense for the Eagles, who are allowing only 62.4 ppg and opponents to shoot 44.1 percent from the floor.
Austin Peay received a surprising off-the-bench performance from sophomore guard Alton Williams, who knocked down five three pointers against Murray State. Freshman Herdie Lawrence also enjoyed a solid performance, scoring 12 points, off the bench.
Governors Pardon
This is Austin Peay's 80th season of basketball.
Dave Loos, APSU's all-time winningest basketball coach, also is the OVC's all-time wins leader with 360 victories. He also has 442 career coaching wins.
The Dave Aaron Arena playing floor was named Dave Loos Court, Summer 2007. Loos is believed to be one of only three current Division I men's coaches who are coaching on courts that bear their respective names–Duke's Mike Krzyzewski and Syracuse's Jim Boeheim–are the other two. Valparaiso's Homer Drew, who retired after the 2010-11 season, had the floor named after him last season.
Since 1993-94, Austin Peay has finished no worse than fifth in the OVC standings.
Austin Peay has reached at least the OVC tournament semifinals in 13 of the last 17 years.
Austin Peay has made 27 straight appearances in the OVC tournament.
What You Should Know
The Series: This is the 102nd meeting between Austin Peay and Morehead State with Morehead holding a 51-50 advantage after Morehead State won three of the last four meetings. That includes this season's earlier meeting that saw the Govs lose to the Eagles, 68-64, December 31st, 2011.
Deeper Meanings
What A Win Wound Mean:
The Govs would gain their 10th 2011-12 victory and improve to 10-18 overall…they would move to the .500 mark in the OVC at 7-7… it would make the Govs 7-4 at home in 2011-12…they would improve to 5-2 at home in the OVC…it would be their first win in February…it would even the series at 51-51… they snap a three-game losing streak in the series…it would make Dave Loos 27-19 all-time against Morehead State…it would improve Dave Loos to 5-9 all-time against Morehead State coach Donnie Tyndall…it would be Loos' 443rd career coaching victory and his 361st APSU win.
What A Loss Would Mean: The Govs would fall to 9-19 on the season…it would be their fifth straight loss…they would fall two games below the .500 mark in the OVC at 6-8…it would be the Govs' fourth straight loss in the series…it would be the Govs' fifth home loss, the most by the Govs since the 2008-09 Govs were 9-5…it would be head coach Dave Loos' 364th career loss and 309th Austin Peay defeat.
Governors To Face Former OVC Foe In BracketBuster Game
Austin Peay will play an old OVC foe for the 10th annual Sears BracketBusters. Youngstown State, an OVC member from 1981-82 season through 1987-88, will come to Clarksville for the February 19th contest, scheduled for 7:30pm. The Penguins, members of the Horizon League, currently are 13-11 overall with an 8-6 conference record.
Austin Peay has a 6-8 record against YSU, having won the last four meetings in the series—two in 1986-87 and two more in 1987-88. This is Austin Peay's ninth appearance in the BracketBusters event—the most of any OVC school. The Governors are 2-6 in the previous eight games.
Losing Streak
Austin Peay comes in amidst a four game  losing streak. This is the third time this season the Govs have experienced losing streaks of four games or more. The Govs opened the season with nine consecutive losses. They closed the 2011 portion of their schedule with three consecutive losses and then opened 2012 with another defeat to extend that streak to four.
Passes His Coach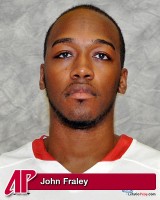 With his eight rebounds against Murray State, John Fraley has moved past his post coach, former Govs' great Bubba Wells, into eighth place all time in rebounds with 726 grabs. Wells finished his career (1993-97) with 720.
In recent weeks, Fraley not only has passed Wells but a pair of other prominent rebounders–former teammate Fernandez Lockett (703/2003-07) and former Govs great and nine-year NBA vet Trenton Hassell (685/1998-01).
Defense Cuts
After permitting fewer than 70 points in six straight games, including five wins, the Governors have now allowed more than 70 points in five straight, including four straight losses.
In the four losses, the Governors have allowed 86.8 points per game and 50.8 percent shooting.
Alton-Ator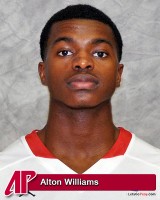 Walk-on sophomore Alton Williams led the Governors in scoring against Murray State with 15 points.
All 15 of his points came in the second half when he was five-of-five from three-point range.
Three Not So Plenty
Alton Williams has made seven of the Governors last nine three pointers. In fact, he made the only two in the Govs' February 6th loss at Belmont. He then made five against Murray State, last Saturday.
Freshman guard Herdie Lawrence had the Governors other two three pointers in the last two games, both coming Saturday against Murray State.
Guarded Play
Austin Peay's starting backcourt of Jerome Clyburn and TyShwan Edmondson combined to scorezero points against Murray State. In fact, over the last two games the duo has scored just two points. Clyburn scored the  Govs' first two points at Belmont while Edmondson was held scoreless.
Herdie Up
Freshman guard Herdie Lawrence came off the bench to score a career-best 12 points, including a duo of threes, against Murray State while tallying three assists.
Baked Goods
After scoring in double figures in 10 of the previous 11 games, senior forward Melvin Baker has scored just 10 total points in the last two games.
Baker has been unable to avoid foul issues in recent games that have helped contribute to his offensive reduction.
Next Game
Austin Peay Governors vs. Youngstown State Penguins
Saturday, February 18th | 7:30pm | Dunn Center
Former OVC foe Youngstown State will visit Austin Peay, Saturday for the Sears BracketBusters Event. This is the first time APSU and YSU have met since the 1987-88 season. Youngstown entered Tuesday night's game with Green Bay with a 14-11 record, 9-6 in the Horizon League. The Penguins have used the same starting lineup in all 25 games this season.
Sophomore guard Kendrick Perry is coming off a week where he was named league player of the week. He is averaging 24.6 ppg, 3.4 apg and 3.2 spg over the last five games. Three-point specialist Blake Allen has made 73 3FGs.