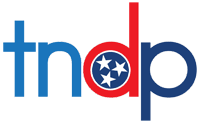 Clarksville, TN – On March 10th, 2012 the Montgomery County Democratic Party (MCDP) will hold their County Delegate Convention at 2050 Fort Campbell Boulevard, Clarksville, TN with the doors opening at 11:00am. The delegate voting process will begin at 12 noon.
The convention will be open to all registered County Democrats. Delegates selected at the County Convention can participate in the Congressional Convention to select Delegates to the Democratic Party National Convention in Charlotte, NC, in September.
All Individuals applying for National Delegate must have their Declaration of Candidacy for Delegate and Pledge of Support application in to the Tennessee Democratic Headquarters by 12:00 noon on March 1st. Applicants must vote in the Presidential Primary. Additional information can be found at TNDP.org or call MCDP Chairman Gene Lewis at 931.645.9159.