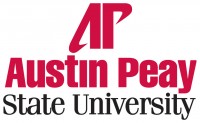 Clarksville, TN – In September 2003, a woman named Sylvia believed the world was going to end on an upcoming Wednesday. Her husband, a survivor of the September 11th, 2001, terrorist attack on the World Trade Center, suffered a horrible bout of depression and refused to leave the house.
And their daughter, Rachel, saw visions of both Jesus Christ and renowned physicist Stephen Hawking.
That synopsis only scratches the surface of Deborah Zoe Laufer's wildly original, comedic play, "End Days," which comes to Austin Peay State University's Trahern Theater February 22nd – 26th.
"The play is essentially a comedy, but it has some very moving moments as well," Dr. Sara Gotcher, APSU assistant professor of theater and the play's director, said. "When I first read it, I said, 'this is really wild. I like this.'"
The work is set two years after the 9/11 tragedy, with the family struggling to make sense of this new reality. The Miami Herald called the play "rapturously funny" and that it "proves that the right playwright can inspire healing laughter in even the most sobering subjects."
The play, which is being presented by the APSU Center of Excellence for the Creative Arts and the APSU Area of Theatre and Dance, will star APSU students and alumni Glen Pafford, Sarah LeJeune, Nin LaRocca and Edd Garcia. It begins at 7:30pm on February 22nd-25th, and at 2:00pm on February 26th.
Tickets are $10.00 for adults and $5.00 for students and military. Tickets are available by calling the Trahern Box Office at 931.221.7379. For more information, contact Gotcher at .