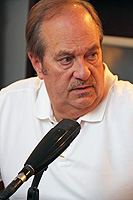 Clarksville, TN – An appeal is being filed in bankruptcy court disputing a 4.8 million dollar judgement awarded in a wrongful termination lawsuit filed against the contractor hired to build Liberty Park.  In an exclusive story on WJZM and Clarksville Online, a subcontractor hired by TMS Contracting was awarded the judgement after it was determined they were unjustly fired from the project.  TMS Contracting is the contractor approved by the City of Clarksville to build the Marina.
Rust of Kentucky had been hired by TMS to do the dirt and excavation work, but according to Mark Rust, president of Rust of Kentucky, inadequate studies and wet conditions prevented his company from doing the work they were hired to do.
Under intense pressure by TMS to finish the work on time, Rust was unable to keep the project on schedule and was eventually fired.  "Somebody wanted us gone" said Rust.   Rust filed bankruptcy and filed suit against TMS, and on February 7th, the judge in the case determined that Rust was wrongfully terminated and awarded them 4.8 million dollars.
WJZM and Clarksville Online has learned that both TMS and Zurich, the company that had the insurance bond on both companies, are filing an appeal of that ruling.  TMS and Zurich met last week to discuss their strategy moving forward in light of the courts ruling.
Questions remain as to when the project will be officially completed, as work continues at the site.  The construction of Liberty Park, Phase One, was plagued with bad weather setting it back over 335 days, compounded by the 2010 flood.  TMS President Thom Spigner would not comment on the lawsuit, but confirmed that his company has not filed bankruptcy as has been rumored.
We will continue to report on this story as it develops.
For more on the story, see: Bankruptcy court awards 4.8 million dollar judgement against Marina Contractor