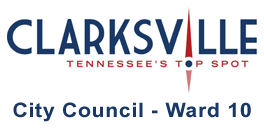 Clarksville, TN – There has been growing interest in the "Home Rule" concept by citizens.  Good questions have arisen at the meetings where the concept has been presented, and more research and legal investigation has been performed.  With this additional work, I am now able to provide answers to questions presented.

I will present this information with a question about the "Home Rule" process, followed by an answer.  Some of the "Home Rule" information is already known to readers, but this approach will enable everyone to be on the same page, so to speak.

The sources for the answers are provided by the Tennessee State Constitution, research and evaluations of  "Home Rule" by The University of Tennessee Municipal Technical Advisory Service (MTAS), written opinions of the Tennessee State Attorney General and Tennessee case law rulings.
Question 1:  What is Home Rule?
Answer: Home rule is a term provided for in Article XI, Section 9, of the Constitution of the State of Tennessee, in which a city writes or prepares its own charter that is approved by the city's voters in a referendum. A home rule charter is distinguished from a general law, or private act charter in that the local government or citizens approve their own charter without approval by the General Assembly of the State of Tennessee.
Question 2: How can we change from the "Private Act" charter that requires state legislature approval to "Home Rule"?
Answer: There are three ways to change:  1) Ordinance passed by the governing body and then a referendum of the city's voters; 2) A charter commission established by the Tennessee General Assembly and appointed by the local government; 3) A charter commission of seven (7) members chosen at large pursuant to petition of not less than 10% of the voters in the latest general municipal election.  Any one of these three methods can be used to accomplish a "Home Rule" charter.
Question 3: Would the city council pass such an ordinance to put Home Rule before the citizens to vote?
Answer:  It will take seven "yes" votes of council members to do so.  Ordinances have to be passed twice with a majority voting "yes".  There is interest on the council and it will take interest from citizens of Clarksville to ensure council support.  The mayor has gone on record of not being supportive of the approach.  This could become an election issue for those thinking of running for city council this year.
Question 4: If the council were to approve sending a Home Rule option to the citizens, what happens next?
Answer:  Under a Home Rule approach, changes to adopt such a charter or to make changes to that charter can only happen every two years to coincide with the August and November elections.  That will happen in 2012.  The council would send a request to the election commission to put the question to the August ballot.  Per Article XI, Section 9, of the Constitution of the State of Tennessee the city would submit the question "Shall this municipality adopt home rule?".  If the voters approve the question, then 60 days later the City of Clarksville has a "Home Rule" charter.
Question 5: Doesn't the full charter have to be put on the ballot, which would make it hard and long to read and vote on?
Answer: The answer is no and relates to a Tennessee court case on long worded issues to be put on the ballot.  Tennessee Code Annotated 2-5-208(f)(2) basically states that anything over 300 words in length will be converted to a 200 word or less summary for voters to read and vote on.
Question 6: Is there a cost for putting this on the ballot?
Answer: The only additional cost would be for an August election as the city usually does not pay nor participate in that election.  The current city elections take place in November and the city already pays for part of that election.  There is some flexibility in the current election year to vote for a "Home Rule" charter.  If the current charter commission created a charter that everyone thought was the best and no changes were thought to be needed by anyone, then the "Home Rule" vote could take place in November at no additional costs.  However, if some serious issues remained and the public wanted to vote to resolve those issues, then the voters need to approve the "Home Rule" concept first in August and then vote on changes to the charter in the November election.
Question 7: Can't the state stall or stop the effort for "Home Rule" or interfere with it if approved by Clarksville?
Answer: No.  As long as the "Home Rule" charter follows and is constructed to meet laws of Tennessee, then it is up to the local citizens and government to manage and operate.
Question 8: Does anyone else use a "Home Rule" Charter?
Answer: Yes, 14 other cities use "Home Rule" charters to include Memphis, TN  and Knoxville, TN.
Question 9:  What advantages are there to going with a "Home Rule" charter?
Answer:  1) Greater local control of the charter.  The local government and citizens determine any changes and do not have to ask permission of the state government for approval, 2) Local governments and citizens are no longer held hostage to the whims, politics and delays that we in Clarksville have experienced for almost four years.
Question 10:  What disadvantages are associated with going with a "Home Rule" charter?
Answer:  1) The process to change/amend a "Home Rule" charter takes more effort as items have to be put on the ballot for citizen approval, 2) Changes to a "Home Rule" charter can only happen in the August or November elections of even years.
Question 11:  Any other issues of note to look for in a "Home Rule" charter?
Answer:  According to MTAS research on the topic, cities that use "Home Rule" charters (there are now 14 which includes Knoxville and Memphis, with the most recent city conversion to Home Rule occurring in 2006 with Mt. Juliet) operate just as well as cities that don't have such a charter. It was noted by MTAS that some cities and citizens see "Home Rule" as having one additional item that could be listed as both an advantage and disadvantage and that is the issue of taxes.
Requiring that a "Home Rule" charter have a public vote to change tax rates can be seen as an advantage by some who desire such control. However, a city with such a requirement could quickly find itself with financial problems.
If funding is needed, it would have to wait until an election took place which could seriously affect operations. Also, with quickly changing economic conditions, the influx of shared state, federal dollars and grants could be reduced, quickly affecting a city's operations.
In addition, local taxes based on business sales and tourist dollars could be reduced requiring a city to look for other revenue capabilities. It was very noticeable in the MTAS review that none of the cities using "Home Rule" have included any tax provisions in their charters and chose to leave that decision and accountability to the governing bodies.
MTAS concurs with leaving that flexibility to react quickly to changing financial conditions with locally elected governments.  It must also be noted that any city that included such a tax provision in its charter and found it unmanageable would have to wait up to two years to change it.
About Bill Summers
Bill Summers is the City Councilman for Ward 10 in Clarksville, TN.


Disclaimer: The views and opinions expressed by the author are not necessarily those of the City of Clarksville or Clarksville Online.

Web Site: http://www.cityofclarksville.com/
Email:
Sections
Politics
Topics
Ballot, City Council Ward 10, City of Clarksville, Clarksville City Charter, Clarksville City Council, Clarksville TN, Home Rule Charter, Knoxville TN, Local Taxes, memphis tn, Mt. Juliet TN, MTAS, Tennessee General Assembly, Tennessee State Attorney General, Tennessee State Constitution, University of Tennessee Municipal Technical Advisory Service