Austin Peay Women's Basketball vs. Southeast Missouri
Saturday, February 25th, 2012 | Tipoff: 5:15pm (CT)
Clarksville, TN | Winfield Dunn Center (7,257)

Clarksville, TN – While there isn't officially a play-in game to the 2012 Ohio Valley Conference Women's Basketball Championship, Austin Peay and Southeast Missouri will square off at 5:15pm, Saturday in a game that will emulate a play-in affair in every way possible.
The Lady Govs and Redhawks enter the regular-season finale tied for the final spot in the eight-team field with the winner of Saturday's contest earning that spot while the losing squad will see its season come to an end.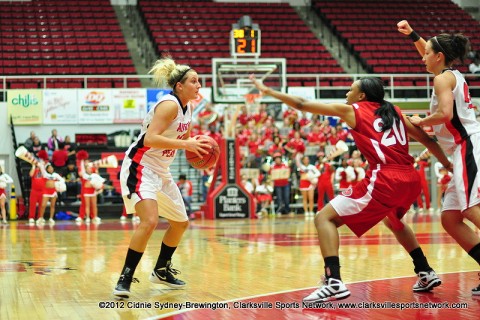 Austin Peay returns home after an 86-62 loss at league-champion UT Martin, Thursday. Southeast Missouri visits Clarksville after posting its first road win of the season – a 54-47 victory at Jacksonville State, Thursday. The Redhawks won the season's first meeting between the two teams, 69-60 on January 30th, as they out shot and out-rebounded the Lady Govs.
The Lady Govs were held below 40 percent shooting (25-69, 36.2 pct) for the first time in February. Austin Peay did make 46.7 percent of its three-point tries (7-of-15), the fourth time in its last five games it has made better than 33 percent of its outside shots. APSU also made 71.4 percent (5-of-7) of its free throws, the 7th consecutive game it has posted better than a 70 percent conversion rate at the charity stripe.
Austin Peay won the rebounding battle at UT Martin, 39-36, for its second-straight rebounding win and 7th this season. Austin Peay recorded double-digit assists for the ninth consecutive game and is averaging 11.2 assists per game during that span. The Lady Govs were charged with a season-low nine fouls.
Whitney Hanley led APSU with 20 points, it was her 16th 20-point contest this season. Meghan Bussabarger posted her season's third double-double, finishing with 11 points and 10 rebounds. Kaitlyn Hill was held to 7 points, ending a streak of seven consecutive double-digit scoring outings.
Shira Buley handed out a career-best six assists. Jasmine Rayner did not play against UT Martin (coach's decision), her first career DNP, and ended a streak of 126 consecutive starts.
About Southeast Missouri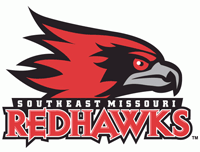 Southeast Missouri may rank 321st out of 336 Division I schools in offensive production (51.4 ppg) but that did not matter in the last meeting with Austin Peay as they scored 69 points – a total that still is the second-most points scored by the team this season. The Redhawks posted their first true road win of the season at Jacksonville State, Thursday, they had not won in 13 previous road contests and are 2-15 away from the Show-Me Center this season (including neutral court contests).
Junior forward Brittany Harriel leads Southeast Missouri in scoring (10.0 ppg) and rebounding (6.9 rpg). She is followed closely in both categories by junior forward Bailie Roberts, who is averaging 9.6 points and 6.2 rebounds per game.
Fast Break Points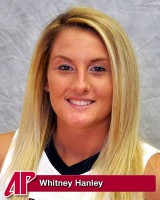 Whitney Hanley became the 14th Austin Peay women's basketball player to reach the 1,000-point plateau with her 21-point performance at Lipscomb, November 14th. She became one of the program's top-five scorers against Morehead State, February 18th, her 1,483 career points just 17 points away from the 1,500-point plateau – a mark only three Lady Govs have reached all-time and that also would move her into fourth on the scoring list, currently held by Ashley Haynes (1,497 points, 2002-06).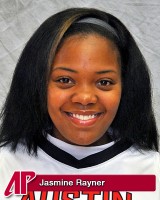 Senior forward Jasmine Rayner became the 15th Lady Govs player to reach the 1,000-point plateau with an eight-point outing against Eastern Kentucky, January 16th. She currently sits 14th on the scoring list, entering this game with 1,061 career points. Rayner needs 58 points to move past head coach Carrie Daniels who holds down the 13th spot with 1,118 career points.
Austin Peay is 49-60 (.450) in regular-season OVC play under Daniels.
The Lady Govs are 18-26 (.409) in February under Daniels.
An Austin Peay Win Would
Be its second consecutive home win and its first back-to-back home wins this season… be its fourth consecutive home win against Southeast Missouri… make it 4-9 at the Dunn Center this season… improve Daniels' record to 71-116 overall, including a 50-60 record in OVC play… make the Lady Govs 423-587 overall since 1976-77.
An Austin Peay Loss Would
Be its first loss to Southeast Missouri at the Dunn Center since Jan. 12, 2008, ending a three-game home win streak against the Redhawks… make it 3-10 at the Dunn Center this season, its first 10-loss home campaign since 2007… drop Daniels' record to 70-117 overall, including a 49-61 record in OVC play… make the Lady Govs 422-588 overall since 1976-77.
Last Time Out
Austin Peay Lady Govs vs. UT Martin Skyhawks
February 23rd, 2012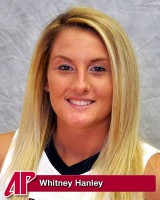 Martin, TN – Senior guard Whitney Hanley scored 20 points for the 16th time this season but it was not enough as Austin Peay dropped an 86-62 decision to newly crowned Ohio Valley Conference champion UT Martin, Thursday night, at the Elam Center.
Austin Peay surrendered a game-opening 6-2 run and later a 9-0 run and found itself down by 11 points, less than seven minutes into the game. The Lady Govs would battle and eventually got the lead back to four points, 31-27, when freshman guard Shelby Olszewski banked in a three-pointer. Sophomore guard Nicole Olszewski made a basket on APSU's next possession to trim the lead to five points, 34-29, with 4:18 left but that would be the team's final score of the half.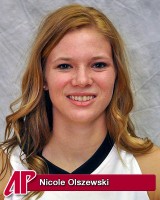 UT Martin, which learned it had clinched at least a share OVC's regular-season title midway through the first half, closed the final 4:18 of the opening frame with a 9-0 run to build a 14-point, 43-29, halftime lead. Sophomore guard Jasmine Newsome scored seven of her 11 first-half points in the final 4:18.
The Skyhawks did not let up in the second half pushing their lead to 21 points in the opening minutes. Austin Peay broke its scoring drought 4:30 into the half when Whitney Hanley made a three-pointer. However, that eight-plus minute span without a basket doomed the Lady Govs.
UT Martin responded with a 9-2 run, sparked by Heather Butler's six points, that pushed the lead back to 23 points with 12:05 left. Austin Peay would not get closer than 20 points the game remainder.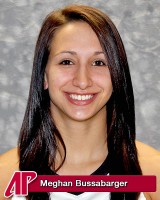 Hanley finished with a team-best 20 points on 8-of-19 shooting before being pulled late in the second half after playing 34 minutes. Junior Meghan Bussabarger notched her season's third double-double – and first since December 31st at Morehead State – with an 11-point, 10-rebound performance. Freshman Shira Buley came off the bench and posted a career-best six assists.
Newscome nearly had a triple-double to lead UTM, with a 20-point, 11-assist outing that included seven rebounds. Jaclissa Haislip added a 20-point, 12-rebound double-double performance. Sophomore Heather Butler, who was held scoreless in the first half, bounced back in the second half and finished with 18 points and eight assists.
Lady Govs Last Meeting With Southeast Missouri
January 30th, 2012
Cape Girardeau, MO – Austin Peay suffered its sixth consecutive loss, falling 69-60 to Southeast Missouri in Ohio Valley Conference action at the Show Me Center.
The storylines in the loss echoed many of the same themes as its previous losses – surrendering a first-half lead and losing the rebounding battle. Yet a new twist emerged as Austin Peay struggled defensively against a Southeast Missouri team that entered the game ranked last among OVC schools in offensive production.
For the fourth straight game, Austin Peay (5-18, 2-8 OVC) surrendered a lead late in the first half. Austin Peay led 22-19 with 7:53 left in the first but watched Southeast Missouri piece together a 16-6 run the rest of the way to take a 35-28 halftime lead.
Austin Peay also lost the rebounding battle despite junior Kaitlyn Hill entering the starting lineup. The Lady Govs led the battle 10-8 with 7:53 left in the first half but were out-rebounded the rest of the way. Southeast Missouri finished the game with a 43-31 rebounding edge as Austin Peay recorded only four offensive rebounds.
But adding to those woes was a sub-par defensive effort that allowed Southeast Missouri (5-17, 2-7 OVC) to post its second-best offensive effort this season. The Redhawks used their 14 offensive rebounds to score 12 second chance points. That effort on the glass helped Southeast Missouri overcome a 39.7 percent shooting effort.
Hill, who had double-doubles in APSU's last two games, led the Lady Govs with 16 points, scoring eight in each half, but had only two rebounds.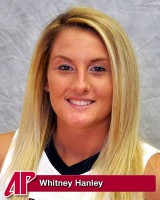 Whitney Hanley scored 15 points on a 7-of-17 shooting effort. Jasmine Rayner added 10 points. Leslie Martinez had a team-best five rebounds.
Allyson Bradshaw was the thorn in Austin Peay's side, making all five of Southeast Missouri's three pointers and finishing with a game-high 17 points.
Brittany Harriel, the Redhawks leading scorer entering the night, added 15 points. Bailie Roberts chipped in a 10-point, 13-rebound effort.
Ohio Valley Conference Tournament Schedule
Entering the regular season's final day, the Ohio Valley Conference women's basketball race still has five seeds up for grabs. UT Martin (No. 1), Eastern Illinois (No. 2) and Tennessee Tech (No. 3) are the only teams to solidify their spots through Thursday's game. Behind them, Eastern Kentucky, Morehead State and Murray State are battling for the 4-6 seeds.
Further back, Austin Peay and Southeast Missouri are battling for the tournament's final spot with Tennessee State watching to see if they will be the No. 7 or No. 8 seed. Here is the schedule for the tournament, which begins on leap day, Wednesday, February 29th:
Date
Noon Contest
2:00pm Contest
Wed., 2/29
Game 1: #5 seed vs. #8 seed
Game 2: #6 seed vs. #7 seed
Thur., 3/1
Game 3: #4 seed vs. Game 1 winner
Game 4: #3 Tenn. Tech vs. Game 2 winner
Fri., 3/2
Game 5: #1 UT Martin vs. Game 3 winner
Game 6: #2 Eastern Ill. vs. Game 4 winner
Sat., 3/3
Game 7: Championship Game, 4:30pm.
The OVC announced, Monday, that both semifinal contests and the championship will be aired on ESPN3, ESPN Full Court and select stations in OVC markets.
Next Game
Ohio Valley Conference Tournament
An Austin Peay appearance in the 2012 OVC Women's Basketball Championship would be its fourth consecutive appearance and 20th all-time.