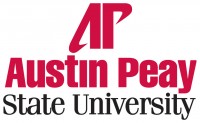 Clarksville, TN – Justin Hasty, a chemical engineering technology major at Austin Peay State University, gets to campus early most mornings in desperate need of a cup of coffee. He shuffles over to the Woodward Library, instead of the Einstein's Bros. Bagel shop in the Morgan University Center, yawns and then gets to work studying.

But on Monday morning, he had a pleasant surprise waiting for him when he made his early morning vigil to the library – a brand new Starbucks was about to open next to the building's computer lab. Hasty quickly stepped forward to become the first customer of the campus' newest coffee shop.

"I'm usually tired in the morning, so coffee is always a nice thing," he said. "Plus, if it's in the library, I'm going to stay in the library. I'm going to study in the library and get my work done instead of having to walk to Einstein's, get my coffee and then walk back."

A little before 9:00am that morning, a line quickly formed behind Hasty for the Starbucks grand opening. The idea for the new coffee venue began a little over a year ago when Chartwells, the campus' dining services provider, asked students what they wanted. The answer was a Starbucks in the Woodward Library.

"You guys picked this as one of the top choices you wanted," Joe Mills, assistant vice president and director of housing/residence life and dining at APSU, said. "I'm glad we were able to deliver."

Joe Weber, library director, said they conducted a similar survey a few years ago on how to improve the library, with students overwhelmingly asking for a coffee shop as well. The new Starbucks, which will be open weekdays from 7:00am to 11:00pm, not only fulfills that need, but also helps with recent efforts to make the library a more dynamic, student-friendly place.

"You know we've made student success really the center of what this university is about," Dr. Tristan Denley, provost and vice president of academic affairs, said. "Part of that over the last couple of years is to transform this library space. The whole place has been redecorated and completely reoriented so students can come here and make this a real center of learning, a hub here on campus."

Joe Lachina, senior dining services director, stood in front of the Starbucks shortly before the grand opening, holding a bag of ground coffee and a pair of scissors.

"Instead of cutting a ribbon, I think it's better for a bag of coffee to get things rolling," Lachina said, handing the scissors to Denley.

Shortly after the bag was cut, Hasty and the other students streamed up to the counter to place their orders. The Starbucks is now officially open to APSU students and the general public.

For more information, contact the dining services at 931.221.7474.



Sections
Education
Topics
Amber Fair, APSU, APSU Morgan University Center, APSU Students, APSU Woodward Library, Austin Peay State University, Chartwells, Clarksville TN, Einstein Bros. Bagels, Joe Lachina, Joe Mills, Joe Weber, Justin Hasty, Tristan Denley