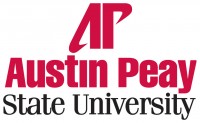 Clarksville, TN – When George Estreich, an award-winning, Oregon-based poet, first saw his newborn daughter Laura, he was curious about her eyes. His mother, after all, was Japanese, which might account for the slight, almond shape. But this was something different, he would soon learn.

Young Laura had Down syndrome.

Rather than turning to verse to understand the mysteries behind his daughter's condition, Estreich spent the next several years studying Down syndrome. What resulted from his research is the deeply personal, poetic memoir, "The Shape of the Eye: Down Syndrome, Family, and the Stories We Inherit."

At 1:00pm on March 23rd, Estreich will visit Austin Peay State University's Honors Common to deliver a lecture on his book as part of this year's Asanbe Diversity Symposium. A panel discussion will follow at 3:30pm.

The symposium, sponsored and organized by the APSU Department of Languages and Literature, was established 17 years ago in memory of Dr. Joseph Asanbe, who was the first professor of African and African-American literature at APSU. The event is co-sponsored by the College of Education, the Honors Program, the Center of Excellence for the Creative Arts, the Office of Academic Affairs and the Women's and Gender Studies Program.

Kim Edwards, author of "The Memory Keeper's Daughter," described Estreich's memoir as "wise and moving," and said that he "writes with a poet's eye and gift of language, weaving this personal journey into the larger history of his family, exploring the deep and hidden connections between the past and present."

Estreich also looks at the history of Down syndrome, including Victorian-era physician John Langdon Down's referring to it as "Mongolian idiocy." Estreich juxtaposes this callous misdiagnosis with the story of his love for his daughter.

The Asanbe Diversity Symposium is free and open to the public. A book signing will follow the 1:00pm lecture. For more information, contact the APSU Department of Languages and Literature at 931.221.7891.



Sections
Events
Topics
APSU, APSU Center of Excellence for the Creative Arts, APSU College Of Education, APSU Department of Languages and Literature, APSU Honors Commons, APSU Honors Program, Asanbe Diversity Symposium, Austin Peay State University, Clarksville TN, Joseph Asanbe, Oregon