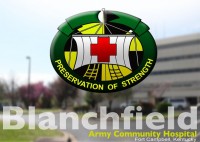 Fort Campbell, KY – The Army's Enlisted Medical Corps celebrates an important anniversary today. For 125 years, the Army Enlisted Medical Corps has provided quality care and selfless service to Soldiers, Retirees and Family members on the home front and on the battlefield.
"Enlisted Medical Corps Soldiers truly are the backbone of the Army Medical Department," said Blanchfield Army Community Hospital Command Sgt. Maj. Brian A. Fahl. "We rely on these Soldiers every day to offer compassionate healthcare while promoting wellness. They, along with the medical team, ensure Soldier readiness and resilience among our beneficiaries."
There are currently 17 military occupational specialties for enlisted medical Soldiers. The non-commissioned officer in charge of BACH's Orthopedic Cast Clinic, Sgt. Timothy Baker, began his career as a medic and later decided to attend training to become an orthopedic specialist. He said that the best part of his job is making his patients happy.
"When they come here they are in so much pain but when they leave they are actually smiling," said Baker. "It is great just to know that I helped them."
Col. Cordts said that it is important to take time to recognize Enlisted Medical Corps Soldiers, like Sgt. Baker.
"They are an important component of Army Medicine which includes Soldiers, DA civilians and contractors. The team works together to provide responsible, reliable and relevant healthcare to our beneficiaries," Fahl said.
History
In 1847, the U.S. Army Surgeon General had asked Congress several times to authorize positions for Hospital Stewards and he would set up a formal school to train them, however, his requests were turned down.
The Army supported his efforts and in 1851 issued an addendum to the Regulations for the Uniform and Dress of the U.S. Army that authorized a "Half Chevron" consisting of a green background with yellow trim and a Caduceus to denote the rank of the Hospital Steward.
Finally in 1856, Congress authorized the Secretary of War to appoint as many Hospital Stewards as needed in the army and mustered onto the hospital rolls as "NCO's". This action permanently attached the stewards to the Medical Department.
On March 1st, 1887, the Hospital Corps was finally established. "New Chevrons" denoting the ranks of the hospital stewards were introduced similar to the chevrons worn by all NCO's in the Army. Hospital stewards wore full sized chevrons that had three stripes below and one on top with a Red Cross in the center. Acting hospital stewards wore the same chevrons except for the stripe on top. Privates of the Hospital Corps wore the "white arm band with a Red Cross" and this date is considered the "Anniversary of the Hospital Corps".