Austin Peay Women's Basketball vs. Murray State
March 1st, 2012 | Tipoff: Noon (CT)
Nashville, TN | Municipal Auditorium (8,000)

Clarksville, TN – Austin Peay Lady Govs won both meetings during the regular season with Murray State. The Lady Govs won a 71-63 decision, January 7th, in Clarksville. Austin Peay also won an 85-72 decision, February 13th, in Murray, KY. It  was the Lady Govs only double-digit margin of victory this season.
Senior Whitney Hanley averaged 24.0 points and 7.5 rebounds per game in the regular-season series. Junior Leslie Martinez averaged 14.5 points and a team-best 8.0 rebounds per game.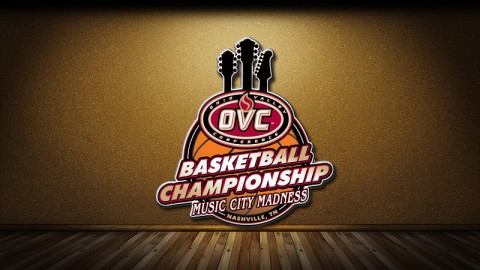 Junior Kaitlyn Hill scored 19 points in the second meeting – her only action against Murray State this season. Murray State won the rebounding battle both times, accumulating an 88-71 (+8.5 pg) rebounding edge. Austin Peay shot 48.5 percent from the floor in the series, including 41.9 percent from three-point range.
Both percentages were helped significantly by APSU performance in the second game where they shot a season-best 53.8 percent from the floor, including a season-best 64.3 percent from three-point range.
Austin Peay did not lead in regulation in Wednesday's 84-83 double-overtime victory against Morehead State, Wednesday, and held the lead for a total of 5:05 (1:59 in the 1st OT, 3:06 in the 2nd OT) in the entire 50 minutes contest. Austin Peay's 84 points in the opening round against Morehead State was its fifth 80-point performance in seven February contests.
The Lady Govs are averaging 79.3 points per game in its last seven games. Austin Peay made 48.3 percent (29-60) of its field goals, the sixth time it has topped its season field goal average (40.6 percent) in the last seven games. The Lady Govs also made 38.5 percent (5-13) of their three-pointers, the sixth time in their last seven games they have made more than 33 percent of their outside shots.
Austin Peay recorded double-digit assists (15) for the 11th consecutive game – they are averaging 12.3 assists per game during that span. Austin Peay made 20-plus free throws (21-of-29 at the line) for the third time in its last four games. The one-point victory the Lady Govs ninth single-digit margin of victory this season.
Austin Peay won in overtime for the third time this season. Austin Peay also won its last double-overtime contest – against Eastern Illinois in 2009, which also was the first double-overtime contest in OVC tournament history. Carrie Daniels improved to 9-2 in the tournament.
Austin Peay is 28-12 all-time in the tournament, including an 8-3 mark in tourney games played at Municipal Auditorium. The Lady Govs won a game in the OVC tournament for the fourth consecutive season.
Updated Player Notes
No. 12 Whitney Hanley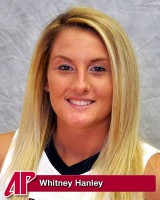 Hanley's 38-point performance (3rd most in program history and most in a OVC tournament game) against Morehead State was the most points by a Lady Govs player since Brooke Armistead's 39-point outing against Middle Tennessee (November 27th, 2001).
Her 28 shot attempts broke the school record of 27 previously held by current head coach Carrie Daniels… she now has 1,540 career points… her 585 points this season are the most by a senior in program history, surpassing Gerlonda Hardin's 571-point campaign in 2003-04… it is the fourth-best single-season scoring performance in program history and only 23 points shy of Brooke Armistead's freshman season when she scored 608 points (1999-00).
It is her third 30-point performance this season, the 17th time she has scored more than 20 points and 11th consecutive double-digit scoring outing… hit game-tying free-throws with 5.5 seconds remaining in regulation… scored 18 of Austin Peay's 23 points in the two overtimes.
No. 4 Kristen Stainback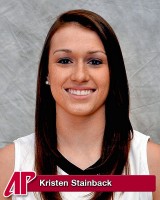 Stainback finished with 10 points, making 4-of-6 from the floor, and had two steals and a blocked shot… her three-pointer with 8:55 remaining in the second half began APSU's 22-7 half-ending run… later made back-to-back baskets (at 3:42 and 3:16) that helped cut the lead to two points with 3:16 remaining in regulation.
A blocked shot thwarted Almesha Jones' attempted game-winning jumper at end of regulation.
No. 5 Nicole Olszewski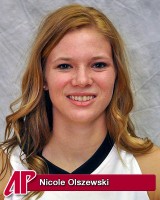 N. Olszewski scored 4 points, but made one-of-two free throws with 12.8 seconds remaining in the second overtime that provided the game-winning margin.
N. Olszewski also had three rebounds, two assists and two steals.
No. 14 Leslie Martinez
Martinez neared triple-double range with 11 points, nine rebounds and six assists… made layup with 1:42 remaining to help keep it a one-possession game.
Martinez tied career high with 4 free-throws made. Martinez has 48 rebounds in last five games (9.6 rpg)… has 27 assists in last six games (4.5 apg)…
No. 42 Kaitlyn Hill
Hill finished with 10 points and eight rebounds (five offensive). Hill led the Lady Govs at halftime in points (9) and rebounds (4).
She set career highs in free throws made (6) and attempted (8)
No. 43 Meghan Bussabarger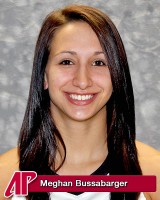 Bussabarger finished with six points and three rebounds.
The 37-minute outing was her longest this season in just her sixth game after missing six games due to a concussion.
No. 44 Shelby Olszewski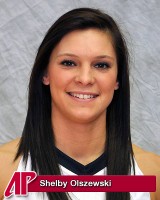 S. Olszewski finished with five points, four rebounds, two assists, a block and a steal… did not score in the first half, made a free throw at the 18:26 mark for only points of second half.
She scored two points from free throw line in first overtime… made only basket in second overtime.
S. Olszewski was only Lady Govs player to score in both overtimes besides Whitney Hanley.
Ausitn Peay vs. Murray State in the Tournmment
Austin Peay and Murray State will meet for the fifth time in the OVC tournament. The Lady Govs have not lost to the Racers in the previous four tourney meetings.
The two teams last met in the 2011 OVC Tournament opening round, a game Austin Peay won, 71-64. In that meeting senior Whitney Hanley finished with 12 points, seven assists, six rebounds, three blocked shots and three steals.