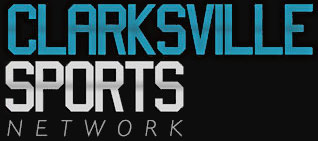 Clarksville, TN – Christmas came late to Clarksville High Boy's Basketball team, but the Wildcats will certainly take the gifts.
Two days after earning a spot in the Region 5-AAA Championship game and earning a sticker the Wildcats can put on a trophy wall for getting to the 'Sweet 16', their first of the season after not winning a regular season or district tournament title, Clarksville High earned an even bigger trophy sticker and a plaque to go with it Thursday night.
The Wildcats did that thanks to their 67-50 victory over Wilson Central in the Region 5-AAA game at Northeast High.
With the win, Clarksville High (22-10) moves on to Sectionals (sub-state) where it will host Hunters Lane (28-3) at 7:00pm Monday in the William Workman Gym. It will be the school's second straight Sectional showdown because the Clarksville High Lady Wildcats will host a girls Sectional game at 7:00pm on Saturday against Brentwood.
Brentwood (26-7) beat Hunters Lane 54-51 for the Region 6-AAA Championship.
"I had just told our guys Wednesday afternoon that our 'Sweet 16' line are two-inch numbers and so when they looked up there they would see it under 2012 for the 'Sweet 16' which is quite an accomplishment," CHS coach Ted Young said. "I then told them that I would rather have a 4-inch number up there that says 2012 under Region champion, which is so hard to come by. Our Region is one of the best in the state, year-in and year-out."
Clarksville High was led by Daijon Williams 17 points and the 15 points each Eric Holmes, Anthony Hightower and Drake Young scored.
And while their scoring was important, what might have been the most important part of Clarksville High's win was the extra practice it put in right after school Thursday before the game.
"We got a tape in late from somebody that had played Wilson Central (24-6) that gave me a really nice look at what they try to do defensively. so after school we had practice" Young said. "I feed them breakfast this morning to get nutrition in them and then we practiced after school, because Wilson Central always does a really good job on their opponents defensively. Then I fed them a pre-game meal at 6:00pm and they were ready. Right down the line everyone of our players were ready."
That preparation really came into play in the second half for Clarksville High.
It started offensively with a 10-1 run that turned a 32-29 lead with 5:55 to go in the third into a 42-30 advantage with 1:47 left in the third on a Daijon Williams lay up.
But the tide turned very suddenly in the fourth quarter because Wilson Central ramped up its defense. Clarksville High went ahead 45-32 with 7:17 left in the game on Chase Knott's 3-pointer. That's when Wilson Central answered with a 14-4 run and cut the lead down to 49-46 with 4:12 to play on Jacob Williams jumper.
It's just that Clarksville High still had life left and turned the tables right back around on Wilson Central with a game-sealing 14-1 run that put it ahead 63-47 on a Holmes free throw with 1:40 left in the game.
Wilson Central was led by Jacob Williams' 21 points and Dee Oldham's 17.
Box Score
Clarksville 65, Mt. Juliet 45
| Box Score | 1 | 2 | 3 | 4 | FINAL |
| --- | --- | --- | --- | --- | --- |
| Clarksville High | 10 | 19 | 13 | 23 | — 65 |
| Mt. Juliet | 8 | 7 | 2 | 28 | — 45 |
Clarksville High 67
| Player | Points | FGs | 3pts | FTs |
| --- | --- | --- | --- | --- |
| Anthony Hightower | 15 | 0 | 1 | 0 |
| Eric Holmes | 15 | 0 | 0 | 0 |
| Chase Knott | 5 | 0 | 0 | 0 |
| Daijon Williams | 17 | 0 | 0 | 0 |
| Drake Young | 10 | 0 | 2 | 0 |
| | | | | |
Wilson Central 50
| Player | Points | FGs | 3pts | FTs |
| --- | --- | --- | --- | --- |
| Conner Brandon | 2 | 0 | 0 | 0 |
| Blake Huffman | 5 | 0 | 0 | 0 |
| Dee Oldham | 17 | 0 | 2 | 0 |
| Tyler Soffiantino | 4 | 0 | 1 | 0 |
| Jacob Williams | 21 | 0 | 6 | 0 |
Region 5-AAA All-Tournament Team
Northeast: Alex Poythress
Beech: C.J. Cummings
Mt. Juliet: Caleb Chowbay
Wilson Central: Conner Brandon, Jacob Williams, Dee Oldham
Clarksville High: Anthony Hightower, Drake Young, Eric Holmes, Daijon Williams