APSU Sports: Austin Peay Women's Tennis

Mobile, AL – Austin Peay State University women's tennis team lost its second straight, 5-2, at South Alabama, Thursday, at the Bruce David Lubel Memorial Tennis Courts.
The Lady Govs feel to 2-9 while South Alabama improved to 6-4 overall.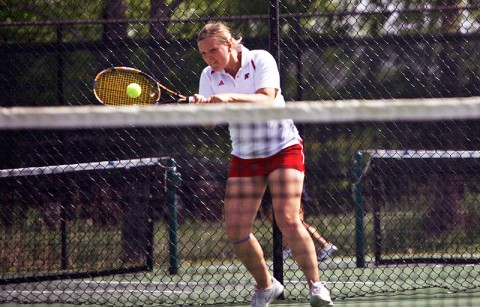 Senior Vanja Tomic won her ninth-straight match at No. 1 singles, being pushed to three sets by South Alabama's Alina Volman. Alison Carre picked up the Lady Govs only other win, taking straight sets from USA's Chane Hines at No. 3 singles.
In doubles action, it was Tomic and Carre earning the Lady Govs only win at No. 1 doubles, 8-4, against Volman and Mariya Krachok. Tomic and Carre have now won four consecutive matches at No. 1 doubles.
Austin Peay will wrap up its Spring Break Trip Saturday, at 2:00pm, against Louisiana-Lafayette. The Ragin Cajuns play South Alabama, Friday, before facing the Lady Govs.
South Alabama 5, Austin Peay 2
Singles competition
1. TOMIC, Vanja (APSUW) def. Volman, Alina (USA) 6-2, 2-6, 6-2
2. Ghermani, Ramona (USA) def. Di SALVO, Ornella (APSUW) 6-4, 6-1
3. CARRE, Alison (APSUW) def. Hines, Chane (USA) 6-1, 6-0
4. Martin, Mary Angela (USA) def. CORNEA, Andra (APSUW) 7-5, 6-1
5. Newton, Emily (USA) def. TAVAREZ, Vanessa (APSUW) 6-1, 6-0
6. Krachok, Mariya (USA) def. KARAK, Jovana (APSUW) 6-2, 6-0
Doubles competition
1. TOMIC, Vanja/CARRE, Alison (APSUW) def. Volman, Alina/Krachok, Mariya (USA) 8-4
2. Hines, Chane/Newton, Emily (USA) def. Di SALVO, Ornella/CORNEA, Andra (APSUW) 8-3
3. Ghermani, Ramona/Martin, Mary Angela (USA) def. KARAK, Jovana/TAVAREZ, Vanessa (APSUW) 8-0