APSU Sports: Austin Peay Women's Tennis

Mobile, AL – Austin Peay State University women's tennis team closed its Spring Break trip with a 4-3 win against Louisiana-Lafayette, Saturday.
Despite winning the doubles point, the Lady Govs need a come-from-behind win at No. 6 singles from freshman Jovana Karak to clinch the match. Karak dropped the opening set, but battled back to earn the deciding win.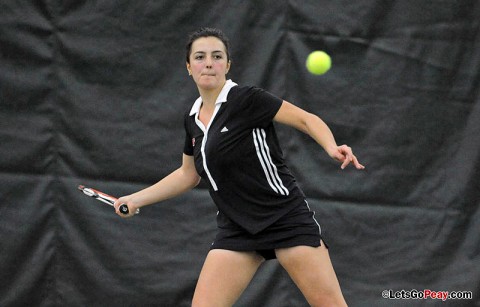 "This was the best doubles we've played," head coach Malik Tabet said. "Then we started off flat in singles, not really using the momentum. Jovana really handled the pressure well. It's a good sign of the direction she's heading."
Along with Karak's win at No. 6, the Lady Govs also got wins at No. 1 singles from Vanja Tomic and No. 2 singles from Ornella Di Salvo. Tomic, in fact, trailed 5-2 in the second set and rallied to force a tiebreak, which she won.
"We showed today that we can make adjustments," Tabet said. "With both Vanja and Ornella, they were able to make adjustments to their strategies that changed the match. Vanja was able to really turn it on in the second set. That's exciting to watch."
In doubles, Tomic teamed with freshman Alison Carre for an 8-4 win at No. 1, while Di Salvo and Andra Cornea won 8-2 at No. 2 doubles. With doubles being the emphasis on the week for the Lady Govs, the week's final match left Tabet with a good feeling about his young team.
"We really wanted to beat a good team while we were down here and I feel like we did," Tabet said. "This has been one of the best weeks, coaching-wise, I've ever had. I feel like this team has a lot of ability and they're starting to trust us and our strategy. We want them to be able to apply a strategy and win a match. We did that today."
Austin Peay 4, Louisana-Lafayette 3
Singles competition
1. TOMIC, Vanja (APSUW) def. Milou Israel (ULL) 6-1, 7-6 (7-0)
2. Di SALVO, Ornella (APSUW) def. Erin Wilbert (ULL) 6-2, 6-3
3. S. van den Aarssen (ULL) def. CARRE, Alison (APSUW) 7-5, 6-2
4. Tara Vasovic (ULL) def. CORNEA, Andra (APSUW) 6-4, 6-2
5. Sandra Ahlqvist (ULL) def. TAVAREZ, Vanessa (APSUW) 6-2, 6-3
6. KARAK, Jovana (APSUW) def. Haley Acuna (ULL) 4-6, 6-1, 6-4
Doubles competition
1. TOMIC, Vanja/CARRE, Alison (APSUW) def. Erin Wilbert/Milou Israel (ULL) 8-4
2. Di SALVO, Ornella/CORNEA, Andra (APSUW) def. Hannah Appleyard/Tara Vasovic (ULL) 8-2
3. S. van den Aarssen/Sandra Ahlqvist (ULL) def. TAVAREZ, Vanessa/KARAK, Jovana (APSUW) 8-3