Fort Campbell, KY – Campbell Crossing is pleased to announce the continued improvement of homes and neighborhoods with the installation of 6 foot wooden privacy fences in Pierce Village. Installation will occur in multiple phases with the first phase of 108 homes starting March 12th with completion in June.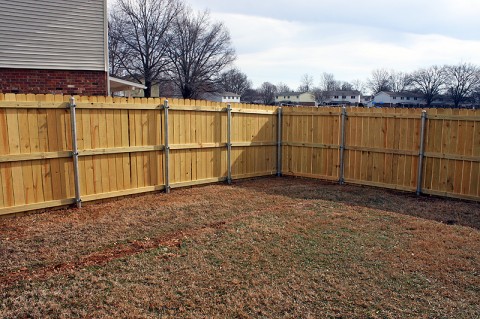 Additional phases will begin after completion of Phase 1. Residents will receive notices as to when their home is scheduled to have the fence installed.
"This has been a common request from the Residents of Pierce Village and we are very excited to be able to finally
begin installing these fences," said Mike Goodwin, Campbell Crossing Project Director. "This project will truly make a
difference in the overall appeal of the neighborhood. We think the Residents will really enjoy the upgraded fencing
and the privacy it offers."
Residents are encouraged to visit www.campbellcrossingllc.com to learn more about the project and see a map of where the first phase of installation will be.
About Campbell Crossing

Campbell Crossing LLC (CC) is a 50-year partnership created between the Department of the Army and Lend Lease through the Military Housing Privatization Initiative (MHPI). Since December 2003, CC has developed more than 1,000 new homes and renovated more than 2,000 homes, and will continue to finance, develop, build, renovate and operate the site for 50 years.
For more information, please visit www.campbellcrossingllc.com.
About Lend Lease
Lend Lease is a leading international property and infrastructure group. Listed on the Australian Stock Exchange, Lend Lease has a significant presence in the Americas, Australia, Asia and Europe. In the US, Lend Lease's public partnership business is the nation's leader in public/private community development. With a focus on creating sustainable value, Lend Lease creates communities that regenerate our environment, enrich people's lives and foster economic growth.
Lend Lease has worked extensively with the Department of Defense through the Military Housing Privatization Initiative (MHPI), a program that provides for the transfer of military housing assets to private sector companies. With over 40,000 residential units, 192 apartments and 8,500 hotel rooms in its portfolio, Lend Lease will finance, develop, build, renovate and operate these sites for at least 50 years.