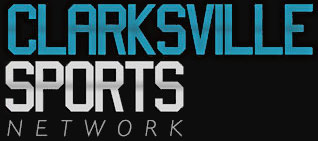 Murfreesboro, TN – It certainly didn't come from a lack of trying and certainly Daijon Williams did all he could, but in the end Clarksville High fell to Memphis Central 68-62 in a Class AAA semifinal game in Middle Tennessee State University's Murphy Center.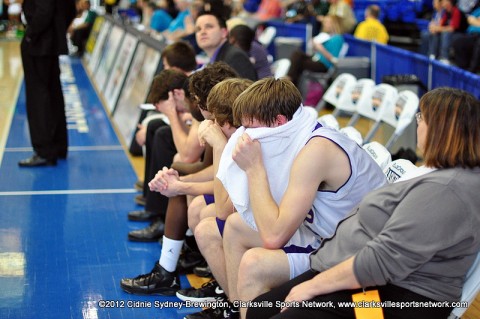 Williams, a verbal commitment to Lee University, was outstanding for Clarksville High with a game-high 34 points on 9-of-24 shooting, including going 8-of-18 from the 3-poit line and 8-of-9 from the 3-point line. It just that he was outdueled by Central's Andre Applewhite and his 29 points and double-double making 10 rebounds and Myron Johnson's 15 points.
The loss ends Region 5-AAA champion and Sectional winner Clarksville High's season at 26-11.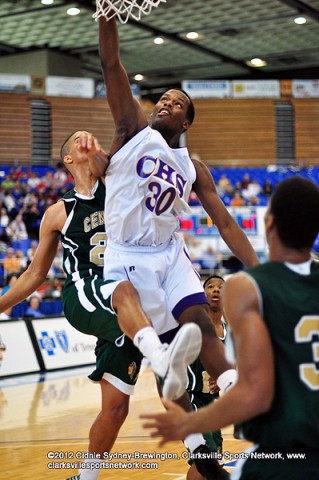 Memphis Central (20-9) moves onto to the Class AAA State Championship game against Memphis East (22-9) a 81-71 winner over Science Hill.
"We played a tough game against a tough opponent," Clarksville High coach Ted Young said. "We just weren't able to come out on top against a very good basketball team. We were able to hit some shots, just not enough of them. Daijon was great and really was a leader all game long."
Every time Memphis Central made a run, Clarksville High answered it.
Memphis Central led 13-10 at the end of the first quarter and then went on a 10-3 run at the start of the second to go ahead 23-13 with 4:15 left on Johnson's jumper.
But by 5:30 left in the third, Clarksville High actually came back to take a 29-28 lead on a Williams 3-pointer with 5:30 to go.
Memphis Central took control again and pushed the lead back out to 46-38 by the end of the third, the difference was made courtesy a putback made by Memphis Central's Antonio Gillespie.
Memphis Central eventually took a 51-41 advantage with 4:30 left in the game on a trey by D' airrius Sorrell and a free throw by Joshua Jones and it led 60-50 with 2:06 to go on another free throw by Jones.
The Wildcats responded with one more run, this one a 10-2 streak and they cut it to 62-60 with 52 seconds left on two free throws by Williams. But it wasn't enough as Central went on outscore Clarksville High 6-2 the rest of the way.
Box Score
Memphis Central 68, Clarksville High 62
Official Basketball Box Score
Memphis Central vs Clarksville
03/16/12 1:30pm at Murphy Center, Murfreesboro, TN.

Officials: Barry Mapp, Kenneth Beard, Cory Massey
Technical fouls: Memphis Central-Gillespie, Antonio. Clarksville-None.
Attendance:
Score by Periods                1st  2nd  3rd  4th   Total
Memphis Central...............   13   15   17   23  -   68
Clarksville...................   10   11   18   23  -   62

-------------------------------------------------------------------------------
VISITORS: Memphis Central 20-9
                          TOT-FG  3-PT         REBOUNDS
## Player Name            FG-FGA FG-FGA FT-FTA OF DE TOT PF  TP  A TO BLK S MIN
03 Applewhite II, Andre *  8-12   2-3   11-14   0 10 10   2  29  1  4  0  6  29
05 Johnson, Myron...... *  5-8    0-2    5-9    0  1  1   4  15  0  1  0  1  25
11 Jones, Joshua....... *  3-4    0-1    3-5    0  2  2   4   9  2  1  0  0  29
22 Sorrell, D'airrius.. *  4-6    1-1    1-1    1  5  6   2  10  0  1  2  0  32
32 Herron, Frank....... *  1-1    0-0    0-2    1  0  1   3   2  0  0  2  0  20
10 Gillespie, Antonio..    1-4    0-0    1-2    0  3  3   3   3  0  3  0  0  22
21 Cain, Taj...........    0-0    0-0    0-0    0  0  0   1   0  0  1  0  0  0+
25 Thomas, Deddrick....    0-0    0-0    0-0    0  0  0   1   0  0  0  0  0   3
   TEAM................                            1  1
   Totals..............   22-35   3-7   21-33   2 22 24  20  68  3 11  4  7 160

TOTAL FG% 1st Half: 12-18 66.7%   2nd Half: 10-17 58.8%   Game: 62.9%  DEADB
3-Pt. FG% 1st Half:  2-5  40.0%   2nd Half:  1-2  50.0%   Game: 42.9%   REBS
F Throw % 1st Half:  2-5  40.0%   2nd Half: 19-28 67.9%   Game: 63.6%    6
HOME TEAM: Clarksville 26-12
                          TOT-FG  3-PT         REBOUNDS
## Player Name            FG-FGA FG-FGA FT-FTA OF DE TOT PF  TP  A TO BLK S MIN
03 Williams, Daijon.... *  9-24   8-18   8-9    2  1  3   4  34  2  3  0  1  32
04 Holmes, Eric........ *  2-6    0-0    0-0    3  6  9   4   4  3  2  0  0  29
05 Knott, Chase........ *  2-4    1-2    2-2    4  1  5   5   7  3  3  0  3  30
14 Young Drake......... *  2-9    1-5    2-4    1  1  2   5   7  1  3  0  1  28
15 Hightower, Anthony.. *  2-7    1-3    1-2    1  3  4   5   6  0  2  0  0  24
02 Webb, Jeff..........    0-0    0-0    0-0    0  0  0   1   0  0  0  0  0   1
21 Alberstadt, Grant...    0-0    0-0    0-0    0  0  0   0   0  0  0  0  0   1
22 Guerra, Lawrenz.....    0-0    0-0    0-0    0  0  0   0   0  0  0  0  0   1
30 Majors, Tevin.......    2-4    0-0    0-0    3  2  5   2   4  0  0  0  0  14
   TEAM................                         1  3  4
   Totals..............   19-54  11-28  13-17  15 17 32  26  62  9 13  0  5 160

TOTAL FG% 1st Half:  8-25 32.0%   2nd Half: 11-29 37.9%   Game: 35.2%  DEADB
3-Pt. FG% 1st Half:  4-9  44.4%   2nd Half:  7-19 36.8%   Game: 39.3%   REBS
F Throw % 1st Half:  1-4  25.0%   2nd Half: 12-13 92.3%   Game: 76.5%    2