Written by Sgt. Kimberly Menzies
4th Brigade Combat Team, 101st Airborne Division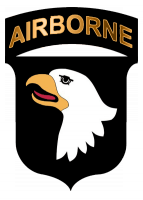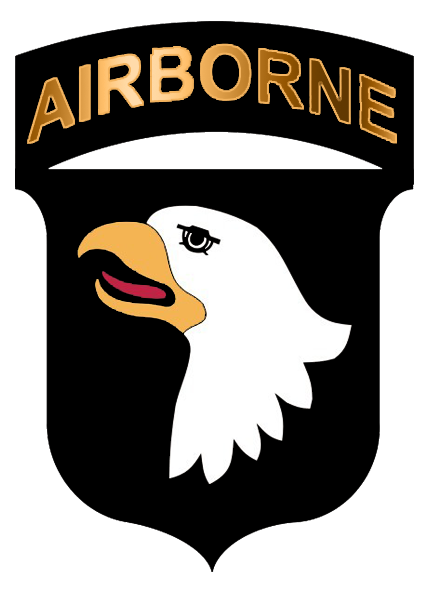 Fort Campbell, KY – One hundred eighty-one Infantrymen from the 101st Airborne Division were awarded the Expert Infantryman Badge for successfully completing the 4th Brigade Combat Team EIB training event, during a ceremony March 9th, at Fort Campbell, KY.
"You are the best of the best," said Col. Val C. Keaveny Jr., the commander of 4th BCT, 101st Abn. Div.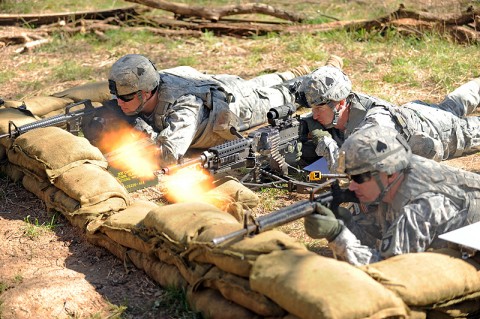 Out of the 181 Infantrymen to be awarded the EIB, 29 were classified as "true blue" EIBs.
The reference "true blue" describes Infantrymen who earned their badge with all "GOs."
"True Blue is a testament to the individual soldier's achievement of completing the training flawlessly," said Staff Sgt. Stephen Whelan, the personal security detachment non-commissioned officer-in-charge for the 4th BCT commander and an Infantryman from HHC, 4th BCT.
The EIB is presented to Infantrymen who have successfully completed the two-week training event designed to demonstrate proficiency in basic infantry skills.
"The Expert Infantryman Badge was created in 1943 to recognize…"the importance of highly proficient, tough, hard and aggressive infantry, which can be obtained only by developing a high degree of all-around proficiency on the part of every infantryman," said Keaveny.
"Our Army needed Infantrymen who were tough, competent and performed exceptionally," said Keaveny. "The same requirement exists today."
The two-week training event began with 740 participants from four 101st Abn. Div. units.
Prior to attending the course, each Infantrymen was required to have qualified as an expert (36 to 40 accurate hits to required target) with either the M16 or M4 rifle.
The first day of training, the soldiers were required to pass an Army Physical Fitness Test with a 75 percent or above in each event for his age group in order to continue on through the training event.
During the training, the soldiers tested on three lanes: patrol lane, defense lane and recon lane. Within each lane, there were 10 tasks and one decision task that an Infantryman was required to circumvent in order to complete that lane.
The Infantrymen were required to execute each lane in 20 minutes or less in order to pass or receive a "GO" on the particular lane.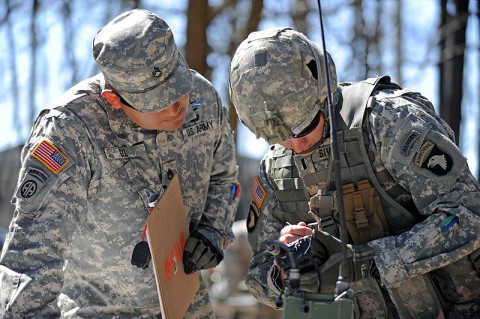 "The time limit applies the additional sense of urgency that a soldier would actually feel in combat," said Sgt. Maj. Noel S. Foster, an operations sergeant major from Headquarters and Headquarters Company, 4th BCT, 101st Abn. Div.
Each lane covered various basic infantry skills ranging from identifying terrain features, moving under direct fire, loading and unloading, and correcting malfunctions on various weapons systems, performing first aid on various wounds, calling for a MEDEVAC, calling for and adjusting for fires, and sending situation reports.
Outside the lanes, the soldiers were also required to plot and find specific locations during the land navigation element of the training event.
On the last day of the training event, the soldiers began their final requirement- the 12-mile road march within three hours with their prescribed packing list.
Though the road march was a large hurtle, soldiers welcome it as the completion of their training and a sign of their determination.
"It was long hours of training but it was good hands-on training," said Spc. Joshua L. Reighard, "true blue" EIB recipient from Headquarters and Headquarters Company, 1st Battalion, 506th Infantry Regiment, 4th BCT. "The 12-mile road march was the last thing I had to complete, I knew I just had to do whatever it would take to get it done."
Not only is earning the EIB a representation of personal achievement and soldier development, it is a demonstration of expertise.
"The EIB represents the highest level of skill, discipline and proficiency," said Keaveny, congratulating the recipients. "Regardless of your rank or duty position, soldiers, non-commissioned officers and officers will now look to you-will listen to you because of your technical competence. You are the expert in the fundamental skills."
Photo Gallery