APSU Sports: Austin Peay Football

Clarksville, TN – Austin Peay State University's football team will scrimmage for a second time, 2:00pm, Sunday, at Governors Stadium, seeking to build on what it has accomplished over the first two spring practice weeks.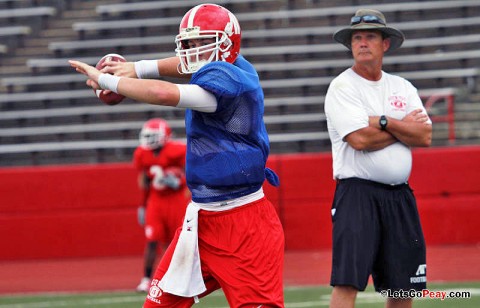 "I really like our players and I think we have them in the right spots," APSU coach Rick Christophel said. "It is now a matter of them improving—getting better each day as we go along. I wish (running back) Wesley Kitts (hamstring) could be out there, but in the long run it has given the young guys like Ean Pemberton and Reco Williams a lot of reps."
Christophel, in particular, has been impressed by the emergence of young defensive linemen like John Houston, DeAndre Carroll, both ends, and tackle Leonard Amarh.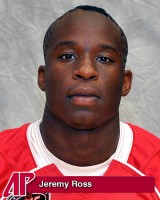 "Our freshmen (linemen) have stepped to the plate and done some really nice things," Christophel said. "It is the middle of spring practice, so we will see how they do the rest of the way.
"I am also really pleased with our athletic ability in the secondary. We have people who now have experience. We have guys who can run, can change direction and are aggressive. I think we will be a lot better there next year."
It is an area where the one significant loss is All-Ohio Valley Conference safety Amius Smith, but his backup from 2011, Steven Rich, gained plenty of playing time, enough to where he collected 33 tackles.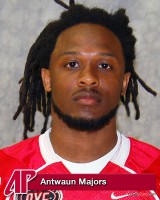 Fellow safety, senior Antwaun Majors (91 tackles) was APSU's leading tackler a year ago and junior Jeremy Ross is back after being redshirted a year ago. Junior cornerbacks Steven Ragin and Tyreon Clark have been on the field in significant roles since they were freshmen.
Majors, in fact, led the Govs with three tackles in the opening scrimmage, including two for loss. Ragin confidently positioned himself in pass coverage to break up three passes last Sunday.
Offensively, the Govs, despite missing Kitts at running back, have watched a ground game improve daily as redshirt sophomore Pemberton and redshirt freshman Williams were much better at the end of last Sunday's scrimmage than at the beginning.
In addition, the move of senior receiver Robert Lemon from the outside to a slot position paid off in a terrific TD catch and run of 34 yards.
Senior wide receiver Devin Stark, who caught 53 passes a year ago, showed in last week's scrimmage why he and senior quarterback Jake Ryan once again could be a lethal combination. Stark caught the scrimmage's first pass, a 38 yarder, for a score.
The Govs offensive line has enjoyed another week of tutoring from first-year line coach Jason Palermo and Christophel has noticed that dynamic.
"I think he is developing a real good rapport with the linemen," Christophel said. "I think they appreciate the fact he is being fair to them. But the key thing is you can see that rapport really developing with them."