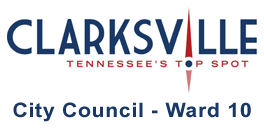 Clarksville, TN – The Clarksville Street Department is offering to pick up yard debris, leaves and limbs for Clarksville residents. Leaves must be collected and placed in biodegradable paper bags and placed near the street for collection.
Tree limbs must be 6' or less in length and the Street Department will not pick up limbs in cases where a company has pruned trees.  The service will continue through April 16th, 2012. To arrange for pick up of your yard debris, leaves or limbs, please call the Clarksville Street Department at 931.645.7464 or e-mail .
Safety and Codes Committee
I do not usually mention to many items that occur with the city committees as anything they do comes to the city council about 99% of the time anyway. However, the Safety and Codes Committee (I am a member) is going to undertake the task to update the noise ordinances of Clarksville.
As you know noise and speeding are among the topics and issues with citizens with the recent examples of problems with the rock quarry and early pick-up of garbage. I have been contacted a number of times with folks thinking we had passed an ordinance on garbage pickup, however, the council did not approve it.
Myself and some other members of the council/committee have been looking at other cities and how they have addressed the problem. Instead of trying to address codes and ordinances to every specific issue, many cities use decibel standards as the guidelines and enforcement tool.
In this manner, it does not matter what the noise issue is if it violates the set limit, then it is too loud. Noise levels can be set by zoning (residential, office, commercial and industrial) and by time of day (normal daytime activities and night hours). Decibel standards would be set and predetermined increases, say for night standards would dictate if things had gotten too loud.
There are many issues and concerns to be addressed and we will explore all facets and legal aspects as we develop this new approach. As always if you have examples of cities that have addressed this issue let me know. In much of my research I have used the Municipal Technical Advisory Service who provides outstanding advice and legal considerations on issues facing Tennessee cities. It will likely take us several months to get a draft before the city council.  I'll keep you posted.
City Charter Update
This Monday, March 26th, is supposed to be our last commission meeting of the charter committee that Clarksville Mayor Kim McMillan formed. There remains much to be done and the results of this meeting and the actual council meeting where the charter will be voted on again will be interesting.

Several very important issues remain to be hammered out and are not candidates for further delayed until some future date. If you are interested com on down and watch. We'll start at 4:30pm.
Highway Issue
Update on a request from citizens. I have received several concerns/complaints about an object that has been placed in the state right-of-way of MLK/Hwy76. At the cross-over connection of Old Farmers Road and MLK/Hwy76 (turning toward Madison Street) a large cross has been placed not too far from the road.
According to inspection it is metal and is firmly placed in the ground and has was placed there several months ago.  Worries of safety and violation of state law in placing personal property on state land have arisen.  I have forwarded the request for removal to our Building and Codes department and they, in turn, sent it to the state since it is their road.
The state does not have the interest to remove it. The state says the city can remove if they like. Based on this response I will submit a request to our Clarksville Street Department.
Editor's Note: This article contains the view points of Councilman Bill Summers and may not represent the views of the rest of the City Council, the City of Clarksville or ClarksvilleOnline.
About Bill Summers
Bill Summers is the City Councilman for Ward 10 in Clarksville, TN.


Disclaimer: The views and opinions expressed by the author are not necessarily those of the City of Clarksville or Clarksville Online.

Web Site: http://www.cityofclarksville.com/
Email:
Sections
Commentary
Topics
City of Clarksville, Clarksville Building and Codes Department, Clarksville City Charter, Clarksville City Council, Clarksville Mayor, Clarksville Street Department, Clarksville TN, Kim McMillan, Martin Luther King Jr. Parkway, Noise ordinance, Old Farmers Road, Ward 10