Written by 1st Lt. Janet Brown
101st Sustainment Brigade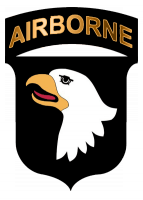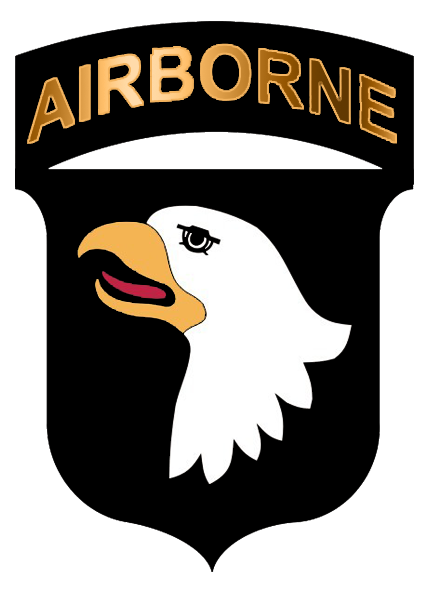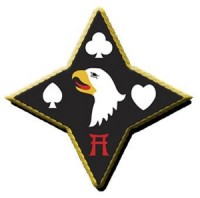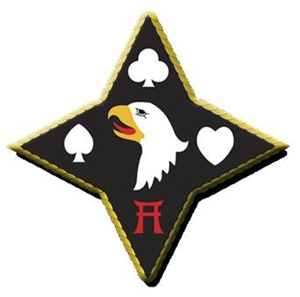 Fort Campbell, KY – A Fort Campbell Soldier's heroic act helped save the life of a 4-year-old boy from choking.
Spc. Katherine McIntire, an Army medic assigned to the 194th Military Police Company, 716th Military Police Battalion, 101 Sustainment Brigade, was awarded an impact Army Achievement Medal March 22nd, for saving the boy's life.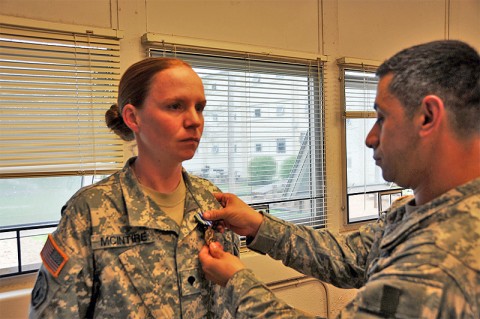 "People think our job in the Army is focused on combat, but it is also about helping people," said 1st Sgt. Christopher A. Barnes, company first sergeant.  "Specialist McIntire was in the right place, at the right time, with the right training."
The incident occurred January 13th, 2012. According to reports, McIntire was sitting on her couch watching television at home when she was startled by her neighbor screaming for help and stating that her son was choking. She ran towards the sound of yelling and saw the 4-year-old child lying face down on the floor.
McIntire immediately picked the child up and assessed his airway and breathing.  She noticed that his face was pale white, his lips had turned blue, and he was not breathing.  When checking his airway, she found no visible food in his mouth.
Reports show the child appeared to be conscious, but at the same time seemed lifeless.  McIntire turned him over and began to administer the Heimlich maneuver.  On the second try, a piece of food shot out of the boy's throat where it was lodged, and he began to breathe again.
The child was still limp from the incident, but McIntire continued to check the boy for any other injuries and to monitor his breathing.  After approximately 5 minutes, the boy seemed to come back around and began to cry, reports show.
The boy's mother had called 911 while her son was choking, and EMS arrived shortly after Specialist McIntire saved his life.  EMS evaluated the boy at the scene and determined that he was okay and did not require additional medical attention.
The boy's mother, who requested to remain anonymous, emailed McIntire's commander to express her appreciation.
"I can't stress how thankful I am that I have such a dedicated Soldier living next door that obviously takes her job seriously.  I honestly believe if it wasn't for her, my son would not be here with me now.  She had the situation under control at all times, and I thank her for her bravery," the email stated.
"My reaction to the situation came very natural.  I didn't hesitate…  I just acted," McIntire said.   "You always wonder how you will act in these situations.  I have children of my own, which made the situation very more real."
Command Messages
The 716th Military Police Battalion, 101st Sustainment Brigade, is charged with pro-actively conducting law enforcement to the Fort Campbell community. It is regarded within both the military and civilian law enforcement community as one of the premiere MP battalion in the military.
The battalion is also known for its adaptability in providing support to missions both in combat theater and garrison.
Mission readiness is a staple of the MP battalion, as it deploys not only in combat missions overseas, but also in support of contingency operations here across the U.S.