Valley Forge, PA – Stewart County High School teacher, Connie Baggett was one of fifteen educators from schools throughout the United States presented with the Annual Leavey Awards for Excellence in Private Enterprise Education from the Freedoms Foundation at Valley Forge at a gala awards dinner at the Loews Hotel in Philadelphia March 17th.
Each project, selected by an independent panel of business and education leaders, received $7500 in recognition of their creative programs.
The Leavey Awards were established by Thomas Leavey, co-founder of the Farmers Insurance Group and his philanthropic partner and wife, Dorothy Leavey, in collaboration with the Freedoms Foundation at Valley Forge.  The Leavey Awards is among the nation's top honors bestowed upon outstanding teachers, at every educational level, who create and conduct programs in entrepreneurship.  In praise of the recipients, Ali Velshi, CNN, Chief Business Correspondent, noted:  "they are among our top educators who in unique ways, inspire their students to become our next generation of business visionaries.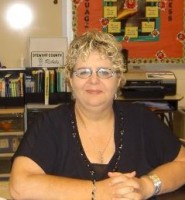 Mrs. Baggett, a business technology teacher at Stewart County High School, received this honor for her "Rebels and Rhinestones" program.  Stewart County High School Future Business Leaders of America operate the Rebels and Rhinestone Bookstore and Boutique specializing in purses, jewelry, scarves, men's ties and wallets, school supplies and food.  The invaluable experience gained by managing and operating this successful bookstore gives FBLA members first-hand knowledge of the dedication and determination required to succeed in business careers and entrepreneurship.  As a part of this unique experience, store managers and assistant managers are chosen through an application process.  Duties in the store include, opening, closing, serving customers, stocking, merchandising and cleaning.  The program develops self-confidence and career skills that help students achieve success in and out of the classroom.
Since 1977, the Freedoms Foundation and the Thomas and Dorothy Leavey Foundation have honored outstanding teachers for bringing passion and creativity to their classrooms as they teach students about  entrepreneurship and the free enterprise system.  The awards program recognizes educators at the elementary, junior high school, high school, and college levels for innovative and effective techniques in teaching entrepreneurship and the free enterprise education. Up to twenty cash awards are made annually valued at $7,500 each. One meritorious award of $15,000 may be made for an outstanding entry. To date, the program has recognized nearly 500 teachers from across the country and awarded over $3 million.
About the Freedom Foundation

The Freedom Foundation was founded 63 years ago to encourage our citizens to become informed and active participants in the political and economic life of our nation.  Today Freedoms Foundation has 26 volunteer chapters located throughout the country with more than 3,000 volunteers supporting the many programs conducted by Freedoms Foundation at Valley Forge.