Austin Peay Governors Golf finishes 2nd at Arkansas State Red Wolf Intercollegiate with Four Govs in the Top 20
APSU Sports: Austin Peay Men's Golf

Clarksville, TN – Austin Peay State University men's golf team finished second at the ASU Red Wolf Intercollegiate, Tuesday, unable to hold off a furious rally by tourney winner Arkansas-Little Rock.
UALR shot a blistering final-round 274 to finish at 848, while the Govs final-round 285 was good enough for their Spring's second runner-up finish at 857.
Austin Peay did manage to stave off Vanderbilt, who finished third with a 864, and beat the six other Ohio Valley Conference schools – Jacksonville State (4th/871), Eastern Illinois (9th/882), Tennessee State (11th/885), UT Martin (15th/890), SIU Edwardsville (17th/899) and finally Murray State (18th/901).
Meanwhile, Austin Peay continued its unbeaten streak against OVC teams in head-to-head action. The Govs are now 27-0 against the league through nine tournaments.
"We played pretty good, but the guys didn't feel like they played their best," head coach Kirk Kayden said. "We didn't score like we needed to in the final round. Our par-5 play was mediocre and that's one area that can help you or hurt you. Hats off to Arkansas-Little Rock, to shoot 10-under par today was pretty unbelievable."
Austin Peay had its top four golfers finish inside the top-20, a feat accomplished twice during the fall season – at the Bearcat Invitational and the F&M Bank APSU Intercollegiate – both during tournament wins. One accomplished goal for the Govs was a different scoring leader this week in the form of freshman Tucker Wallace.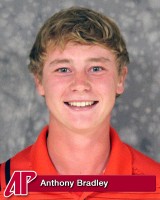 Wallace finished tied for seventh with a two-under par (72-69-70) 211, leading the Govs for the first time this season. He did it playing consistent golf, making nine birdies and only six bogeys or worse through 54 holes. Wallace played six-under on the par-5s through the first 36 holes, but cooled to play them even in the final round.
"Tucker had a great week," Kayden said. "He hit a lot of greens and played smart. We've talked about needing a different scoring leader each week and he stepped up for this week. He really came through in the final pairing for us and that was big."
Anthony Bradley was behind Wallace, shooting two-over par with a (70-73-72) 215, to finish tied for 13th. It was his season's sixth top-20 finish in eight events. Marco Iten finished tied for 15th (74-70-72) at 216, while junior Dustin Korte was tied for 19th (74-72-71) with a 217.
Sophomore Trey Tarpley's final-round 83 wiped out an otherwise strong start, leading to a tied for 84th-place finish with a (73-72-83) 228.
Arkansas State Red Wolf Intercollegiate – Final
| | | | | | |
| --- | --- | --- | --- | --- | --- |
| Finish | School – Players | RD 1 | RD 2 | RD 3 | Total |
| 2 | Austin Peay State University | 289 | 283 | 285 | 857 |
| T 7 | Tucker Wallace (5) | 72 | 69 | 70 | 211 |
| T 13 | Anthony Bradley (1) | 70 | 73 | 72 | 215 |
| T 15 | Marco Iten (2) | 74 | 70 | 72 | 216 |
| T 19 | Dustin Korte (3) | 74 | 72 | 71 | 217 |
| T 84 | Trey Tarpley (4) | 73 | 72 | 83 | 228 |