APSU Sports: Austin Peay Football

Clarksville, TN – Austin Peay State University's football team will culminate spring practice 7:00pm, Thursday, with the Red-White Spring game, in Governors Stadium.
The 69 players were selected through a draft after Tuesday's practice. Head coach Rick Christophel divided up his 14 seniors and then placed them in charge of the draft.
"It was interesting," Christophel said. "The guys got a little excited, it got a little heated, but it was fun. What was interesting in the process is you get an idea of what players think of other players. It also was interesting that the defensive guys would defer to the offensive guys when it came to drafting offensive players and then the same thing happened with the offensive guys."
The game will consist of four 12-minute quarters. It will begin with an opening kickoff, although the return will not be live. After scores, the Govs' staff then will determine the start of each possession. Other possession starts will be determined by sophomore Ben Campbell's punting.
Christophel has been pleased with his team's progress in the fall. The Govs got in plenty of contact work early, but have cut back on the physical part in the latter stages of spring practice. Still he believes his club has plenty of work to do in preparation for next fall.
"Both sides of the football played really well at times this spring," he said. "But we have to be more consistent doing it if we want to be a good football team.  On offense, we have to have more cohesion up front with the offensive line.
"We definitely have playmakers we can get the ball to. At running back, I don't know who that back is going to be coming into the fall, but I can tell you we are more talented collectively than we ever have been. "
On the defensive side, shifting personnel to better suit their scheme seemingly has paid off. Iosua Siliva and Anthony Marion literally have flip-flopped positions, with Siliva moving inside to tackle and Marion to end.  Meanwhile, former end Rip Rowan is now a linebacker.
"Defensively, I like our starting front four (Earnest Smith and at the ends, Siliva and Reese Bulmash at defensive tackle)," Christophel said. "I think they are pretty solid, but we have to find our backups. (Defensive end) Zac Burkhart has had a decent spring behind Earnest Smith. Preston Gilbreath has really come on inside since the second week of spring.
"At linebacker, we have more depth than we have had. Even though (starting linebacker Josh) Carroll and (Craig) Salley are going to miss the Red-White game, we still have plenty of depth, guys who I think are pretty good football players."
The secondary got off to a strong spring start, but showed some slippage during the month's latter stages.
"I think a lot of that had to do with stuff we were adding," Christophel said. "We are blessed at corner with some athletic guys and at safety we are athletic and we're physical. It is exciting every day to see those guys come on."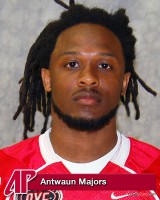 Senior Antwaun Majors will lead the secondary after pacing APSU's defense in tackles a year ago with 88. In fact, he has had more than 80 tackles in each of the last two seasons. Juniors Steven Ragin and Tyreon Clark have been cornerback regulars since they were freshmen.
Offensively, new line coach Jason Palermo has been forced to replace a trio of senior starters in center Tim Schmid along with tackles James Barker and J.P. Washington. Jacob Langston has been shifted inside to Schmid's former spot. Chris Hartman returns at one starting guard while Ben Stansfield, who has started at tackle in the past, will lead a contingent at that position that also includes redshirt freshman Julian Virgo and Ed McDaniel.  Both Skyler Springfield and Preston Frye probably will not play because of injury.
Nathan Sanders, Gavin Willisson and Zach Amis are among the other guard candidates to complement Hartman.
"Jason has done a good job," Christophel said. "He is trying to get them to adopt his personality. The whole thing you have to have up front is chemistry. When you lose three starters like we did, we have to develop a chemistry where they all believe in each other playing as one unit. Once they do that, they are talented enough to take care of our business."
Running back has been an issue this spring. Senior Wes Kitts, APSU's second leading rusher a year ago, has been bothered by hamstring issues. He returned to practice earlier this week. Redshirt freshman Reco Williams has been slowed by a chest injury while Troy Turner is attempting to recover from a concussion. Fullback Cody Tucker has enjoyed a solid spring.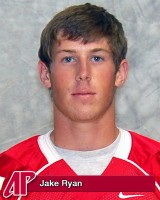 Quarterback Jake Ryan will play the first two quarters for the Red team, Thursday, with backups Landon Curtis and Jacob Sexton playing for the white. But in the second half, Ryan will sit while turning over the duties to both youngsters.
"The most important thing is we hope we can come out this game without any injuries," Christophel said. "Other than that, I want the offense to take care of the ball and want to see the defense run to the football.
"You want to score points if you can, but I also like 3-0 scores."