APSU Sports: Austin Peay Men's Tennis

Clarksville, TN – Austin Peay State University men's tennis team handed Jacksonville State a 5-2 Ohio Valley Conference loss, Saturday, in the Govs home finale.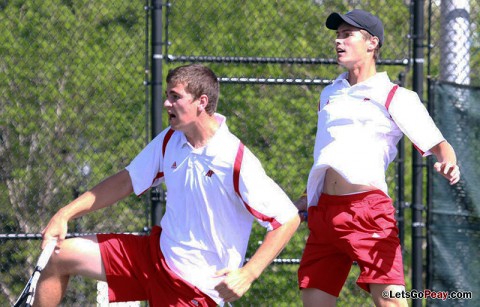 Austin Peay improved to 10-7 overall with a 5-0 OVC mark, picking up its third overall consecutive win. Jacksonville State fell to 9-11 overall with a 4-2 league record. It was JSU's first OVC loss since its league opener against Eastern Kentucky.
The Govs had to salvage the singles matches after dropping the doubles point and giving the Gamecocks an early point. Junior Sean Bailey and freshman Dimitar Ristovski won their fourth OVC match, needing a tiebreaker at No. 1 doubles. Austin Peay dropped the bottom two matches with identical 8-4 scores.
In singles action, it was all Austin Peay. Despite needing a pair of three-set matches, the Govs won five of six matches for the comeback. The top of the lineup stayed strong with Bailey, Jasmin Ademovic and Ristovski all improving to 5-0 overall. Freshman Aleksas Tverijonas won in three sets at No. 4, marking his sixth-straight win as well.
Austin Peay continues OVC play, Tuesday, at Tennessee Tech in a match rescheduled from last Thursday. The Golden Eagles share a 5-0 OVC record with the Govs.
Austin Peay 5, Jacksonville State 2
Singles competition
1. BAILEY, Sean (APSU) def. SANTOS, Igor (JSUM) 7-5, 6-2
2. ADEMOVIC, Jasmin (APSU) def. SUNDBERG, Axel (JSUM) 6-3, 3-6, 6-2
3. RISTOVSKI, Dimitar (APSU) def. MARCEC, Nenad (JSUM) 6-2, 6-0
4. TVERIJONAS, Aleksas (APSU) def. COWLING, Jordan (JSUM) 6-2, 2-6, 7-5
5. WATANABE, Felipe (JSUM) def. STORIE, John (APSU) 6-4, 6-3
6. SEFFRIN, Iago (APSU) def. WENZEL, Felipe (JSUM) 6-3, 6-4
Doubles competition
1. BAILEY, Sean/RISTOVSKI, Dimitar (APSU) def. SUNDBERG, Axel/MARCEC, Nenad (JSUM) 8-7 (7-2)
2. SANTOS, Igor/COWLING, Jordan (JSUM) def. ADEMOVIC, Jasmin/STORIE, John (APSU) 8-4
3. WATANABE, Felipe/WENZEL, Felipe (JSUM) def. SEFFRIN, Iago/TVERIJONAS, Aleksas (APSU) 8-4