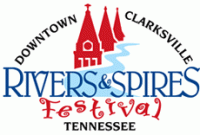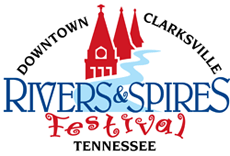 Clarksville, TN – The 10th Annual Rivers and Spires Festival, held April 19th-21st in Downtown Clarksville, is only a couple short weeks away and this year there will be a few special additions to help celebrate this milestone birthday.
Imagine seeing the Festival in a whole new way. Fly through the air with the greatest of ease if you are daring enough to strap into the zip line that will soar over Strawberry Alley. Be sure to wave to your family and friends as you zip by and, for the cost of five tickets, encourage them to get up there too!
If you like to keep your feet firmly planted on the ground, that's ok too. Bring everyone you know out to the Festival to enjoy the first Rivers and Spires fireworks show! Taking place on Friday night around 9:45pm, you will be able to watch the pyrotechnics from any spot at the Festival as they light up the downtown sky. It's a special way to say thank you to all those who have supported the Festival these past 10 years and have helped it grow into an award-winning premier event in the Southeast.
Rivers and Spires will bring craft beer tasting to a whole new level this year at the inaugural BrewFest. Set in a laid back atmosphere, you will enjoy beers picked by award-winning breweries across the country. For only $20.00 a day, you can purchase an armband, receive a commemorative BrewFest mini-mug and sample any (or all) of the 70 craft beers until your heart's content. Complete with a beer and food pairing presentation, a beer 101 event and prizes, this area of the Festival is sure to please all of your senses. For guests 21 years-old and over only, the BrewFest is open Friday from 6:00pm to 9:00pm and Saturday from 4:00pm to 8:00pm. Tickets are available for pre-purchase at www.riversandspires.com.
Have you ever wanted to learn how to Salsa dance? Well, this year you will have your chance at 7:30pm at the Festival of Nations stage! The Festival is proud to honor the community's diverse landscape by hosting a Festival of Nations. Did you know that Clarksville represents over 26 different countries?  Some of the countries include Japan, Panama, China, India, Africa, the Philippines, Germany, Korea and Mexico. Entertaining for all ages, visitors are welcome to explore authentic cuisine, dress, song and dance from all of the area's cultural organizations. A full schedule of events can be found on the Rivers and Spires Web site.
All the when and where can be hard to keep up with, especially when there is so much going on around every corner. To stay up to the minute on events and receive alerts about what's going on before and during the Festival, be sure to sign up for the Rivers & Spires text club. All you have to do is text SPIRES to 68255. It's free to sign up, but message and data rates may apply.
For more information please visit www.riversandspires.com. To see daily updates on the Festival become our friend on Facebook or follow us on Twitter @RIVERSandSPIRES.