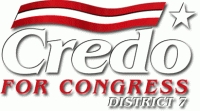 Clarksville, TN – Credo Amouzouvik, the Democratic Party candidate for the 7th Congressional district of Tennessee's will be hosting a Breakfast with the Candidate event at the Olson and Wallace Law firm (114 Franklin Street) on Saturday, April 14th at at 10:00am.
Amouzouvik will talk about his plans for the 7th district, and will be available to answer constituents' questions.
The event is free and open to the public, and the campaign will be providing breakfast for the guests.
Credo Amouzouvik is running for Congress in District 7 against incumbent Republican Marsha Blackburn.
Map
About Credo Amouzouvik
Credo Amouzouvik is a combat-wounded war veteran, who is medically retired. Born in the west African nation of Togo, Credo is a naturalized US Citizen, and a committed member of the Democratic party whose platform is focused on education, jobs, energy, and infrastructure.
Amouzouvik's journey on the path towards citizenship began after the horrific attacks of September 11th, 2001 when was inspired to help America in her time of need. He enlisted in the US Army, and was wounded by an Improvised Explosive Device while on deployment to Iraq. Enduring multiple surgeries and a long recovery process, he has since recovered fully.
His dedicated service to our nation earned him citizenship, and that drive to public service has continued to guide him ever since. Amouzouvik continued giving back to those in need founding the Homeffa foundation, a group that provided direct humanitarian aid in Haiti after the devastating earthquake that rocked that country in 2010, and here at home with recovery efforts after the Great Flood of 2010 which inundated scores of homes and businesses bordering the Cumberland River.
Amouzouvik's holds a Bachelors of Science degree in Economics and Management at the Université du Bénin and a Baccalauréat from Lycée de Tokoin, both in Lome, Togo. He is currently continuing his education and is working towards getting a Political Science degree from Austin Peay State University.
He founded Clarksville for Obama, a grass roots organization supporting the campaign of Barrack Obama in 2008.
Amouzouvik resides in Clarksville, Tennessee with his wife Yashica, and three of his four children.
For More Information
For more information, contact Shelley Palmer at or 678.207.9455.
Editor's note: The following is a news release from a political campaign, and our publication does not constitute an endorsement or political advertisement for the campaign. Any candidate for public office is welcome to submit campaign releases to . These are published as our schedule allows.
Sections
Politics
Topics
7th Congressional District of Tennessee, Austin Peay State University, clarksville for obama, Credo AAmouzouvik, Homeffa Foundation, Iraq, Olson and Wallance, Togo, West Africa