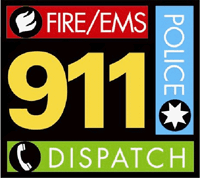 Clarksville, TN – National Telecommunicator Week was established in 1991 by Congress, to raise awareness of the hard work and dedication of 9-1-1 call takers, dispatchers, and telecommunications personnel.
They are an unsung group of heroes that operate 24 hours a day, 7 days a week, rain, shine, tornado, or any other kind of disaster that you can think of.
They work in a solitary world behind closed doors, devoid of sunlight. The only time they can differentiate between night and day is at the beginning or end of their shift. Clarksville-Montgomery County has around 60 men and women processing over 223,000 emergency and non-emergency 9-1-1 calls a year. They are the first step to getting emergency responders to your door.
A 9-1-1 operator assumes many roles as part of their job and work quietly behind the scenes, taken for granted until the day someone needs their services. 9-1-1 operators are an amazing group of professionals who provide an invaluable life-line to the person in need until emergency personnel can arrive on-scene.
Dispatchers are the calm voice of reason in the midst of chaos, friend, confidante, and guidance in a time of need on the other end of the phone to someone experiencing a meltdown and have their world crashing around them. They're not only responsible for getting Police, Fire, or EMS on their way, but they also have to track, monitor the status, and provide information, to emergency personnel until the situation comes to an end.
The 9-1-1 operators are a well-rounded, highly capable group of individuals that transition, daily, from low to high gear in a moment's notice.
The Clarksville-Montgomery County 9-1-1 Center operates around the clock, serving over 179,000 citizens in the Clarksville – Montgomery County area.
National Telecommunicator Week offers an opportunity to recognize and remember those professionals, operating out of the eyesight of the public, but virtually touching every person in our community.
Photo Gallery