Rivers and Spires Festival to kick off it's 10th Birthday Celebration April 19th in Downtown Clarksville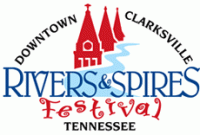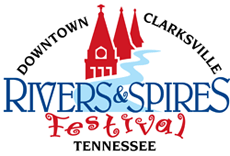 Clarksville, TN – On Thursday, April 19th at 5:00pm the 10th birthday celebration for the Rivers and Spires Festival will be getting into full swing. That night's activities and concerts will be located on Public Square in Downtown Clarksville and are free and open to the public.
Get Downtown at 5:00pm for the Annual Clarksville Young Professional's Rivers and Spires kickoff Business After Hours.
Free for Chamber members, this event will have plenty of food, networking, and fun and even a cornhole tournament! There will be great giveaways including a Jasmine S35 Acoustic Guitar autographed by Little Big Town, provided by Mary's Music Store.
Be sure to also check out the music lined up for that evening; at 5:15pm, the Roxy Regional Theatre will be presenting songs from one of their latest productions, the 60s and 70s funk and soul band "The Deep Fried Five" will play at 7:00pm and the 80's cover band, "Guilty Pleasures", will take the stage at 8:30pm. Austin Peay State University will also be presenting the Spires Street Stomp, a step competition, that night at 6:30pm.
And, for all those who love checking out raw and undiscovered talent, Last Band Standing will start its first round of performances at 6:00pm on the Strawberry Alley Stage. The best of the pre-submitted demos have been chosen and the fierce competition to become the Last Band Standing will take place over the three-day festival with the winner being announced Saturday night at the 6:30pm concert. A lineup of bands will be available soon at www.riversandspires.com [1].
While all the activities, attractions and concerts are free and open to the public, food and beverage are ticketed items. So, bring some spending cash to get some delicious festival food and enjoy a cold one.
For more information please visit www.riversandspires.com [1]. To see daily updates on the Festival become our friend on Facebook or follow us on Twitter @RIVERSandSPIRES. Join our text club by texting SPIRES to 68255, message and data rates may apply.