77th Annual National Football League Player Selection Meeting
Thursday, April 26th–Saturday, April 28th, 2012
New York City, NY | Radio City Music Hall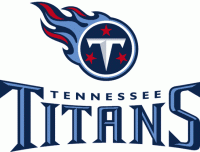 Nashville, TN – The Tennessee Titans own the 20th overall selection and a total of seven picks in the 2012 NFL Draft, which begins April 26th and lasts seven rounds over three days.
The NFL will conduct the draft from Radio City Music Hall in New York City, while Titans personnel will be headquartered at Baptist Sports Park in Nashville.
This year's Titans draft is the first overseen by new executive vice president/general manager Ruston Webster, who was promoted in January from vice president of player personnel.
On The Air And The Web
For the third consecutive year, the draft will attract a primetime, weeknight audience, beginning with the first round on Thursday night, April 26th, at 7:00pm CDT. The second and third rounds are set for Friday, April 27th beginning at 6:00pm CDT, and the draft concludes with Rounds 4-7 on Saturday, April 28th at 11:00am CDT. The current format was unveiled for the first time in 2010.
Fans can watch the draft in its entirety on NFL Network and ESPN. Radio listeners can tune to the Titans Radio Network, including Nashville flagship 104.5 The Zone. Titans Radio will feature special draft programming throughout the weekend, including gavel-to-gavel coverage of the first round.
TitansOnline.com, the official website of the Tennessee Titans, will provide up-to-the-minute information on the team's selections and press conferences with Webster, head coach Mike Munchak and other members of the organization.
Additionally, fans can follow the Titans through social media platforms, including facebook.com/titans and Google+. On Twitter, users can follow the team at @tennesseetitans and also use the hashtag #TitansDraft.
Tennessee Titans Picks
2012 TITANS DRAFT SELECTION

S
Round
Selection in Round
Overall Selection
1
20
20
2
20
52
3
19
82
4
20
115
5
20
155
6
20
190
7
20
227
The Titans currently hold one pick in all seven rounds. For the first time since 2007, they did not receive any compensatory draft choices, which were awarded based on net unrestricted free agency losses in 2011. The Titans still could use trades to deal or acquire additional picks.
Draft order is based upon reverse finish in the NFL standings. The Titans, the lone squad in 2011 to finish 9-7 and not make the playoffs, are assigned to the 20th overall position in each of the seven rounds (actual pick in the third round is 19th due to Oakland's pick being exercised in the 2011 supplemental draft). The 20th slot is the lowest the Titans have picked in the first round since 2009, when they had the 30th choice.
Only once before in franchise history have the Titans/Oilers possessed the 20th overall pick in the draft. In 1987, they used the selection on wideout Haywood Jeffires from N.C. State. Jeffires went on to become the second-leading receiver in franchise history with 515 career catches.
Other notable 20th-overall picks through the years include defensive end Jack Youngblood (1971 by the L.A. Rams), safety Steve Atwater (1989 by Denver), and more recently linebacker Tamba Hali (2006 by Kansas City), cornerback Aqib Talib (2008 by Tampa Bay) and tight end Brandon Pettigrew (2009 by Detroit). Last year's 20th pick, defensive end Adrian Clayborn, went to Tampa Bay and notched 7.5 sacks as a rookie.
The Titans' remaining overall selection numbers include pick 52 (second round), 82 (third), 115 (fourth), 155 (fifth), 190 (sixth) and 227 (seventh).
Front Office Promotions
Round 1
Pick
Team
1
Indianapolis Colts
2
Washington Redskins (from St. Louis Rams)
3
Minnesota Vikings
4
Cleveland Browns
5
Tampa Bay Buccaneers
6
Rams (from Redskins)
7
Jacksonville Jaguars
8
Miami Dolphins
9
Carolina Panthers
10
Buffalo Bills
11
Kansas City Chiefs
12
Seattle Seahawks
13
Arizona Cardinals
14
Dallas Cowboys
15
Philadelphia Eagles
16
New York Jets
17
Cincinnati Bengals (from Oakland Raiders)
18
San Diego Chargers
19
Chicago Bears
20
Tennessee Titans
21
Bengals
22
Browns (from Atlanta Falcons)
23
Detroit Lions
24
Pittsburgh Steelers
25
Denver Broncos
26
Houston Texans
27
New England Patriots (from New Orleans Saints)
28
Green Bay Packers
29
Baltimore Ravens
30
San Francisco 49ers
31
Patriots
32
New York Giants
Only three weeks removed from their 2011 season finale, Titans owner K.S. "Bud" Adams, Jr. announced significant restructuring within the Titans front office that included Webster's promotion. Mike Reinfeldt, who held the title of general manager since 2007, simultaneously was promoted to senior executive vice president/chief operating officer. Additionally, Lake Dawson was given the title of vice president of player personnel.
Reinfeldt now oversees both football and non-football aspects of the organization, while Webster controls the day-to-day football operations for the team.
Webster, age 49, has six total years of experience heading up the player personnel departments on three different teams—two years with the Titans (2010–2011), four with the Seattle Seahawks (2006–2009) and one with the Tampa Bay Buccaneers (2005).
His time in Seattle included a stint as interim general manager in 2009. He has spent the majority of his career with the Buccaneers, gaining experience as a regional scout for 10 seasons (1988, 1992–2000), director of pro personnel for three seasons (1989–1991) and director of college scouting for four years (2001–2004).
"What I like to do is study players and personnel, and that will be a big part of who I am as a GM," Webster said. "You kind of have to stick with what you know, and that's what I'll do.
"All of us want a certain kind of player here. We want good, talented players that are also hard workers and tough guys and the type of men that the people in Nashville can be proud of."
A graduate of Ole Miss, Webster began his career as an assistant coach with one-year stops at Southwestern Louisiana, Alabama and Tulsa.
Reinfeldt described Webster as "a very hard worker" with a "great eye for talent." He added: "He does all the little detail things that you have to do in this business. I think he's very good with people, he's a good listener, he's good with the coaches, and he's good with the scouts. All of the things that make a good GM, he's very capable of doing those things."
Recent Draft History
Reinfeldt, a former Oilers safety who was hired as general manager in February 2007, led the team's draft efforts for five years  Of the 46 players drafted by the Titans from 2007 through 2011, 30 (65 percent) are still on the roster to form the nucleus of the club.
Three of Reinfeldt's picks—safety Michael Griffin (first round in 2007), running back Chris Johnson (first round in 2008) and wide receiver/returner Marc Mariani (seventh round in 2010)—have been selected to the Pro Bowl.  Another first-rounder, wide receiver Kenny Britt (2009), led the team in receiving yards in each of his two seasons before suffering a season-ending knee injury in the third game of 2011.  Defensive end Derrick Morgan, a first-round selection in 2010, missed most of his rookie season with a knee injury but returned to appear in 15 games in his second campaign.
Last year, the Titans received significant contributions from the rookie class, which was headed by quarterback Jake Locker.  All nine draft picks spent the entire 17 weeks of the regular season on the 53-man roster, and several played key roles.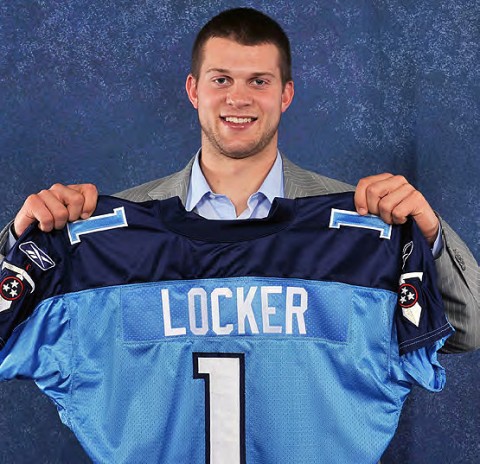 Locker was selected with the eighth overall pick after a standout career at the University of Washington.  He made a positive first impression in limited duty in the regular season behind starter Matt Hasselbeck.  Locker appeared in five total contests and passed for 542 yards and four touchdowns without throwing an interception.  He added 56 yards and one rushing touchdown.  Against the Saints on December 11th, he passed for 282 yards, the second-highest total in franchise history by a rookie signal caller (331 by Jacky Lee on Nov. 25, 1960).
While Locker took most of his rookie campaign to grow in a reserve role, the Titans unearthed several defensive rookies that made an immediate impact, including third-round pick Jurrell Casey and fifth-rounder Karl Klug at defensive tackle.  Casey was entrenched all season as a starter (15 starts), led the team's defensive linemen with 74 tackles and added 2.5 sacks.  Meanwhile, Klug was one of the team's best pass rushers.  He led the team with seven sacks, which tied for sixth place among all NFL rookies and tied for fourth among all NFL defensive tackles.
Rookie linebackers Akeem Ayers (second-round pick) and Colin McCarthy (fourth-round pick) also became integral parts of the defense.  Ayers, the first Titans rookie to start all 16 games since safety Tank Williams in 2002, led all Titans linebackers with 88 tackles, the second-highest total for a Titans rookie since 1999 (103 by Alterraun Verner in 2010).  McCarthy was not far behind, totaling 76 tackles and a team-high eight tackles for loss despite not entering the starting lineup until after midseason.
Titans Draft Headquarters
While the NFL conducts the draft from New York, the Titans are situated in Nashville at Baptist Sports Park, located in MetroCenter. Titans executives, personnel staff and coaches are stationed at a long conference table in the draft room, located on the second floor of the team's facility.
Members of the local media also station themselves at the Nashville headquarters.
Inside the rectangular-shaped draft room, the four white, magnetic walls are lined from top to bottom with information on NFL personnel. Every team's current roster is displayed on two walls, broken down by position within each club. On another wall, hundreds of draft-eligible players are divided among position groups and ranked by grades, which place number values on the team's final assessment of the players. A "Top 150" board ranks draftees regardless of position. Finally, another of the room's walls is divided in half, listing the order of draft picks by team (sometimes called the
"trade grid") and by round.
With each draft selection, the media has access to the player and at least two other members of the organization. Typically after each pick, head coach Mike Munchak and a Titans scout or assistant coach are made available to answer questions in the Baptist Sports Park auditorium. Additionally, the media is placed on a conference call with each of the team's picks.
At the conclusion of each day of the draft, general manager Ruston Webster is available to reporters. The team also typically brings its top one or two selections to team headquarters to meet with reporters during draft weekend.
The team's draft class is brought together for the first time at Baptist Sports Park, along with the prospects signed as undrafted free agents, two weeks after the draft. NFL rules allow for a three-day rookie minicamp, during which time the players go through orientation, positional meetings, practice and media interviews. The rookies may then commence taking part in the team's regular offseason training program with veterans on May 16th, barring any remaining final exams at their respective universities.
Who's In New York?
Representatives of all 32 NFL clubs will be present at Radio City Music Hall in New York. The representatives are in constant phone contact with their clubs, who instruct the representatives to turn in a card with the selected player's name on it.
The Titans are represented by Frank Fitzgerald Sr., who has enjoyed a decades-long association with the NFL and has had a relationship with the Titans franchise since the early 1990s.
Also present are his son, Frank Fitzgerald Jr., and Harry Pritts. Frank Sr. and his wife, Adelaide, reside in Larchmont, NY.
Typical Timeline For Each Pick
The following is a typical series of events for each draft pick the Titans make:
The Titans' personnel staff, coaches and other staff members are stationed in the draft room on the second floor of Baptist Sports Park in Nashville, monitoring the draft as their selection nears and updating their draft board. The team has a separate, direct phone line dedicated to each of the other 31 NFL clubs for use in discussing trades.
The Titans go "on the clock" (10 minutes for Round 1, seven minutes for Round 2, five minutes for Rounds 3-7) immediately following the announcement of the previous team's pick.
After the organization decides upon the pick, Munchak calls the player on the phone to inform him of the selection.
Webster communicates the pick to the team's draft representatives (Fitzgerald Sr., Fitzgerald Jr. and Pritts) at Radio City Music Hall in New York.
The team representatives in New York submit a card to NFL personnel with the player's name, school and position.
The selection is announced at the podium in Radio City Music Hall by NFL commissioner Roger Goodell (first round) or vice president Gene Washington (second through seventh rounds).
Media at Baptist Sports Park in Nashville receive bios and other information on the selection and are placed on a conference call with the player.
Munchak and another member of the team's coaching or scouting staff meet with the media in the Baptist Sports Park auditorium to answer questions on the player who was just selected.
The process repeats itself until the end of the draft day, when Webster and Munchak meet with the media for a final time. During the second day, the team's top pick is typically flown into Nashville to meet with the media.