APSU Sports: Austin Peay Men's Tennis
Sean Bailey wins at #1 Singles to take Top Position in OVC

Richmond, KY – Austin Peay State University men's tennis team handed Eastern Kentucky its second OVC loss, 4-3, Saturday, at the Martin Hall Tennis Courts.
The Govs improved to 6-1 in OVC play with the regular-season finale set for Sunday, at Morehead State. The Colonels fell to 6-2 in the league.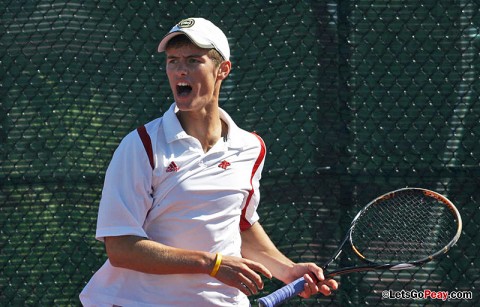 Junior Sean Bailey's win at No. 1 singles highlighted four singles wins by Austin Peay, accounting for the match. Bailey defeated EKU's Hugo Klientovsky in straight sets to remain undefeated at the top singles position in OVC play. Sophomore Jasmin Ademovic won in three sets at No. 2 singles, while freshman Dimitar Ristovski won a tiebreak at No. 3.
The deciding match came at No. 4 singles between APSU's Aleksas Tverijonas and EKU's Parul Verma. Tverijonas won the opening set, while Verma took the second. It was tied at 5-5 when Verma was forced to withdraw due to injury.
Freshman Michal Hriciste, who bowed out with injury at No. 5 singles, teamed with freshman Iago Seffrin for Austin Peay's only doubles win, 8-5 at No. 3.
Austin Peay 4, Eastern Kentucky 3
Singles competition
1. BAILEY, Sean (APSU) def. KLIENTOVSKY, Hugo (EKU) 6-3, 6-4
2. ADEMOVIC, Jasmin (APSU) def. SCHROEDER, Niklas (EKU) 2-6, 6-4, 6-3
3. RISTOVSKI, Dimitar (APSU) def. JANZ, Philip (EKU) 6-2, 7-6 (7-4)
4. TVERIJONAS, Aleksas (APSU) def. VERMA, Parul (EKU) 6-3, 3-6, 5-5, retired
5. MAIO, Joao (EKU) def. HRICISTE, Michal (APSU) 1-6, 6-1, 4-3, retired
6. PIRIZ, Emilio (EKU) def. STORIE, John (APSU) 6-2, 6-4
Doubles competition
1. KLIENTOVSKY, Hugo/PONS, Carles (EKU) def. BAILEY, Sean/RISTOVSKI, Dimitar (APSU) 8-6
2. JANZ, Philip/SCHROEDER, Niklas (EKU) def. ADEMOVIC, Jasmin/STORIE, John (APSU) 8-6
3. HRICISTE, Michal/SEFFRIN, Iago (APSU) def. DOMBROWSKI, Jan/VERMA, Parul (EKU) 8-5