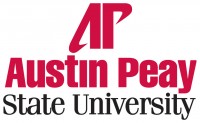 Clarksville, TN – On a recent Thursday afternoon, Margaret Rennerfeldt flipped through a small, flimsy journal to read a few notes she'd jotted down earlier this month while attending the American College Dance Festival Association's Southeast Region conference in Albany, GA.
The Austin Peay State University assistant professor of dance had brought a work she choreographed to the event, and she wanted to remind herself of what the panel of judges had said about the dance.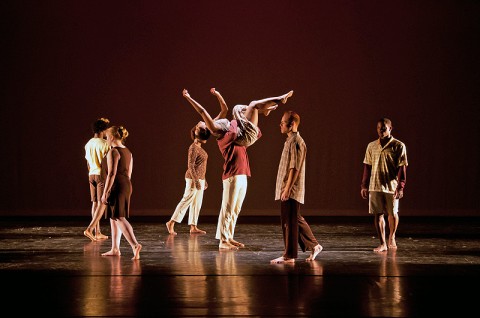 "They said that they loved watching the performers," she said, squinting at her handwritten notes. "They said there was a wonderful sense of community, and the group was so present."
Of the 48 dances entered into the festival, only about 11 were selected to perform at a gala concert. One of those exclusive few was Rennerfeldt's piece, "Finding the Place."
"The panel of adjudicators choose 11 or 12 dances that they want to highlight for 'excellence in choreography,'" Marcus Hayes, APSU associate professor of dance, said. "This is the second year in a row that we've had a dance chosen for the gala."
That's not bad for a young, 6-year-old dance program, with only two full-time faculty members. Especially when considering that several large schools with noted, established programs attended the Southeast Region conference.
"This region, we had the University of South Florida, Florida State University, the University of Florida, Spelman (College), the University of Alabama," Rennerfeldt said. "Those are heavy hitters. It's like the minor leagues going up against the major leagues."
The professors brought 12 students with them to this year's conference, thanks to funding provided by the APSU Center of Excellence for the Creative Arts, and both Hayes and Rennerfeldt said their dancers "held their own" during the grueling classes and performances scheduled for each day.
The APSU students who attended included Kevin Loveland, William Ladd, William Lawrence, Orlando Broady, Steven Kemp, Dasha Smith, Gloria Carter, Whitney Gaston, Selena Mickles, Takiesha Scimio, Maggie Jackson and Rafel Tillery. Tillery also brought a student-choreographed piece, "Glassworks: Von Müttern und Gefäßen/ Of Mothers and Vessels," which also received positive feedback from the festival's judges.
"They felt that the Austin Peay work was honest," Hayes said. "We don't tend to make gimmicky dances."
APSU student William Ladd attended his first ACDFA Conference this month, and aside from getting "very little sleep," he described the event as "perfect. I have to say it was one of my best weekends."
"I was really impressed to see how well we did in classes," he went on, "and how well we did in performances against some really prestigious schools that have these really amazing dance programs. I feel like that weekend, we were just as recognized as those big schools."
For Hayes, the recent success is reflective of the young dance program's growing reputation. More students over the years are signing up for dance minor, leading to the creation of a new dance studio in the Memorial Health building and the hiring of a second faculty member, Rennerfeldt, this year.
"I could have never suspected that we would have a second full-time faculty member this quickly, that we would have facilities this quickly," Hayes said. "A lot of wonderful things have happened. I'm extremely pleased."
For more information on the APSU Area of Dance, contact Hayes at hayema@apsu.edu.