Clarksville, TN – On April 17th, 2012, around 8:15pm, an EMS ambulance with its lights and sirens activated, driven by Jessica Hawkins, 26, was traveling east on Tiny Town Road responding to a medical call.
A 2008 Honda Civic, driven by a 21 year old female was in the eastbound center left turn lane of Tiny Town Road at Barkers Mill Road. The driver, for an undetermined reason, made a right turn toward Tower Drive into the pathway of the oncoming EMS vehicle.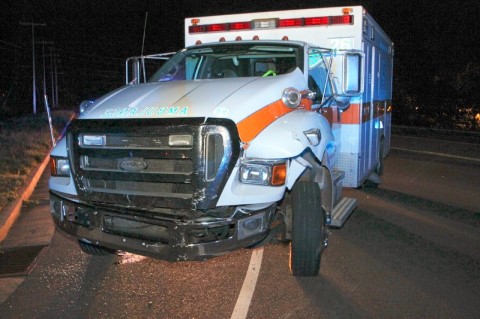 Despite the EMS driver's effort to avoid a collision, the EMS ambulance collided with the passenger side of the Honda. Once struck the Honda continued forward movement, struck a curb, went down an embankment, and hit two parked vehicles in an apartment complex's parking lot.
The EMS vehicle came to rest in a westbound lane of Tiny Town Road.
The 21 year old had a head injury and was taken by Lifeflight to Vanderbilt and is in stable condition. Jessica Hawkins and her 25 year old female co-worker were uninjured.
The EMS ambulance was not transporting a patient when the crash occurred.
The lead investigator is Officer John Reyes, 931.645.8477.
Photo Gallery