APSU Sports: Austin Peay Men's Tennis
Four Tennis Governors named All-OVC

Clarksville, TN – An undefeated season in Ohio Valley Conference play at No. 1 singles led to junior Sean Bailey, of the Austin Peay State University men's tennis team, being named first-team All-OVC and the earning the OVC Men's Player of the Year honor.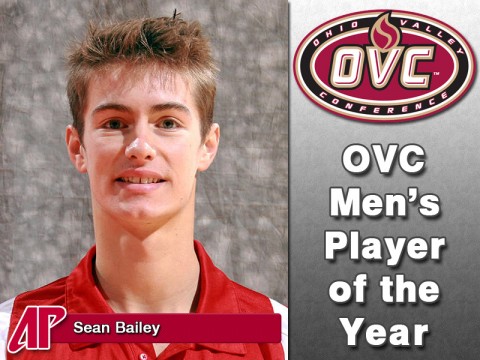 Sophomore Jasmin Ademovic also picked up his second-straight first-team All-OVC selection. Freshmen Dimitar Ristovski and Aleksas Tverijonas were each second-team All-OVC picks as voted by the league's coaches, the conference office announced, Thursday.
Bailey moved to No. 1 singles after opening the season with four straight wins at No. 2. For the junior Canadian, the promotion was overdue. He dropped his first match against No. 71 Georgia State and finished the season unbeaten in his last 14 matches, including an 11-match win streak entering the conference tournament.
He was perfect in league play, going 7-0 as part of 15-2 dual-match record. He finished 9-2 at No. 1 singles and 6-0 at No. 2 singles. In doubles, Bailey teamed with and mentored Ristovski, compiling a 9-9 mark at No. 1 doubles, winning five of eight during OVC play. It is the third All-OVC honor for Bailey, being named second-team All-OVC as a freshman and first-team All-OVC as a sophomore.
"Sean has a great dedication to the game," head coach Malik Tabet said. "He's very deserving with the tremendous amount of work he put in to achieve what he did this year. When he came in, he had very little match experience and that has improved the most this year. It proves that hard work and studying the game will pay off.
"I showed him a video of his freshman year and he couldn't believe how much has improved. His strategy and his demeanor have all improved so much in a three-year span."
This marks the seventh time an APSU player was named OVC Men's Player of the Year. Noel Phillips (1973, 1974) and Gary Boss (1976, 1977) each earned the award twice. Hal Jolley (1981) and Carlos Claverie (1983) were the last two Govs awarded.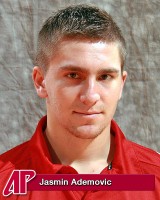 Ademovic, the 2011 OVC Freshman of the Year, battled injury early in the season, but also made it through league play unscathed with a 7-0 OVC mark. He started the season at No. 1 singles, winning his first four matches before moving to No. 2. The young Bosnian would lose three of four matches at No. 2 before opening OVC play with a win against Murray State.
From there, Ademovic finished the season winning eight of his final nine matches. Among that final stretch was a pair of three-set wins, the first coming in the home finale against Jacksonville State. At Eastern Kentucky in the match which locked up the Govs' No. 2 OVC tournament seed, Ademovic battled back from an opening-set deficit to win in three sets against Niklas Schroeder.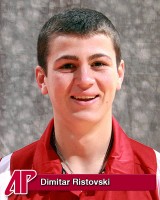 Ristovski joined the Govs in January and made an immediate impact playing No. 3 singles. He finished with a 13-7 overall mark, including a 7-1 OVC record. Ristovski also found himself battling at No. 1 doubles alongside Bailey, going 5-3 in OVC play.
He actually started the season at No.2, but quickly found a home in the No. 3 position. After opening with a 4-5 record, Ristovski got it going for league play. He would go on to win nine of his final 11 matches, including eight straight-set wins.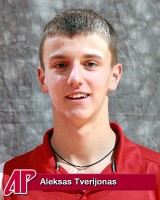 Tverijonas finished with a perfect 7-0 OVC mark, joining Bailey and Ademovic in making through league play without a loss. He started at No. 5 singles, but proved early that he was capable at No. 4. In fact, he won 10 of 13 matches at the position, including all seven OVC matches. Perhaps Tverijonas' biggest win came when he outlasted EKU's Parul Verma to clinch the deciding match against the Colonels.
"To have these guys all go undefeated in OVC play is truly remarkable," Tabet said. "Jasmin, Dimitar and Aleksas have all had great seasons and we hope to see that continue during the OVC tournament. We look forward to having these guys around next fall and watching them get better through their careers. This is a good sign for our program."